Tonganoxie grows by 86 percent in last decade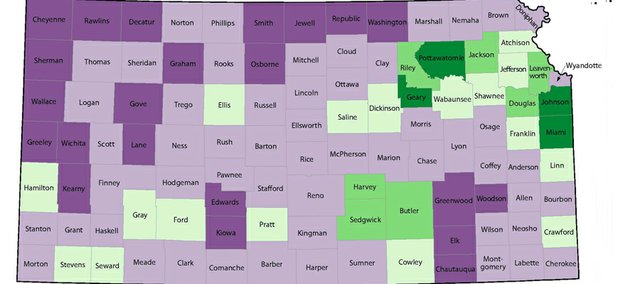 Official 2010 census figures show the city of Tonganoxie added 2,268 residents in the past decade, growing significantly faster than the U.S. Census Bureau estimated in its annual updates.
The U.S. Census Bureau released numbers Thursday and today of the populations of local units. The population numbers gathered from last spring and summer's census indicate the city's population is 4,996. That is 86 percent more that the city's population in the 2000 census of 2,728.
It is also 514 more people that the 4,416 residents in the U.S. Census Bureau's latest estimate released in June 2010. That estimate was of the city's population on July 1, 2009.
The census indicates Tonganoxie population is homogeneous with 95.8 percent or residents identifying themselves as white and1.2 percent African Americans. Another 2.9 percent identified themselves as Hispanic or Latino of any race.
Leavenworth County remained the sixth most populous in Kansas, according two state figures the U.S. Census Bureau released today.
The bureau Thursday started releasing population and demographic information for Kansas from last year's census. The release will include population figures for all counties, cities and other geographic divisions. Look here for more information as it becomes available.
The information thus far shows Leavenworth County grew from 68,691 residents in 2000 to 76,227 in 2010, a growth rate of 11 percent.
Forty-two of the state's 105 counties added population in the last decade. As expected, many of those were in the clustered near the Kansas City metropolitan area or Wichita. The census confirmed Johnson County now is the most populous county with 544,179 residents, up 93,093 or 20.6 percent since 2000. Wyandotte County was the only Kansas side metro county to loose population, if barely. Its 2010 population is 157,505, or 377 fewer than 2000.
Despite being overtaken by Johnson County, Sedgwick County grew by 10 percent with 498,000 residents.
The city of Leavenworth, the only county city will data immediately available, went from 35,420 residents in the 2000 census to 35,251 in 2010.