Cut off: Sabres end Chieftains' season
Photo Gallery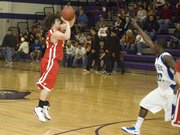 THS boys bounced from sub-state
The Tonganoxie High boys basketball team's season came to an end Thursday at Kansas City, Kan., with a 90-65 loss to Sumner Academy in a sub-state semifinal.
CLASS 4A PIPER SUB-STATE
Boys bracket
First round
No. 1 Sumner Academy 75, No. 8 Atchison 42
No. 4 Tonganoxie 79, No. 5 Jeff West 52
No. 2 Basehor-Linwood 63, No. 7 Piper 34
No. 3 Bonner Springs 50, No. 6 Bishop Ward 44
Semifinals
No. 1 Sumner Academy 90, No. 4 Tonganoxie 65
No. 2 Basehor-Linwood 57, No. 3 Bonner Springs 39
Final
No. 1 Sumner Academy 62, No. 2 Basehor-Linwood 51
Kansas City, Kan. — Everything they had heard was true.
The Tonganoxie High boys basketball team learned Thursday what other Sumner Academy victims already knew: The Sabres aren't a typical Class 4A squad.
The defending state champs pounced on loose balls that seemed destined to roll out of bounds, shot through passing lanes en route to fast-break layups and gobbled up the majority of available offensive rebounds in a 90-65 sub-state semifinal victory against the Chieftains.
Though THS led the eventual sub-state champs (Sumner defeated Basehor-Linwood to advance to the state tournament) after the first quarter and trailed by just seven points in the final minute of the third, the Sabres' depth, length and athleticism, Tonganoxie coach Shawn Phillips said, won out in the long run.
"They were more athletic than us at basically every single position, so they covered a lot of ground in a hurry. Some passes we got away with against other teams for run-out layups got stolen," Phillips said. "It makes up for a lot of errors when you can be just physically gifted."
Sumner's gifts shined brightest in two particular areas. The Sabres scored 32 points off turnovers and added 24 more via second-chance opportunities.
Phillips didn't think his team's half-court defense was notably bad in the season-ending loss, but when the Chieftains (10-12) turned the ball over or didn't secure a defensive rebound, Sumner (19-3) made them pay. Phillips said the Sabres would miss three or four shots on some possessions, but come away with a score.
"They're longer than we are, a lot of them are more athletic and can jump higher," the third-year THS coach said.
Tonganoxie's tallest player, 6-foot-5 junior center Dane Erickson, who scored a team-leading 29 points and secured nine rebounds, said the Sabres' athleticism made them a difficult matchup.
"They were a very athletic team and we knew they were gonna try and push the pace on us and we felt like we had a good chance to do what we like to do against it," Erickson said. "And for the majority of the game we did do that."
It was Sumner's explosiveness that blew the game open and allowed the No. 1 seed to score 90 points, a season high for THS opponents.
Said Phillips: "They could score 10 points in three minutes."
In fact, the Sabres went on two 13-0 runs in the second quarter and a 10-0 run bridging the third and fourth quarters.
Erickson said their quickness is what made them so devastatingly effective.
"They were hustling more than we were during those periods of time and we were just unable to keep up our intensity the whole game," he said. "We weren't able to stop that."
The Chieftains lost by 25, but they proved in the first quarter they would not go down without a fight. With a drive to the rim, a 3-point basket and a bucket following his own miss, senior Dylan Scates scored three of his team's first four field goals as the No. 4 seed took a 9-4 lead.
When Sumner pulled ahead, THS went on a 7-0 run, with two Erickson free throws, followed by a bank-shot jumper and a 3-pointer by senior point guard Jeremy Carlisle.
Scates, who finished with 11 points and 11 rebounds for his second straight sub-state double-double, capped the first-quarter scoring with another second-chance basket in the final minute.
Things changed in the second quarter, Phillips said, with eight turnovers and a less effective shot selection.
"We got a little tired, I think, and started settling for jump shots instead of being aggressive and trying to take the ball to the rim, which we did in the first quarter," the coach said, noting the early lead was a result of high-percentage looks. "We were able to score it pretty well, because we were shooting it from two feet."
With Sumner streaking and THS struggling, the Chieftains trailed by 19 at halftime before putting together a strong third-quarter comeback.
Phillips related that his halftime talk focused on, among other things, getting the ball inside and finding quality looks. The team responded with a 15-6 run to open the second half as Erickson scored seven points, Carlisle had six and junior guard Colby Yates dropped in a runner from the right baseline.
Tonganoxie cut Sumner's lead to seven in the final minute of the third, when junior Brennen Williams threw the ball ahead in transition to Erickson, who scored a layup, drew a foul and converted a three-point play at the free-throw line.
At that point, Phillips said, his team was in a good spot.
"I knew we were in it, and I hoped we could just continue to fight," he said. "We told our kids if we had a fourth quarter like we had the third quarter, we'd win."
It didn't work out that way, though. Sumner built its lead back to 17 with a 10-0 run, capped by a baseline jam from Vernon Vaughn.
Erickson said he and his teammates weren't happy with the outcome, but were proud of their efforts.
"We obviously are disappointed," he said. "We felt like we were making great improvement throughout the season, but we were also happy with how we played today."
Phillips said each member of the Chieftains was worthy of praise in the loss.
"They all played hard and left it out there on the floor," the coach said. "I don't think they'll have any thoughts of 'well, if I would've...' I think they all played pretty hard and tried their best."
The worst part about the loss, Phillips said, was that it marked the end of the road for seniors Carlisle, Scates and Austin Vickers.
"I'm disappointed because we've got three seniors that have been great, great kids in our program. They don't get to come back next year," he said. "I feel bad for those guys, because they've been a staple of the program ever since I've been here."
Score by quarters
THS 21 8 20 16 — 65
SA 20 28 10 22 — 90
Tonganoxie scoring
Dane Erickson 11-17 7-8 29, Dylan Scates 5-14 0-2 11, Colby Yates 3-9 0-0 7, Jeremy Carlisle 6-10 2-2 15, Austin Vickers 0-5 1-2 1, Josh Ghale 0-1 2-2 2, Brennen Williams 0-2 0-0 0.