Mistakes, missed shots pile up for
THS

in sub-state loss
Photo Gallery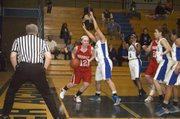 THS girls eliminated in 1st round
The Tonganoxie High girls basketball team's season ended Tuesday in the first round of sub-state with a 50-40 loss at Sumner Academy, in Kansas City, Kan.
CLASS 4A PIPER SUB-STATE
Girls bracket
First round
No. 1 Basehor-Linwood 60, No. 8 Jeff West 32
No. 4 Atchison 50, No. 5 Bishop Ward 42
No. 2 Bonner Springs 38, No. 7 Piper 22
No. 3 Sumner Academy 50, No. 6 Tonganoxie 40
Semifinals
No. 1 Basehor-Linwood 61, No. 4 Atchison 20
No. 3 Sumner Academy 43, No. 2 Bonner Springs 29
Final
No. 1 Basehor-Linwood 41, No. 3 Sumner Academy 37
Kansas City, Kan. — Comprehending the challenge that lies ahead doesn't necessarily make it any easier.
The Tonganoxie High girls basketball team's players knew they were facing possibly the quickest defensive squad they would see all season in the first round of sub-state, but it didn't matter on March 1 at Sumner Academy as the Sabres forced THS into turnovers and a cold shooting night — a costly combination.
The Chieftains turned the ball over 22 times and missed 32 shots in a 50-40 loss to the Sabres that marked the end of their season.
Tonganoxie coach Randy Kraft said Sumner was a good defensive team and he knew THS would turn the ball over some, because that had been a recurring problem throughout the season. However, he didn't anticipate mistakes would mount so quickly.
The Chieftains (9-12) turned over the basketball on their first five possessions of the game, allowing Samai Kendall, who scored a game-high 20 points, and her Sabres teammates to turn those errors into layups at the other end.
"We worked on it, talked about it, knew they were quick, good defenders," Kraft said.
The early miscues put Tonganoxie in an 8-0 hole out of the gate and the No. 6 seeded road team had nine first-quarter turnovers.
THS senior Tayler Miles said the Chieftains' progress was stunted from the beginning and they couldn't recover.
"I just wish when they went on the 8-0 run at the start of the game that we could've got some stops there and not let them get that energy up," Miles said, "because that really set the tone of the game."
Senior forward Danielle Miller, who had eight points and six rebounds in her prep finale, said the Sabres were not just gifted, but plenty ready for the postseason opener.
"I think it was tough to start out there, because they are a really athletic team and really quick and strong," Miller said. "They had their intensity up from the start and we didn't have ours up to begin off with, so that was probably one of the biggest downfalls we had."
As the Chieftains tried to adjust in the first quarter, they got sped up, which was exactly what Sumner wanted. Sophomore forward Jenny Whitledge said jitters contributed to the rough start.
"Everyone was a little jumpy at first and nerves were getting to us," she said. "The pressure was making us go really, really fast and our mind wasn't where it was supposed to be, like being smart with the ball and stuff."
Kraft said THS took better care of the basketball after the first quarter, but a poor shooting night didn't allow his team to catch up with the Sabres, who finished the season 16-7 and lost in a sub-state final to Basehor-Linwood.
"The early ones (turnovers) hurt us but throughout the rest of the game we were pretty solid with the basketball, we just didn't hit shots that we normally hit," Kraft said.
Tonganoxie made just 14 of its 46 shot attempts for a 30 percent clip. Kraft said his team had been hitting between 32 and 34 percent on "a poor shooting night" and above 40 percent "on a good night." He said as shots continued to bounce off the rim, the players struggled to recover from the trend.
"I think it really started getting in their head, because they know they can shoot better than that. We got some good looks and weren't hitting them. I think it was just the pressure," he said.
The worst stretch of the game came in the second quarter, when the Chieftains made just one shot — Emma Stilgenbauer scored on an in-bound play in the opening minute — and missed eight. Things got relatively better in the second half, when they made nine of 25 field-goal attempts, but the lack of consistency hurt them.
"When you play a 10-point game, that's the difference right there," Kraft said of the shooting slump.
The one time that Tonganoxie had a chance to swing momentum in its favor was the second quarter, when the road underdog held Sumner to just four points. However, Whitledge, who led the team with 14 points and shot 5-for-9 from the floor, spent more than six minutes on the bench with two fouls.
With Whitledge watching from the sideline, Miles said THS settled for outside shots, which weren't falling. She said her team should have attacked the basket more during the second.
"Jenny does a good job of that and whenever she's out," Miles said, "we have to figure out other people that can play that role."
Kraft said his team's five-point second quarter (Miller hit three free throws) was a huge difference in the loss.
"We got a couple of their kids in foul trouble and it wasn't any different there than the whole game — we were pretty ice-cold the whole game," he said.
Despite its offensive woes, Tonganoxie was able to cut Sumner's lead to six with 5:50 to play after Whitledge scored and hit a free throw. It looked like the Chieftains were in position for one last push, but Sumner went on a 12-3 run during the next five minutes, scoring key baskets off THS turnovers.
"We got close there," Kraft said. "We pressed a little bit, we tried to make something happen when it wasn't there. We weren't patient."
One mistake led to another, and with that the season ended. Whitledge said she and her teammates didn't respond correctly to their mistakes.
"I think it's natural for our team in general to kind of hang our head and mope around a little bit," she said. "That little time of moping is what kills us the most."
Added Miles: "Especially with a team like Sumner that's quick, that time we had our head down, they were down scoring a layup. There was no time for that."
Score by quarters
THS 9 5 10 16 — 40
SA 16 4 9 21 — 50
Tonganoxie scoring
Amanda Holroyd 2-9 0-0 6, Jenny Whitledge 5-9 4-7 14, Tavia Brown 0-0 0-0 0, Hannah Kemp 0-12 0-0 0, Danielle Miller 2-2 4-6 8, Tayler Miles 2-3 2-4 6, Haley Smith 1-4 0-0 2, Madee Walker 0-1 0-0 0, Emma Stilgenbauer 2-6 0-0 4.