Resident reflects on tourneys as
KSHSAA

celebrates 100 years of basketball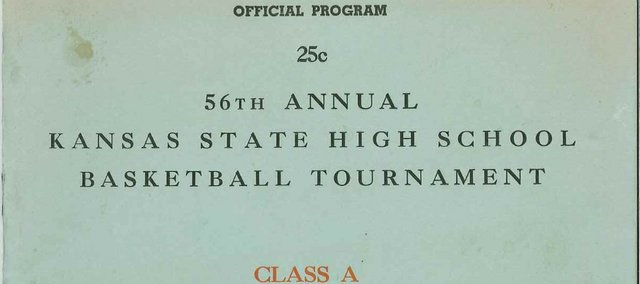 Editor's note: This is the first in a series of stories in honor of Kansas' sesquicentennial. At the same time the state is celebrating 150 years of statehood, fans across the state will be celebrating 100 years of high school basketball at various basketball venues this week as part of state basketball tournaments.
Phil Jeannin has seen his share of state basketball tournaments.
The longtime Tonganoxie coach and educator said he's attended a state tournament each year during the last 15 years or so, normally with his brother, Kenny Jeannin.
He said he normally attends the Class 6A or 5A tournaments because of their close proximity — 6A has taken place in Emporia's White Auditorium and 5A in Topeka's Kansas Expocentre.
But this year — state tournaments begin today across the state — 6A will be played in Koch Arena on the Wichita State University campus, so Jeannin said he likely would stay closer to home with 5A in Topeka.
He's also kicking around seeing Class 1A Division 1, which will be in Emporia this year. Jeannin said he's not seen 1A basketball previously. This is the first year 1A will take place in Emporia, as it previously wasn't broken down into two divisions.
The 1A Division 2 state tourney will take place in Fort Hays State's Gross Coliseum in Hays. It's been the home to Class 1A state basketball since 1974.
According to the Kansas State High School Activities Association website, the first KSHSAA-sponsored state tournament took place in 1912 at Emporia State Teachers' College, now Emporia State University.
Before that, Kansas University had an invitational tournament starting in 1908. It ended in 1915, as the state association combined with the KU invitational in 1916.
All teams competed in one class until 1925, when schools with enrollments of 200 or less played in Class B and schools with enrollments of more than 200 competed in Class A.
In 1929 and 1930, both classes advanced toward one state tournament, but it returned to its previous format in 1931, the KSHSAA website said.
Class AA was added in 1941, with AA being the largest class.
Beginning in 1942, a new round of semifinal tournaments took place following the regionals, similar to the NCAA Final Four. All but four teams in each division were eliminated in the semifinals and the remaining teams competed for the championship in the three divisions at the same place and on the same dates. In 1945, schools voted to return to the previous format of three separate state tournaments of 16 teams each. In 1952, a fourth division, Class BB, was added to include schools with enrollments of 60 or less.
A fifth classification was added in 1969 and was the beginning of Classes 5A, 4A, 3A, 2A and 1A. Then, 10 years later, 6A was added as a classification.
Jeannin recalls being on the 1966-67 Tonganoxie High School team that played in Hutchinson in Class A. Jeannin had gone to Jarbalo High School before it consolidated with Tonganoxie before the 1965-66 season. He was part of the first consolidated class to graduate, which was in 1967.
"We got fourth," Jeannin said. "We lost three games by four points."
THS lost to Immaculata by one point during the regular season in Leavenworth and then fell by two to Clay Center in the state semifinals and Hoxie by one in the consolation game, Jeannin said.
In 1976, Kansas had a Grand Basketball Champion tournament after each class winner was determined on the boys side. Topeka's Highland Park won that tournament. Girls basketball, which first had state tournaments in 1973, also had a Grand Basketball Champion in 1975, as well as 1976.
Wichita North, from the largest class, won it in 1975 and Jackson Heights, from the smallest class, won it in 1976.
Tonganoxie has advanced to state in both boys and girls basketball since the Chieftain boys advanced to state in 1967. Most recently, THS girls teams finished fourth at state in 2005 and 2007, losing in overtime both times — to Buhler in 2005 and Colby in 2007 in the Salina Bicentennial Center.
Jeannin noted he has been to other state tournaments in the past, including in the late 1970s in Kansas City, Kan., when Darnell Valentine and Antoine Carr played for Wichita Heights in the state tournament. Valentine went on to play at Kansas University and Carr at Wichita State University. Both followed their collegiate years with NBA careers.
Jeannin said he likes watching state games in Emporia because of the cozy setting of White Auditorium. He prefers it to Topeka's Expocentre.
"In that big gym, it's such a hollow feeling," Jeannin said.
Another basketball enthusiast, Art Hancock, said he's witnessed an estimated 1,200 games through the years, whether it be junior high, high school, college or even NBA when the Kings were anchored in Kansas City, Mo.
But nothing beats state basketball time, according to Hancock.
"I love this time of year," he said.
A 70-page book commemorating 100 years of KSHSAA basketball is being made available trough KSHSAA. For more information, go to the organization's site, kshsaa.org.