Safety, security issues addressed in bond issue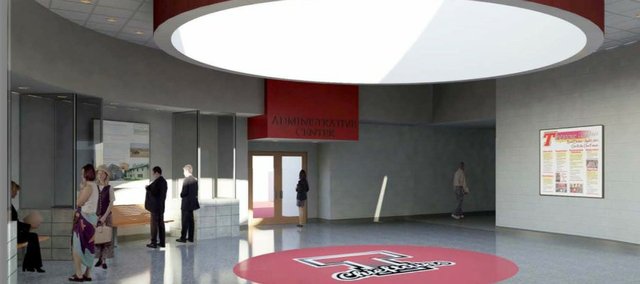 (Editor's note: This is the second in a series of Mirror stories examining aspects of USD 464's $26.9 million bond issue.)
It only takes one step into Tonganoxie High School to realize its design predates April 20, 1999.
That was the date of the Columbine High School shootings, a tragedy that prompted new approaches to school security. Among the changes was refitting existing schools or designing new ones with access limited to one secure entry point, which usually funneled visitors to an office.
With 80 security cameras monitoring the school's interior and exterior, Tonganoxie High School isn't without modern security measures. But single-point controlled access isn't possible at a school with classes in an east and west building separated by 75 yards.
It's a campus-like environment that forces students leaving the security of one building to walk to a class in the other and has Tonganoxie USD 464 administrators worried about the school's vulnerability.
"We have been so lucky and so blessed," said THS Principal Jamie Carlisle. "We have not had one incident.
"I hold my breath when I say that. It only takes one."
Adding to Carlisle and USD 464 Superintendent Kyle Hayden's discomfort is the visibility of the high school campus from U.S. Highway 24-40.
"It's a much more significant risk," Carlisle said. "KDOT estimates 12,000 cars are going in front of our high school every day."
Carlisle said the school has done what it could to mitigate traffic by adopting block scheduling to reduce the number of daily passing periods and placing freshman and sophomore classes in the west building and junior and senior classes in the east building.
"We've done everything in our control," Carlisle said. "It's impossible to eliminate it. That's why we're coming to voters asking for the bond issue. That's the only step to remedy this problem.
The $26.9 million USD 464 bond referendum before voters April 5 would remedy security concerns by connecting the two current buildings with a long corridor flanked by eight classrooms, a media center, new high school and district offices and choral room. The new section would also provide the school's single secured access. The $5.9 million addition would open in August 2013.
The bond would also address a similar problem at Tonganoxie Elementary School, where students in classrooms housed in the Quonset Hut and modular units must walk a shorter distance as a group to the main building for lunch or as individuals to use the restroom, Tonganoxie Elementary School Principal Tammie George said.
The construction of the new second- through fifth-grade intermediate elementary school to open in August 2014 on the district's south campus would allow for the removal of the modular units and razing of the Quonset hut, which would address another safety concern with the addition of a parking lot.
And, of course, moving three grade levels to the intermediate school would remove much twice-daily traffic from narrow downtown streets.
It would also make for a smaller staff of what would then be a pre-school, kindergarten and first-grade facility, allowing them to stop parking on the streets near the school, George said.
The new school would also defuse the twice-daily traffic snarl around the elementary school as perhaps 200 parents crowd the downtown area to drop off and pick up children.
It is
"Pick-up time is very frustrating," George said. "A lot of people pick up students at the same time. Traffic and the flow of traffic is what I'd call frightening. I'd say we have a lot of close calls."
One of those who battles the congestion on school days is Tiffany Bennett. At 3 p.m. Monday she was parked in front of the school waiting to pick up her Brayden, a first-grader. She usually arrives at 2:45 p.m. to ensure she gets a spot on the west side of Shawnee Street near the door her son leaves the building. Her preferred spot is near Forth Street, which allows her to avoid running the Shawnee Street gauntlet in front of the school with cars parked on both sides of the one-way street and parents escorting children to cars.
"When cars are parked and people are walking through, it gets hard to muddle through," Bennett said. "After the snows, it was real narrow.
"It's not the best solution."