Bulldogs head into season with state expectations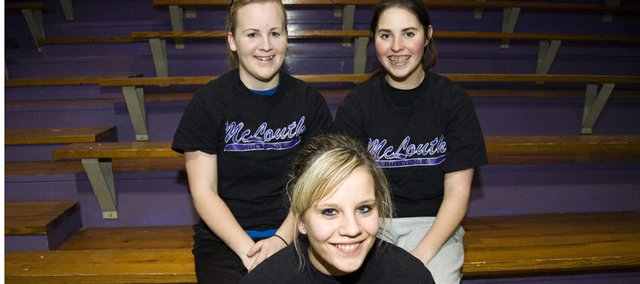 2011 MHS SOFTBALL SCHEDULE
March 28 — Perry-Lecompton (DH), 4:30 p.m.
March 31 — Atchison (DH), 4:30 p.m.
April 4 — at Pleasant Ridge (DH), 4:30 p.m.
April 7 — at Oskaloosa (DH), 4:30 p.m.
April 18 — Atchison County (DH), 4:30 p.m.
April 25 — Valley Falls (DH), 4:30 p.m.
April 28 — at Doniphan County (DH), 4:30 p.m.
May 2 — at Holton (DH), 4:30 p.m.
May 5 — at Jeff West (DH), 4:30 p.m.
May 9 — Hiawatha (DH), 4:30 p.m.
There is just no keeping a good program down.
Not even a home loss in last year's regional final could temper the grit of McLouth High's softball team. Oozing with confidence, the Bulldogs have moved past a disappointing 4-2 season-ending setback against St. Marys in 2010.
It's 2011 now, and this spring, coach Ballard Patterson said, is no different than any other at MHS. If anything, coming a win away from the Class 3A state tournament last season gives the team, which lost just one senior to graduation, some extra motivation.
"We feel we belong at state every year," Patterson said. "It was disappointing for us not to go, but we are starting this season with the idea that we are going to state."
The Bulldogs finished third at state in 2008 and have put together a 30-10 record in the two seasons since their last trip to Manhattan. As frustrating as it was to lose at home in a regional final and watch a walk-off home run end their season, senior catcher Jessie Troupe said this year's team is as strong as ever, with depth at the plate and in the field.
"I don't think we're gonna be down at all," Troupe predicted.
In fact, according to Patterson, the 2011 version of the Bulldogs could be the most complete squad he has seen in his time at McLouth.
"This is the best-rounded team," the coach said. "We don't necessarily have the star power we've had before, but our 12th kid is three times better than it was when we went to state last."
McLouth's three seniors, Kaley Patterson, Kaitlyn Sparks and Troupe, think the team will be strong in every facet of the game.
Sparks said hitting will be one of the team's strengths.
"We've got nine girls that can, no doubt, hit a home run," the center fielder said, adding that returning players are proving to be even more skilled this spring.
Troupe said defense, too, would be a strength and it helps to have three seniors up the middle for MHS with her behind the plate, Kaley as the No. 1 pitcher and Sparks in center field.
"A lot of our girls play competitively and a lot of us can play different positions," Troupe said.
As far as general defensive assignments go, Ballard said Kelsey Campbell and Emily Welsh will join Sparks in McLouth's outfield. In the infield, Marissa Raya will play third base, Kendra Leach or Kaley will be positioned at shortstop, Alex Adams and Jade Patterson can be plugged in at second base, Konner Patterson is a likely candidate to start at first base and when Troupe isn't catching, Taylor Pope will fill in behind the plate.
Again citing the team's seniors, Kaley said the Bulldogs will be strong in the circle this season.
"This is the deepest group of pitching we've had in such a long time," she said referring to the rotation of three seniors and Leach, a junior transfer from Pleasant Ridge. Having four pitchers, Kaley added, is rare. "That is something that every coach looks for on a competitive team and we have that in high school ball, which is really good."
Ballard agreed that pitching would be a major aspect of the team's success and said he learned a lesson last season about how to best utilize the arms he has available.
"In my opinion, the reason we didn't go to state last year was, while we had depth at pitching, we didn't cultivate it — and that's on me," he said, explaining he didn't give Troupe and Sparks enough innings in the regular season.
MHS could have went to state last season, Ballard said, if he had used more pitchers, thereby making Kaley fresher for the second game at regionals. Now with four pitchers at his disposal, the coach said he won't rely so heavily on Kaley, the team's No. 1 hurler.
"I'm not going to run Kaley out there and leave her out there for every inning of every game this year," Ballard said.
With so much balance and depth, Ballard said he doesn't think there are any holes on the team.
MHS finished 14-6 a year ago, but Kaley, displaying that McLouth softball confidence, said this year will be even better for her, Sparks and Troupe.
"This is a new season. This is our senior year," she said. "This year I have no doubts we'll go to state and hopefully we'll win and get us a ring before we leave."