One day at a time
Coach doesn't want
THS

golfers looking too far ahead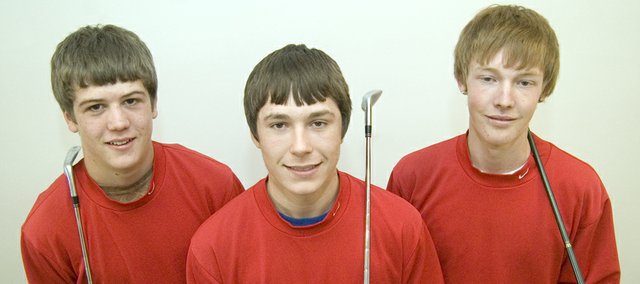 2011 THS GOLF SCHEDULE
March 26 — Sunflower Classic, 11 a.m.
April 6 — Mill Valley Invite, 2 p.m.
April 11 — Lansing Invitational, 3 p.m.
April 19 — Hayden Invite, 3 p.m.
April 23 — Osawatomie Invitational, 9 a.m.
April 28 — Atchison Invitational, 1 p.m.
May 2 — Ottawa, 2 p.m.
May 5 — Perry-Lecompton Invitational, 3 p.m.
May 9 — Kaw Valley League Tournament, at Turner, 1 p.m.
May 16 — Regional, TBA
May 23 — State tournament, at Hutchinson, TBA
As the Tonganoxie High golf team prepares for its upcoming campaign, there appears to be a tug of war between the golfers and the coach in regards to thinking about what lies ahead.
Coming off a season that ended with THS golf taking fourth place in its first trip to state, coach Jared Jackson wants his golfers to somewhat curb their enthusiasm.
With three members returning from that state squad and some promising additions joining the Chieftains, Tonganoxie's golfers are salivating at the idea of getting back to state and finishing even higher.
Jackson, meanwhile, doesn't want them getting ahead of themselves. For every thought of a state medal, Jackson and his staff are prepared to counter that with a mantra of: Let's focus on today.
Tonganoxie coaches, Jackson said, aren't spending much time these days discussing the 2011 state tournament.
That doesn't mean the players aren't. Ask THS junior Colby Yates, who finished second at state as a sophomore, about this season and his mind can't help but wander to the thought of a return to state and a top-three finish for the Chieftains.
"I think the team's very excited. Expectations are higher," Yates said. "We can finish better than fourth this year."
And when young minds start looking to the future, Jackson is right there to bring them back to the present. Instead of talking about trips to state and medals, he wants the golfers working hard daily and enjoying the season.
"Right now we are more worried about trying to get better each day," the coach said. "If we spend too much time thinking about something that will take place in May, we will lose our opportunity to get better today."
The excitement of the players, though, is understandable. Yates, Kody Campbell and Tanner Hale form a trio of THS juniors with state experience, and Jackson expects them all to improve. Likely joining them on the course will be a couple of underclassmen who have the ability to make an impact. A sophomore transfer from Basehor-Linwood, Aaron Williams placed 18th at state last year and will join the Chieftains this season. Plus, freshman Drew Sandburg, who played a lot with Yates this past summer, has drawn high praises and is expected to contribute immediately.
Said Yates of the freshman: "He's gonna make a big impact. He'll be huge."
Those five players from a strong nucleus and Jackson said the back end of the lineup is "really wide open" with six golfers who played on the junior varsity level last season — juniors Cody Campbell, Matthew Christensen and Matthew Swaim and sophomores Tyler Hall, Conner Kietzmann and Josh Sloan — competing to join the varsity group.
With the start of the season not too far away (Tonganoxie opens its schedule at 11 a.m. Saturday, March 26 at the Sunflower Classic in Bonner Springs), Yates said the Chieftains will be ready, because they have spent time hitting inside into a net and in the first week of practice, when they were still feeling rusty, their scores were relatively low when they made it out to a course.
"I think we're more prepared this year than we have been any other year that I've been here," Yates said.
The team's leadership, Jackson said, will be different this season, too, because the THS roster doesn't have one senior on it. It will be up to Yates, Kody and Hale, the coach added, to fill the leadership void.
"Colby is a quiet leader that in the past was able to let the seniors control the team," Jackson said. "Without any seniors, the returning juniors will have to take an active role."
Strong leadership will be important for Tonganoxie, because it has a growing reputation as a solid program. Jackson said his golfers need to remember that they consistently compete against programs that have enjoyed multiple trips to state, noting the 2010 schedule featured seven events where the Chieftains had to compete against a state champion or runner-up.
Whether Tonganoxie's reputation will continue to grow this season depends upon how the golfers respond. Jackson said the Chieftains are driven to see that happen.
"The best thing about this team is their desire to improve in order to compete at a higher level," the coach said. "Many of our players played in tournaments and leagues last summer and they continue to look for ways to get better."
As Jackson keeps telling the golfers, those daily strides are more important than the future anyway.
"There is no limit on what this team can accomplish," he said. "If we continue to practice at a high level on a daily basis, we can be in contention at the end of the season."