Sampler Festival still needs volunteers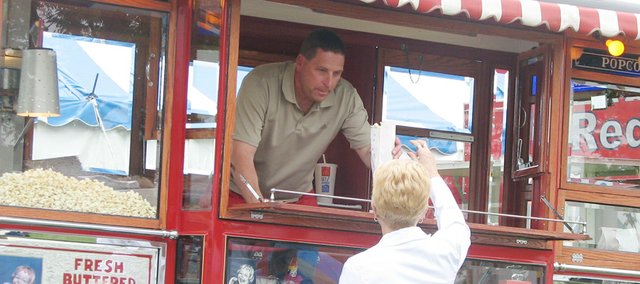 Organizers of the Kansas Sampler Festival say they are determined to equal or surpass last year's success at the festival's second year in Leavenworth and can do so with local help.
Bob Topping, Kansas Sampler Festival Committee president, and Keyta Kelly, festival director, on Monday updated the Tonganoxie City Council on the festival and its preparations during Mayor Jason Ward's quarterly Progress Tonganoxie meeting. Ward introduced the briefings after becoming mayor last year as a way to learn more of the activities and needs of local volunteer community organizations. At the meeting, Team Tongie representatives also briefed the council on that organization's activities.
Kelly told the council the festival committee's goal was to match or exceed the 8,500 gate attendance and 325 vendors at last year's Kansas Sampler Festival, the first year of its two-year run in Leavenworth's Ray Miller Park. The festival will be the weekend of May 7 and 8.
Preparations are going well, Kelly said. Marketing will be geared up this year and will include billboards, radio spots and newspaper campaigns, she said.
But the festival's success is dependent on volunteers. Kelly said 250 were needed to help set up before the event, perform various functions during the festival and teardown and clean up the park after it ends.
The recruiting effort was boosted from commitments from many who volunteered last year, but more were still needed, Kelly said. Volunteers who work at least four hours receive a free festival pass and are invited to pre-festival gathering with refreshments the Toppings play host to at Prairie Queen in Leavenworth, she said.
Festival organizers are also asking county residents to donate golf carts and ATVs or RTVs for use at the festival. Kelly said four passenger golf carts were particularly needed.
Also needed were straw bales and picnic tables, Kelly said. Organizers could arrange for the pick up and return of picnic tables, she said.
Those wanting to volunteer or donate items could call her at (913) 417-7575 or send an email to keyta@sunflower.com or call Patty Hagg at (913) 845-2620 ext. 1100 or send her an email at council@tongie.org, Kelly said.
The goal of the festival is to teach Kansans about what there is to do, see, buy, taste and learn in their own state, Kelly said.
"Our goal is to encourage Kansans to take day or weekend trips within the state and learn that old adage that there's nothing to see or do in Kansas is not true," she said.
The city of Tonganoxie and local vendors at the festival will be sharing the message that this community is among the places offering products as well as eating and entertainment opportunities, Kelly said. To take that a step further, bus rides will be available in evenings during the festival so that vendors can visit Tonganoxie to attend Annie's Country Jubilee or sample the fried chicken the West End Café will make from the Molly Meyer recipe that attracted visitors from Kansas City, she said.
The Team Tongie representatives told the council organization has helped 50 USD 464 families since it came into existence two years ago in response to the tragic illnesses of district students and has raised and distributed $44,000. Although it still focuses on student needs, Team Tongie in the last year has also started helping family members of its students with needs.
"One week we spent $7,000, and within 24 hours of spending that we had $7,000 in donations," Team Tongie president Diane Bretthaurer said. "Nobody has ever told me 'no.'"
Tonganoxie High School Principal Jamie Carlisle said with the help of attorney Mike Kelly, Team Tongie is now a 501(c) 3 organization, a move that has opened up new fundraising possibilities because donations can now be written off taxes. A bank is now taking a proposal to its board to make Team Tongie its sole charitable organization and match all donations to the organization, Carlisle said.
Ward praised the volunteer work of both organizations who presented Monday and said they and other volunteer groups could accomplish even more if they worked together.
"You're doing amazing things independent of each other," he said. "My challenge to you is to use all this energy to work together. I don't have all the answers, but I do have a platform to work for that."