Energy could offset softball team's youth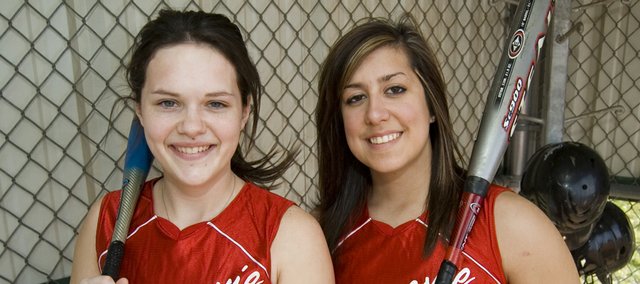 2011 THS softball schedule
March 28 — Bishop Ward (DH), 4:30 p.m.
March 31 — Basehor-Linwood (DH), 4:30 p.m.
April 7 — at Mill Valley (DH), 4:30 p.m.
April 12 — at Turner (DH), 4:30 p.m.
April 21— at Piper (DH), 4:30 p.m.
April 26 — Pleasant Ridge (DH), 4:30 p.m.
April 28 — Lansing (DH), 4:30 p.m.
April 29 — at Spring Hill (DH), 4:30 p.m.
May 5 — at Bonner Springs (DH), 4:30 p.m.
May 9 — Baldwin (DH), 4:30 p.m.
May 16-19 — Regionals, TBA
May 27-28 — State, at Salina
When the Tonganoxie High softball team takes the field for the first time this spring, half the players will have been there before and the other half will be embarking on something completely new.
THS softball coach Lee Matzeder plans to have 12 players on his varsity roster, and just six of them played a significant role for the team last season. Although the Tonganoxie lineup isn't overflowing with varsity experience, the Chieftains think their collective attitude could move the program in the right direction.
With seniors Tiffany Jacobs and Kaitlyn Wolken, plus returning players Amanda Holroyd, Kailan Kuzmic, Makayla Leslie and Haley Smith leading the charge, Matzeder said the team's positive energy can go a long way toward a winning season, something THS hasn't achieved since the 2007 season.
"So far, the work ethic has been great. Anything that we've asked them to do, they are on it," Matzeder said, noting there have been no lazy attitudes. "I think we can turn it around."
Tonganoxie finished the season with a 9-11 record last year, but Wolken said there are signs that the team is capable of winning more games in 2011.
"Our team chemistry is really good this year," she said. "We all work really hard at every single practice. We're all driven. We all want the same thing."
Jacobs agreed, saying the team has bonded, the players get along with each other, which has helped practices go smoothly, and the younger players don't mind taking advice.
"We all work together really well," Jacobs said. "They're all open to improving."
Better team chemistry, Wolken predicted, will get THS a lot further than last year.
"There's absolutely no negativity," she said. "Everybody pushes everybody on the field. If somebody's down, we pick them back up."
Matzeder is feeling positive about the team's pitching. He said Jacobs, who has the most endurance and throws the hardest, would be the Chieftains' No. 1 hurler in the rotation. He also expects to use freshman Morgan Oroke, as well as Wolken, though he said of his defensive ace, who will be the starting third baseman, "I'd hate to take her off the infield."
If THS gets in a bind, Matzeder said, Holroyd also can come in for an inning or two to throw.
Defensively, the coach said the team's catchers will be Leslie and Lainey Walker, Holroyd will play first base, freshman Caly Ingle-Maxwell will be at second, Oroke will be positioned at shortstop and Wolken will play third.
In the outfield, the experienced Smith and Kuzmic will be joined by Shelby McDaniel.
Matzeder said he expects more from his players on the field and in the batter's box this season.
"I think pitching and defense will be good this year," he said. "I think our hitting's gonna be better."
Run production, the coach noted, wasn't great last season as THS scored 72 runs in 20 games, averaging just 3.6 runs an outing. Matzeder said he would like to see his team scoring anywhere from five to seven runs a game.
Wolken said the offense is coming around as hitters take reps in pre-season practices and couldn't name the team's most productive offensive threat.
"We're all good," she said. "If one of us is strong, we'll all be strong. We're a team."
The senior led Tonganoxie with a .417 batting average last year and said this season the Chieftains have been working more on their mechanics. When they get on base, she added, the team's baserunners will be fast.
"We have more speed this year. A lot more," Wolken said.
Tonganoxie's strength, Matzeder said, just might be its enthusiasm. He said the players are fired up to play softball and he doesn't see why the Chieftains shouldn't win more games than they lose.
The second-year coach said he wants THS to perform well in Kaw Valley League play, show some progress at its regional and see what happens.
"I think that'd be a nice step," he said of contending for a regional title, something Tonganoxie hasn't won since 2006.
Such success would be a new experience for everyone on the team.
The Chieftains' season begins at 4:30 p.m. on Monday with a home doubleheader against Bishop Ward.