Journal-World Academic All-Star team includes Tonganoxie, McLouth seniors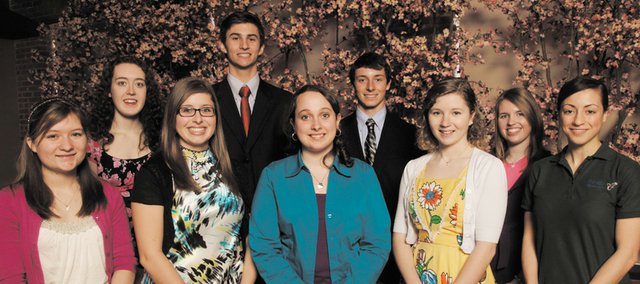 Some of the area's brightest students are involved, articulate and impressive.
Such traits earned 10 seniors — including one from Tonganoxie and another from McLouth — from eight area high schools designation by the Lawrence Journal-World as 2011 Academic All-Stars.
"These students have it," said Robert Harrington, a professor of psychology and research in education at Kansas University, who served as a judge for the competition. "If they continue along this line, they'll be even more successful."
Madison Hunter, a senior at Tonganoxie High School, and Corinne Hoffhines, a senior at McLouth High School, were among area students selected for the team this year.
Other seniors making the all-star team were: Carson Barnes, Baldwin; Shereen Fattaahi, Veritas Christian School in Lawrence; Angela Hawkins, Santa Fe Trail; David Lawrence, Bishop Seabury Academy in Lawrence; Rosemarie Murray, Lawrence Free State; Anna Stone, Ottawa; Marshal Thurman, Bishop Seabury; and Ann Wallsmith, Baldwin.
Nominated for the team were: Jeri Holwick, McLouth; Joshua Bakarich and Tanner E. Fry, Eudora; Katelyn Barthol and Jesse Campbell, Wellsville; Sarah Cunningham, Oskaloosa; Kourtney Foley and Rachel Haley, Perry-Lecompton; Adam Gillaspie, Ottawa; Shelby Leonhard, Oskaloosa; Jesica Spencer, De Soto; and Jennifer Wilson, Lawrence Free State.
Since 1997, the Journal-World has honored top area high school seniors for their success, both inside and outside the classroom.
Val Stella, distinguished professor of pharmaceutical chemistry at Kansas University, was guest speaker this past week during a luncheon for all-stars and their guests.
LOCAL ALL-STARS WANT TO BE MATH TEACHERS
Here's a closer look at McLouth's Corinne Hoffhines and Tonganoxie's Madison Hunter.
Corinne Hoffhines
Corinne Hoffhines might seem like a busy girl. She's involved in 4-H, band, dance, forensics and just about every type of organization at McLouth High School. It's all for a reason, though.
Five years ago, a family friend died in a four-wheeling accident, and ever since then Hoffhines has tried to enjoy life as much as possible.
"It makes me think that I need to live life to the fullest and not to take a single minute for granted," she said. "I'm doing things I that I wouldn't ever see myself doing."
That's how she got involved in forensics, after the coach had been trying to convince her to try for years.
"I tried it last year and I love it," she said. "It's definitely taught me teamwork, because we all work as a team to do better."
Hoffhines heads off to Washburn University next fall to get a degree in secondary math education. She said her math teacher in school stresses how important it is to educate the next generation in the subject.
"Math is a huge role in everybody's life," she said. I think it's important that we educate them."
School: McLouth High School
Grade-point average: 4.0
Class rank: 1
Parents: Chris and Angela Hoffhines, McLouth
Highlights of achivements: National Honor Society (11-12), Delaware Valley League Forensics Informative Speech champion (11), Kansas Honors Scholar (12), band (9-12), flag team (11-12), Vacation Bible School teacher (9-12), 4-H club (9-12), blood drive volunteer (11-12).
College: Washburn University
Career plans: Math teacher
Major: Secondary math education
Madison Hunter
Madison Hunter used to go to Genesis Christian Academy in Tonganoxie. Her class had 12 people in it, and she grew up with those children. But in fifth grade, her family decided it would be best for her to transfer to the larger public school. She hasn't looked back since.
"I got to see the social aspect at the public school," she said. "It was just being in a different environment. I had so many more different electives."
Hunter has taken advantage of all the opportunities available at the school, participating in band, choir, art and drama calsses. These classes, especially drama, allowed her to branch out, such as when she was Cogsworth's understudy during a school production of "Beauty and the Beast."
"It's a way for me to express myself," she said. "I was always kind of a shy girl when I was younger."
In addition to her love of the arts, she's also a self-described "nerdy kid" who loves science and math.
For Science Olympiad, she builds towers and tests them to see how she can make them better. And for her career, she wants to become a math teacher, following in the footsteps of many of her aunts.
"I enjoy helping people learn," she said. "It makes me feel good after I've helped someone."
School: Tonganoxie High School
Grade-point average: 4.0
Class rank: 1
Parents: Scott and Shelley Hunter, Tonganoxie
Highlights of achievements: National Honor Society (11-12), band letter winner (9-12), drum major (11-12), Educational Excellence Award (10-12), choir letter winner (11-12), Science Olympiad (9-12), Student Council (9-12), honors choir (9-12), jazz band (9-11), Thespian (9-12), softball (9-11), cross country (11-12), Community Service Day (9-11).
College: Emporia State University
Career plans: Secondary math teacher
Major: Mathematics