Movin' on up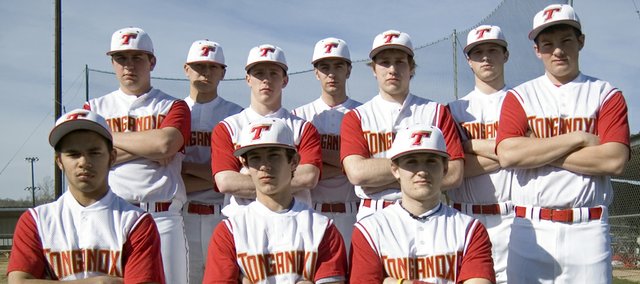 2011 THS baseball schedule
March 28 — Bishop Ward (DH), 4 p.m.
March 31 — Basehor-Linwood (DH), 4 p.m.
April 5 — at Jeff West (DH), 4:30 p.m.
April 7 — at Mill Valley (DH), 4 p.m.
April 11 — at Turner (DH), 4 p.m.
April 12 — Lansing, 6 p.m.
April 18 — Baldwin, 6 p.m.
April 21 — at Piper (DH), 4 p.m.
April 26 — Lansing, 6 p.m.
April 28-30 — T-Bones Tournament, at Kansas City, Kan., TBA
May 5 — at Bonner Springs (DH), 4 p.m.
LEADING HITTERS
The Tonganoxie High baseball team returns three players who hit .300 or better with at least 20 plate appearances in 2010.
Ben Williams, .458
Jeremy Wagner, .396
Ethan Lorance, .333
A promotion is always good news, even if the job might not be considered a hot commodity to others.
Just ask Mitch Loomis. In his first year as head coach of the Tonganoxie High baseball team, the former assistant shoulders more responsibilities with his title, but he doesn't look at that as a problem, even though he is now charged with turning around a team that struggled in 2010, finishing 4-14.
The four years Loomis has spent around the program and its players has him feeling good about the upcoming season, primarily because of the Chieftains' leadership.
"We're senior heavy, with a lot of returners," Loomis said. "A stronger core of older guys sets us up for a good group of kids that know what they're doing."
THS has 11 seniors on its roster, and six of them — Dylan Fosdick, AJ Gilbert, Corey Klinkenberg, Ethan Lorance, Dylan Puhr and Jeremy Wagner — return with varsity experience.
Loomis said the team's leaders are Lorance, Puhr and Wagner and he's expecting a lot out of them. Not only does the new coach want them to shoulder the load on offense and defense — with Wagner behind the plate, Puhr at shortstop and Lorance at third base — but he hopes they will be big arms on the mound for THS, because all three, along with Gilbert, will serve as starting pitchers.
The coach said his do-it-all senior trio will go a long way toward making this season more successful.
"You've got to be excited about their commitment to baseball," Loomis said. "They just have a passion for the game. It's what they live to do, what they look forward to every day."
The admiration is mutual for the seniors when it comes to their coach. Puhr said because Loomis was playing at the college level just a few years back, he relates well to the players.
"I think we're all kind of happy that he's our coach, because he's been there, done that not too long ago," Puhr said.
They also enjoy his approach to the game, Lorance added.
"We're not so old school anymore," he said, explaining there is less "small ball" in Loomis' baseball philosophies.
The coach's ability to break down opponents, Lorance said, is another thing that will help THS. He said Loomis is always looking at what other teams can and can't do.
"He notices stuff like that and always keeps his eye out," he said.
As the Chieftains prepare for the start of their season, which begins at 4 p.m. Monday with a home doubleheader against Bishop Ward, Loomis said he has a pretty good feel for how the THS lineup will look. Joining Lorance and Puhr as infielders will be second baseman Ben Williams and first baseman Tyler Freeman, both juniors, as well as Fosdick, who can play multiple spots.
In the outfield, Loomis said Tonganoxie would have speed and depth with Klinkenberg, senior newcomers Jeremy Carlisle and Shawn Marin, junior Austin Harkrader and freshman Shane Levy.
When Loomis needs to go to the bullpen, he said both Williams and Carlisle could pitch in relief.
With the lineup set and everybody feeling good about the team's chances, Lorance said Tonganoxie's defense would determine how successful it can be. Errors became an all too familiar nasty habit for the Chieftains last year, as they racked up more than 50 in just 18 games. Lorance said they would have to make routine plays.
Puhr ageed: "Throw and catch," he said. "That's all we need to do."
After experiencing what he called a "rollercoaster" season that featured good wins and bad losses last year, Loomis said he just wants his players to take a simplistic approach and not try to do too much.
"We need to develop a consistency about what we're doing," he said. "Make sure we take care of the little things."
The coach said the players have been on board with everything thus far and because he thinks Tonganoxie is very talented this season, he wants them to strive for a vast improvement on last year's total of four wins.
"We like to set the goals high, just because you've got to shoot for something," he said.
How high?
"We're looking to make a run to play in the state tournament," Loomis said, noting it will be a process and a challenge.
Such a finish would surprise many, and Puhr said he likes the fact that outsiders aren't expecting much out of Tonganoxie this season.
"Everybody's kind of looking over us because of last season, but I think we're gonna come out and show a lot of people what we can do," he said.
The Chieftains and their new coach think they are up for the tough job.