Surrounded by new: Soccer players expect positive changes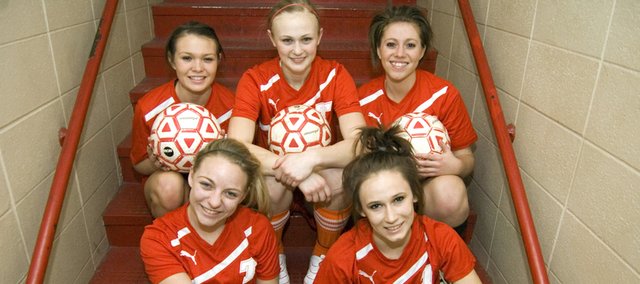 2011 THS girls soccer schedule
March 28 — Bonner Springs, 4 p.m.
March 31 — Spring Hill, 4 p.m.
April 1 — Lansing, 4 p.m.
April 4 — at Mill Valley, 6 p.m.
April 7 — De Soto, 4 p.m.
April 11 — Piper, 4 p.m.
April 12 — at Bishop Ward, 6 p.m.
April 14 — Basehor-Linwood, 4 p.m.
April 19 — Bishop Ward, 4 p.m.
April 21 — at Kansas City Christian, 6:30 p.m.
April 22 — Blue Valley Southwest, 4 p.m.
April 25 — at Spring Hill, 5:45 p.m.
May 2 — at Kansas City-Washington, 4:30 p.m.
May 5 — Ottawa, 4 p.m.
May 10 — at Basehor-Linwood, 6 p.m.
May 16-19 — Regionals, TBA
May 24 — Quarterfinals, TBA
May 27-28 — State, at Wichita
With the start of each new season comes some adjustments: Getting used to new lineups, building chemistry, figuring out strengths and weaknesses.
Forgive the Tonganoxie High girls soccer team if those early-season adjustments take a little longer than normal this year.
The Chieftains are dealing with a whole lot of new as they prepare for the 2011 season. There is new head coach Justin Seever, a THS assistant the past four seasons, new players competing for playing time, returning players taking on new positions and roles and a new style of play to which everyone will have to adapt.
Key to the team getting past the newness of it all, Seever said, will be the speed with which players respond to his system, which calls for a more methodical offense with ball control, spacing and passing. He said the offense will take time to perfect.
"I see us progressing nicely," Seever said. "Right now we look a little sloppy."
The Chieftains, who finished 4-9-3 a year ago, will have to kick the ball around a lot the first few matches, the coach said, to get a feel for the new system and buy into it. But he isn't worried about it.
"A couple games in, mid-season, we'll be a passing, possession-based team," the coach forecasted.
Seever hopes one significant roster move will bolster the team's attack. He trusts senior captain Alex Bartels, a former goalkeeper, to help the offense flourish in her new position as a midfielder.
"She's a skill player who will look for the right ball instead of going over the top," Seever said.
Joined by senior captain Carson Simmons in the midfield, Bartels said she is looking forward to maintaining her vocal leadership while occupying a new spot on the pitch.
"I feel like I'm doing the same job as I did in back, just for the top of the field. I guarantee you if you go to a game, my mouth is still gonna be running the entire time, because I don't know how to do anything else," Bartels said with a laugh.
Joining the team captains as midfielders, Seever said, will be senior Carlea Richert, junior Lindsey Truesdell, sophomores Chris Tiner and Molly Welsh and freshmen Taylar Morgan, Madison Simmons and Emma Stilgenbauer.
Playing behind that group as defenders will be senior Grae Wilbanks, junior Shyanne Gergick (as long as she is recovered from a shin injury), sophomore Kelsey Briggs and freshman Aly Bartholomew, while the team's new goalkeeper, junior Eva Drennan, will provide the last line of defense.
Up top, at the forward position, Seever said he wants players who can bring energy and the three Chieftains doing that will be senior Ashley Kotowske, junior Sarah Williams and freshman Emily Soetaert.
With five freshmen competing for spots at various positions, Seever said he has been impressed by the newcomers and their work ethic. He said their eagerness, teamed with the squad's senior leadership is making everyone better. Though playing inexperienced freshmen might hurt Tonganoxie in spots initially, the first-year coach said he has experienced starters such as Bartels, Gergick and Kotowske to help them on the fly.
And Simmons said the team's freshmen will immediately help THS recover from some valuable losses.
"I think what we lost last year from the seniors, we've gained more than enough from the upcoming freshmen," Simmons said.
Bartels said if freshmen are getting a lot of playing time, it will be because Seever thinks they will help Tonganoxie win.
"He's gonna put the 11 he thinks are most capable on the field," she said, adding that shouldn't lead to any bitter feelings from the team's returning players.
Simmons said Seever has brought a competitive spirit to the program and Bartels, who was coached in the goal by Seever the past three years, said she expects everyone to develop under his guidance.
"I'm excited to see the things he's taught me transferred on to everyone else," she said.
Seever, who also works as an assistant with the University of Saint Mary women's program, said he tries to bring a college approach as Tonganoxie's head coach — and that means he expects his players to work.
"If you don't put the work in, it's not gonna be fun when you're kicking the ball around and losing," he said.
The players don't want to lose either. Simmons said their goal is to win at least eight matches. After being a part of THS teams that won six times her first two years and just four when she was a junior, Bartels said this team has a new standard.
"That's not happening this year," she said.
Tonganoxie's season starts at 4 p.m. Monday with a home match against Bonner Springs. All THS home matches will be played on the west campus field.