2011 Candidate Questionnaire: Tonganoxie City Council candidate Bill Peak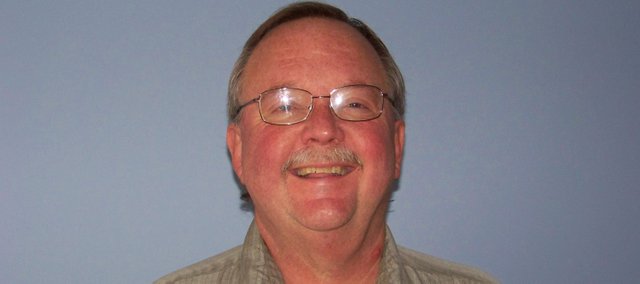 Editor's note: Candidates for Tonganoxie City Council and Tonganoxie School Board races were sent questionnaires from The MIrror newspaper. This is the response from Tonganoxie City Council candidate and incumbent Bill Peak. He is running for one of two council seats against fellow incumbent Paula Crook and challenger Dennis Bixby.
BILL PEAK
Age: 59
Family: Spouse Kathy; children Rachel(deceased), Chet LeVance.
Current employment: Retired
Past employment history: Post office
Education: Master's degree in American history from Kansas University; computer programming from the Electronic Computer Programming Institute; League of Kansas Municipalities courses, including municipal finance, ethics and Kansas economy.
Number of years lived in community: Seven
Previous public offices held: Council member since September 2010
Community involvement: Chairperson, Retail Commercial Development Committee; program director for Tonganoxie Community Historical Society; former member of Tonganoxie Planning Commission; volunteer for Midwest Transplant Center.
What made you decide to run for office?
After being appointed in September of 2010, I have thoroughly enjoyed the experience of helping guide the city to a more prudent fiscal situation. I would like the opportunity to help build a stronger tax base for our community and retain the small town atmosphere. I have also been able to implement suggestions from citizens and hope we can increase attendance at our meetings.
What special qualifications would you bring to this office?
Attended most of the meetings over the last few years and have kept informed on projects, spending, and city policy. I have taken several courses at Kansas League of Municipalities concerning municipal finance and structure.

How do you plan to familiarize yourself with the issues that come before the board?
I spend hours reading over information provided by staff and have read contracts the city has entered into. I found that the city attorney was not seeing or reading all contracts. I won approval for him to be required to sign each contract. I ask questions of staff and city personnel and citizens to get an objective perspective.
What leadership qualities do you possess?
Chairing the Retail and Commercial Committee reinforces my effort to make decisions based on fact and what is good for our community. I ask pointed questions on the Council in response to all available information and have asked hard questions concerning spending and policy. I try to listen to all sides of a position and base decisions on, what I believe, is best for the community.
How do you plan stay in touch with constituents if you are elected?
My phone number and e-mail address is available on the city website and I am usually around town visiting with citizens. I receive calls and suggestions from folks on various subjects and it is a pleasure to find an answer for them. I attend many functions and think it is important to be a part of the social community as it is a great opportunity to meet with citizens and exchange ideas.
Describe what you see as the main role of a city council member?
To provide a conduit between the citizen and their local government by engaging and debating issues confronting the community and utilizing input from all sources to make positive decisions that impact government operation.
What is city government's best attribute and why?
It is small and the function it assumes has less bureaucracy and is more immediate to the people than the state or federal. Council and staff are visible and can be approached.
What are the three most important issues facing the city and how would you confront them?
• Budget: I have argued for better budget forecasting (lower growth estimate) and an increase in general funds. I support line item examination to assess the importance of proposed expenditures for the following fiscal year. "It's in the budget" is not an excuse for spending if the budget projections are inaccurate. I have asked and we have had some improvement in getting a handle on the level of debt and layering that debt across the budget to better understand our present condition. Except for a threat to public safety or health, no item should be off the table for examination. And let us face the big question I have repeatedly been asked. If the school bond is approved we will of course provide the street improvements. That is our duty. That is why the council asked for a traffic study ahead of the bond election to get an idea of the cost to be factored in the budget.
• Expanding the tax base: The city must provide the impetus for recruitment of new industry. I initially disapproved of the industrial park and still question the financing structure but feel it must be pursued. While this is a long-term endeavor, I believe it must continue in order to capture jobs and taxes for our community. Planning for the future must be continued with options for scenarios of growth to be examined and upfront costs realistically budgeted. The Retail Commercial Development Committee is working to provide information and a coordinated effort to attract new businesses and to highlight existing businesses. Shopping local helps small business to survive.



• Apathy: While the budget and taxes are hot issues I feel this is as important. Many citizens feel powerless to local government. I was usually the sole person at most council meetings the last few years. There is no clear solution except to instill in people a willingness to engage their leaders and to feel they are important. Everyone has something to say and will be treated with respect. Many concerns expressed at "open agenda" should be acted on. I would urge everyone to attend a couple of meetings a year and become involved in local issues. The city faces major issues and we do not have all the answers. You can make a difference.

Under what circumstances would you favor increasing property taxes or sales taxes?
No circumstances under which I would favor an increase in sales tax as it is 9.05 percent.
I feel the same about the property tax. While overall valuation may drop, not all property taxes have decreased. Trimming the budget further may be necessary to alleviate any unforeseen expenditures. The budget trouble stems from an optimistic assessment of revenue. We can learn to live within our means. That does not mean degradation in city services. Some capital improvements may have to be delayed. As we pay off existing debt, we can incur more debt without a tax increase. The growth of the general fund and retention of basic services should be the priority for now. City departments came in at around 90 percent of their budget which helped carry over a modest fund. They should be applauded for that.
How would you increase the city's tax base?
Answered above.
What can the City do to increase economic development?
Answered above
Are you satisfied with the job being performed by the city's professional staff?
Police and fire departments. Upgrades in training and equipment have improved the quality of service and I am satisfied. Always room for improvement but they are moving forward.
Administration-I am partially satisfied. There needs to be more accountability for items on agenda and sufficient background information given to council members to acquaint us with those situations. I do get quick responses to my questions when I call or stop at City Hall.
Contractors-Satisfaction levels vary. I approve of RFQs being put out periodically to make sure we get the best possible companies to work for us.