2011 Candidate Questionnaire: Tonganoxie School Board candidate Jonathan Boone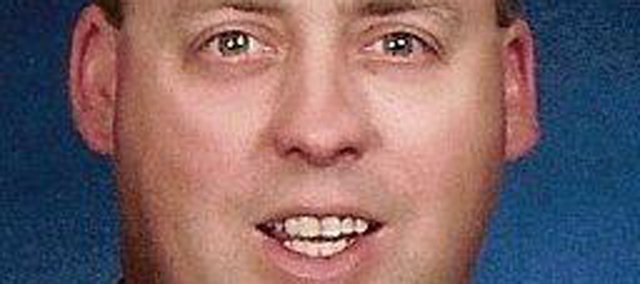 Editor's note: Candidates for Tonganoxie City Council and Tonganoxie School Board races were sent questionnaires from The MIrror newspaper. This is the response from Tonganoxie School Board candidate Jonathan Boone. He is running for the at-large position on the school board, a position currently held by Mildred McMillon. McMillon is not running for re-election. Running against Boone are Tamara Behm and Gene Becker. Running unopposed for re-election for their positions are Kathy Baragary, Leana Leslie and Diane Truesdell.
JONATHAN BOONE
Age: 38
Family: Spouse, Audra; sons, Jacob, Afton and Aidan; daughter, Johanna.
Current employment: Wolf Construction as union millwright
Education: Graduate of Tonganoxie High School Class of 1992
Number of years lived in the community: Have lived in the Tonganoxie area for 34 years
Community Involvement: Leader with the Reno Bobwhite 4-H Club; youth leader with West Haven Baptist Student Ministries; leader of the Men's Ministry at West Haven Baptist Church; volunteer with Tonganoxie youth football, soccer, and baseball
What made you decide to run for office?
I decided to run for office out of concern with the current state budgetary crises and with the fact that there are school districts here in the state of Kansas with school board members who do not represent the voters who have elected them.
What special qualifications would you bring to this office?
The qualifications that I would bring to the board are the fact that I have children who are currently enrolled in the district. At the same time I have contacts with many parents with the students I volunteer with and with the patrons of Tonganoxie with whom I have lived around for the last 34 years. Another qualification I have is the fact that I am a graduate of the Tonganoxie School District who is proud to give back to the same school that educated me.
How do you plan to familiarize yourself with the issues that come before the board?
I will familiarize myself with issues through interaction with administrators, teachers, students, and through the public. By having direct contact with everyone I will be able to hear many different view points on which to base a decision.
What leadership qualities do you possess?
During my years in construction I have had many opportunities to supervise jobsites where people of many different trades were working under me. At the same time I have worked many jobs where I was not in charge, and the people I had supervised on other jobs were now supervising me. I feel that those skills to take charge of situations when needed and the ability to get dirty and work with others when needed to are qualities that make for an effective leader.
How do you plan stay in touch with constituents if you are elected?
I will stay in touch with constituents through my involvement with different organizations, by shopping at some of the local stores, and staying involved with a local church. This allows me to believe that I will have a great opportunity to stay in touch with the constituents of this school district.
Describe what you see as the main role of a school board member.
The main role of a school board member is to represent the interest of the public to the district and to the administration.
What is the best attribute of our school district and why?
The best attribute of the district is the strong community feeling. Tonganoxie has not grown past that feeling of being a community, which allows the students to interact more with each other rather than divide themselves apart. With this also I feel that it helps with the pride that our students have for being from a community such as Tonganoxie, which in turn may be a deciding factor of where they will want to raise a family.
What are the three most important issues facing the school district and how would you confront them?
The number one issue is the budget concerns over how much the state will cut in funding to the school district. I would confront this issue by finding areas in the budget to cut that do not cut funding in the classroom.
The second issue is the bond issue that includes building a new intermediate elementary school. If the public passes the bond issue then I would confront this by using everything that I have learned from the construction industry to make sure the district gets the most for their dollar.
The third issue is the overcrowded buildings. If the bond is voted down then I will confront this issue by actively working with the administrators to find ways to keep the class sizes as small as possible while working under a tight budget.
Do you think public schools are adequately funded? Why or why not?
No, I don't feel that public schools are adequately funded. I feel that you cannot put a price on the quality of education that our students receive.
What areas of the budget would you target for spending cuts if necessary?
I would start with student activity expenditures. Then I would look into licensed personnel trips. I would look at how much work is hired out to contractor services vs. being done in house (i.e. mechanical and electrical). I would also be willing to look into ways to incorporate cost sharing between Tonganoxie and other school districts.
Are the district's teachers being compensated fairly? Why or why not?
The teachers are being compensated as fairly as their collective bargaining has won them.
Under what circumstances would you favor increasing property taxes?
I would discourage a rise in property taxes at a time in which people are struggling with steep mortgage payments, high fuel costs and lack of work.
More like this story