Legendary fundraiser bullish on Ag Hall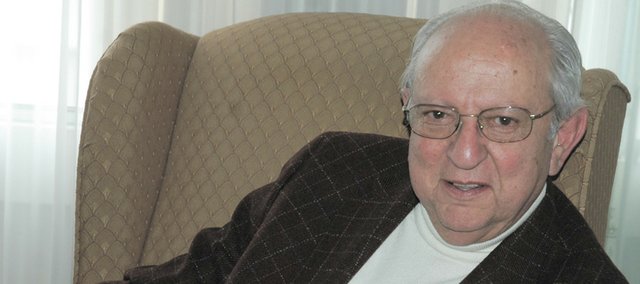 Carl DiCapo leans forward in his seat and his eyes turn steely with determination as he says simply, "I want somebody to tell me I can't do it."
DiCapo is on a mission to save the National Agricultural Center and Hall of Fame, and given his track record, it's easy to see why he is so confident in his abilities. The lifetime Kansas City, Mo., resident has helped to raise millions of dollars for numerous not-for-profit organizations in Kansas City, ranging from the Liberty Memorial to the Salvation Army, for which he says he recently completed a fundraising campaign that garnered almost $8.5 million in under six months.
DiCapo's reputation as a highly-capable fundraiser has preceded him since the late 1990s and into the turn of the century, when he was largely responsible for raising in the vicinity of $40 million toward the reconstruction of the Liberty Memorial and the installation of a new World War I Museum at the site. The memorial had been closed since 1994 due to the facility's deterioration. DiCapo, as a former Kansas City Parks and Recreation commissioner, was asked by then-parks and recreation president Ollie Gates to join the fundraising efforts.
The Liberty Memorial and World War I Museum officially reopened in 2006. Since then, DiCapo said, he has been asked by many other nonprofits to help them get back on their feet financially. He says he enjoys being a go-to guy of sorts for struggling organizations, and though the amount of money they usually need reaches far into the six digits, his formula for raising it is not as complicated as one might think: Treat people fairly and don't be afraid to ask.
"I don't have any problem asking anybody for money," DiCapo said.
Of course, it also helps that DiCapo is somewhat of a legendary figure in Kansas City, and not only for his fundraising skills. It all started in a shoe repair shop.
An upbringing on foot
DiCapo was born in 1927 and by the time he was 6 years old, he was already, in a small way, learning about the world of finance by helping out at his father, Gioacchino "Jack" DiCapo's, business, the Cortez Shoe Shop. During the Depression when, DiCapo said, people were lucky to have shoes at all, he was earning a little money working as a shoe delivery boy, picking up shoes that needed to be repaired and dropping them off again.
Enter the Italian Gardens
The Italian Gardens Restaurant was located in the heart of downtown Kansas City, and over the years it was open, 1933-2003, it became a hugely successful establishment. According to "Italian Gardens: A History of Kansas City Through its Favorite Restaurant," written by DiCapo in collaboration with his son John David DiCapo and area author Frank R. Hayde in 2010, the place drew a mixed bag of local politicians and visiting musicians and celebrities like Lena Horne and Liza Minnelli, and, even, in its early days, some well-known criminals like John Dillinger.
DiCapo, however, had no idea how much his own name would eventually become intertwined with the famous restaurant when he was asked in 1953 at the age of 18 by his brother-in-law, Ralph Bondon, to fill in as a cashier on a temporary basis. DiCapo had his sights set on going to medical school and was, at the time, working for the IRS to pay the bills. He says he thought he would help out for about a week, and that would be that.

"So I'd go there every night and work there for a week and I caught the bug, 'cause every night someone different came in, someone different every single night," DiCapo remembers. "Oh, they had movie stars … and you never knew who you were going to have in there, and we got 'em all, we got 'em all."
DiCapo ended up staying for 46 years, eventually becoming a majority stockholder in the business. He retired in 1999, but he said his experience as a restaurant owner set him up perfectly for his later work as a fundraiser.
"I know everybody in town because I stood 46 years at that front door, so I knew everybody that came through there," said DiCapo, who drops first names of local government and civic leaders past and present with ease. Many of those leaders have helped him with fundraising assistance or contributions over the years.
Ag Hall champion
Cathi Hahner, Ag Hall executive director, said through the assistance of a mutual friend, the entire Ag Hall Board of Governors was able to secure a meeting with DiCapo in August 2010 at the Liberty Memorial. DiCapo said the meeting was enough to persuade him to help out with fundraising, especially given the center's main theme: food. As a former restaurant owner, food is something he takes seriously.
"You can talk about anything you want, but if it's not food forget about all of it," said DiCapo, who also now sits on the Ag Hall governing board. "Forget about cars, forget about anything, you need food to survive."
DiCapo's plans to raise money include everything from setting up a meeting with Gov. Sam Brownback to talk about the importance of holding onto the facility, to launching a capital campaign to forming a national committee made up of "every CEO that has anything to do with food in this great country."
"It's going to be so big that you can't believe," DiCapo said of the Ag Hall's future. "Right now, I'm so excited about it … we're going to put Bonner Springs on the map."
It is comments like these that have fellow board members through the roof. Pending final approval during tonight's governing board meeting, Hahner said, DiCapo will be named president of the Ag Hall Board of Trustees — a group made up of governing board members that will have a more national focus when it comes to the fundraising done for the facility.
Dale Warman, president of the Ag Hall Board of Directors, said he was looking forward to the experience and financial knowledge DiCapo will bring to the table over the coming months — and that unmistakable enthusiasm, of course.
"This guy's got more energy than all of our board combined," he said.