Better days ahead for Tonganoxie girls soccer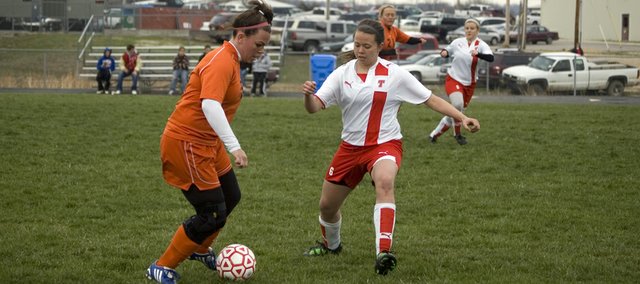 Photo Gallery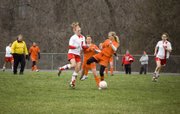 THS girls soccer opens season
The Tonganoxie High girls soccer team lost 3-0 in a season-opening home match against Bonner Springs on Monday.
Win or lose, one match won't make or break a season.
Especially when that match is the season opener.
The Tonganoxie High girls soccer team might have lost, 3-0, Monday against Bonner Springs in its first match of 2011, but the Chieftains showed some signs of better things to come.
The match's early minutes were troubling for new THS head coach Justin Seever, who wondered why his players looked "like we had never played soccer" before settling in and adjusting.
"In the first 10 or 15 minutes, we were just flat," Seever said. "We were just kicking it and not really knowing what was going on."
Much to Seever's delight, that changed quickly once the Chieftains realized they had a speed advantage with their forwards and Ashley Kotowske and Emily Soetaert were able to get behind the BSHS defense. Seever said his players started combining their passes better and Carson Simmons kept getting open on the left side but Tonganoxie wasn't able to score.
"We just couldn't finish," he said, noting his team had a number of one-on-one opportunities against the Braves' goalkeeper and THS players either took too many touches or kicked the ball right at the goalie.
The first half was full of chances for Tonganoxie. Senior captains Alex Bartels and Simmons both found shots early on that went wide of the net.
The Chieftains had multiple opportunities to get on the board in the final minute of the first half. Molly Welsh took the ball away from a BSHS defender and skipped a shot across the ground a few feet wide of the right post.
On the following play, freshman Emily Soetaert intercepted a pass from the Braves' goalkeeper and Bartels fired a shot which was deflected. Kotowske controlled the rebound but had her shot stopped as well.
Although THS didn't score on those chances, Seever liked the aggressive approach of his players.
"If we play like that all season long, we're gonna be in every single game," he said.
Bartels, a senior midfielder, said the team found some things it can build off of in the future.
"We definitely possessed and controlled in the first half. I think we're starting to figure out our roles," Bartels said. "If nothing else, this gave us a starting point. We figured out what we need to work on and we can go from here."
Bonner Springs took a 1-0 lead in the 39th minute of the first half, when Yessenia Hernandez got loose near the right post and put the ball in the net.
Seever said the Chieftains (0-1) didn't let the late first-half goal get them down, but in the second half their inability to duplicate the passing and pushes they found early on led to a shutout. The coach said the life came out of his team after Bonner Springs took a 2-0 lead midway through the second half. Later, a penalty kick gave the visitors a 3-0 advantage.
Bartels agreed that Tonganoxie didn't respond well once it trailed by multiple goals.
"I feel like we held on OK after the first goal, but after the second goal we started getting down on ourselves — and that's something else we need to work on," she said. "We can make a comeback. We don't have to hang our heads and get upset when we're losing."
Junior THS goalkeeper Eva Drennan finished the match with nine saves.
Tonganoxie plays host to Spring Hill at 4 p.m. on Thursday.