Defending state champions sweep Chieftains in season opener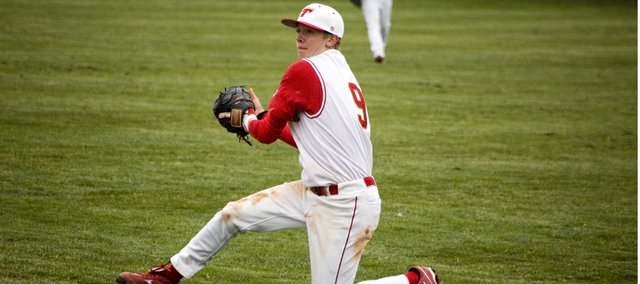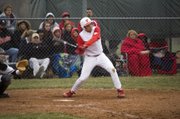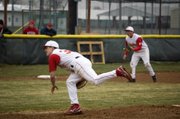 The Tonganoxie High baseball team isn't in the market for moral victories.
That is why first-year coach Mitch Loomis wasn't especially pleased Monday following the Chieftains' home losses to Bishop Ward. The Cyclones prevailed by just a few runs, 4-3 and 5-3, but Loomis said he wants to get away from being satisfied with close losses — even when they come against Bishop Ward, the "cream of the crop" program in Class 4A that has won seven of the last eight state championships.
"We had our chances for sure, we just couldn't pick them up," Loomis said.
Tonganoxie's best opportunities came late in the first game. Although THS (0-2) trailed 4-0 after five and a half innings, the home team put together three runs in the bottom of the sixth, when Corey Klinkenberg and Shane Levy singled, Ethan Lorance drove in Klinkenberg and Ben Williams, who went 5-for-6 at the plate in the doubleheader, came through with a two-run double.
Down to the final out and trailing 4-3 in the bottom of the seventh, Klinkenberg knocked a two-out double to put the potential tying run in scoring position.
"He was real big for us late," Loomis said of the senior.
However, the game ended when Levy hit a hard grounder right at the Cyclones' shortstop for the final out.
Loomis said the Chieftains could have won against the defending state champs if they had swung the bats better and had a more aggressive offensive approach.
"We were a little timid the first game… then the second game they threw nothing but fastballs," the coach said. "The pitching wasn't good enough to hold us to six runs in two games."
On the other hand, Loomis thought the THS pitchers did their jobs.
Senior Jeremy Carlisle, playing in his first high school baseball game, started on the mound in Game 1 and the lefty went five and 1/3 innings, giving up two hits, one earned run and four walks while striking out seven.
Lorance started in the second game and went four and 1/3 innings, struck out five and gave up four runs on four hits and eight walks.
Austin Harkrader pitched in relief of Lorance and gave up one hit and one run in two and 2/3 innings of work.
Loomis said the Chieftains will need strong pitching to win this season.
"Especially between Carlisle and Harkrader, those guys are gonna be good arms for us," he said.
At 4 p.m. on Thursday, Tonganoxie will play host to a doubleheader against Basehor-Linwood.