Tonganoxie softball rolls in 1st victory before winning in extras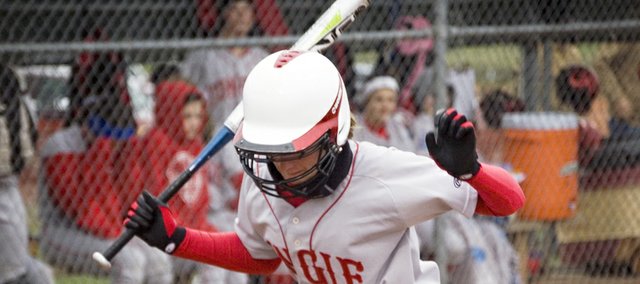 One came pretty easily and the other was earned with an extra inning but all that mattered for the Tonganoxie High softball team Monday was that it picked up two victories in a sweep of Bishop Ward in its season opener.
After dismantling the Cyclones, 17-2, in three innings for their first win of the year, the Chieftains beat Ward, 6-5, in eight innings for their second victory of the doubleheader.
With two outs and facing an 0-2 count in the bottom of the eighth in Game 2, Marrissa Martin nailed the game-winning RBI-double for THS (2-0).
Senior pitcher Tiffany Jacobs, who pitched three innings for a victory in Game 1, threw five and 2/3 innings of relief in the second game for the victory. On the night, she fanned 10 BWHS batters, while giving up just three hits, four walks and one earned run.
Haley Smith did a bit of everything offensively in the one-run victory, going 3-for-4 with a walk, a single, a double and a triple.
Jacobs and Amanda Holroyd both went 2-for-4 in the extra-inning win.
In the Game 1 romp, five different Chieftains crossed the plate multiple times. Both Smith and Kaitlyn Wolken scored three runs apiece, while Jacobs, Holroyd and Morgan Oroke each scored twice.
Wolken, Oroke and Jacobs all drove in two runs.
At 4:30 p.m. Thursday, Tonganoxie will play host to Basehor-Linwood.