Bixby eyes spending cuts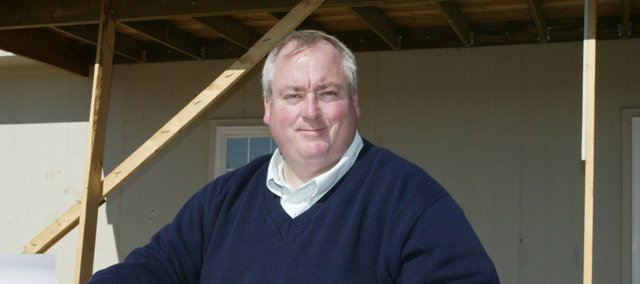 Dennis Bixby is a wood carver by trade, but the Tonganoxie resident says he doesn't have an ax to grind when it comes to running for the Tonganoxie City Council.
Bixby, who is challenging incumbents Bill Peak and Paula Crook for one of two seats on the city council, said he's concerned with what he calls wild spending.
He said it's important that the city build its cash reserve back up so that if a good opportunity comes along with a business, possibly at the industrial park in the works south of Tonganoxie, the city has money to do infrastructure work without borrowing money.
"Or if we lose a fire truck, we could replace it without having to borrow money," he said.
On the campaign trail, he's heard concerns about the number of vacant businesses in Tonganoxie.
"If we can fill those businesses up, it's going to make it easier on everybody," Bixby said about the larger tax base. "If we can't, we'll continue to probably lose businesses."
He continued to discuss the economic climate.
"And that's everybody's biggest concern, is the economy," he said. "The price of gas doesn't help anything. People were worried about already cutting back.
"The taxes that we've got with the 1 percent sales tax last July and now (we) could be hit with the bond issue taxes. They're just wondering where is it all going to stop."
Bixby said in speaking with some voters, he heard of Tonganoxie city council members, several years ago before Tonganoxie had the city administrator position, being assigned to different departments to be kept up to date with what's happening in that department.
A council member even was assigned to the school district to keep in touch there. Overall, it was a way to have a "finger on the pulse" of the various departments, and Bixby said it's something he'd like to see implemented again.
Bixby, 50, has a degree in industrial technology from Fort Hays State University and is a former construction project manager with experience in drafting and design.
He said the background would be beneficial as a council member, as he's been a contractor and bought services from contractors.
"I know how to read the blueprints, but also the specifications," Bixby said. "There's a lot of times, little things are hidden in the details. And I'm very detail-oriented … you've got to know when to spend a dollar and when not to.
"That's going to be the biggest thing. I look for all the rocks and snakes and everything else that can jump out and get you, and I try to plan accordingly to avoid those things, whatever the pitfall may be."
Bixby answered a questionnaire submitted to city council and school board candidates. His answers can be viewed online at: tonganoxiemirror.com/news/2011/mar/24/editors-notestrong-candidates-tonganoxie-city-coun/