Meals on Wheels provides more than meals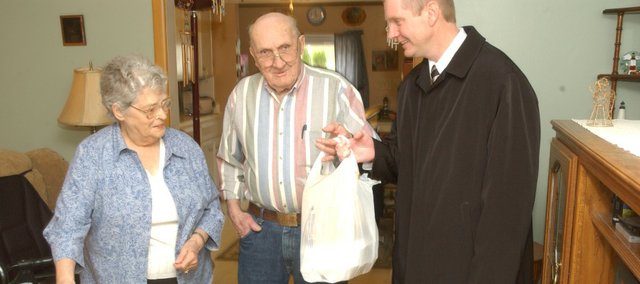 Glenn Sharp of Tonganoxie remembers being part of an unofficial safety net for an elderly couple when he was a youngster in rural Missouri.
"When I was growing up, we had an old couple living there about half a quarter (about 0.2 of a mile) from us. Many a day, mother would make sandwiches," he said. "I would have to carry them up to them, because I don't even know if they were getting an old-age pension or not."
That kind of direct involvement has fallen aside as communities have grown and children's lives take them farther away, said Judy Guenther, nutrition assistance coordinator for the Leavenworth County Council on Aging.
"We've kind of had to adjust things as the towns grow and the communities grow," she said. "The Meals on Wheels is part of that growth. We try not to lose our connection."
At 79, Glenn now benefits form that connection, He and his wife, Becky, now have meals delivered to their Tonganoxie home five days a week. The couple, both widowed, married in 2006 after meeting at the Basehor Senior Center, where Becky helped prepare meals and Glenn came to eat and socialize.
But soon after their move to Tonganoxie in 2007, Becky developed sciatica problems that together with bad knees and arthritis curtailed many activities, including those in the kitchen.
"I just can't stand for more than two or three minutes," she said. "It's hard to cook when you're sitting down. I did a face plant when we went out to eat last week."
Despite the limited kitchen activity, the Sharps enjoy a noonday meal five days a week through the Leavenworth County Meals on Wheels program. Guenther said they were among about 40 Tonganoxie and nearly 200 county residents the program serves.
The meals cost the Council on Aging about $5.50 to prepare and deliver, Guenther said. Those served are asked to pay $1.50 per meal with federal, state and county mill levy monies paying for the remainder. The meals are the same as those served at the same price at the county's senior centers, including the Tonganoxie site in the Florence Riford Senior Center, 530 Bury Street.
Meals are prepared in the Veterans Administration Dwight D. Eisenhower Medical Center in Leavenworth with the oversight of dietitians from the Council on Aging and medical center, Guenther said. Although there are no special meals for those with diabetes, heart problems or other health concerns, the meals are prepared with no added salt and desserts only are provided twice a week, she said.
Volunteers deliver the meals in urban Leavenworth and Lansing, but paid staff, including Tonganoxie driver Paula Crook, deliver in the more rural parts of the county, which would demand too much time of a volunteer, Guenther said.
Delivery drivers, both paid and volunteer, are asked to do more than hand off meals, Guenther said. The drivers, who may be the only people homebound residents see all day, also check on the welfare of seniors they serve.
"Even our volunteer drivers who deliver once a week will call and say 'Mrs. So-and-so isn't tracking today or is slurring her words," Guenther said. "Of course with our drivers like Paula, that's second nature.
"All of our homebound people we deliver to, we ask that if they are not going to be there they let us know ahead of time. If they don't answer their door, Paula would call us and we would call the emergency contact — we have those in the office. We do know if our homebound seniors are OK by the end of the day. By 4 p.m."
Tonganoxie Mayor Jason Ward helped with the deliveries last Thursday in Tonganoxie as part of a March campaign called Mayors on Wheels. His ride was a way of bringing attention to a valuable community service while allowing him a chance to hear the concerns of seniors.
"A re-occurring theme we heard form seniors is we really don't have public transportation in place to take seniors to locations in town," he said. "The Council on Aging has a program to take seniors to doctor appointments outside of the community, but there's noting in place to take to destinations in town. It's something seniors and the council have talked about before. It's a matter for finding out what we can afford and what makes sense."
Those who wish to apply for Meals on Wheels for themselves or family members can call Guenther at (913) 684-0777.0