A dramatic 'Influence'
BLHS

play centers on drugs, alcohol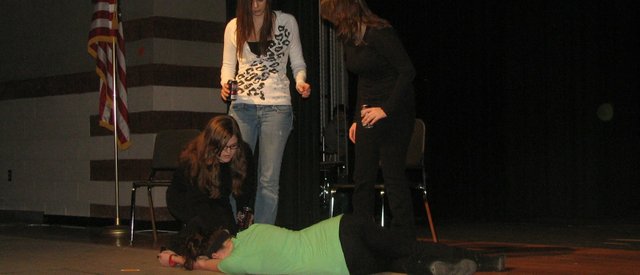 Photo Gallery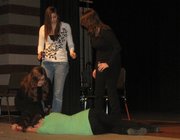 Basehor-Linwood High School spring play: 'Under the Influence'
Basehor-Linwood High School's spring play, "Under the Influence," examines lives affected by drug and alcohol abuse. It will be performed at 7 p.m. Thursday, Friday and Saturday in the high school auditorium, and representatives from drug and alcohol treatment organizations will be available beginning at 6 p.m. each day. Because of the subject matter, the show is not recommended for young children.
You can never just assume it won't happen to your family, Ron Grover says. After his son became a drug addict, he realized it could happen to anyone.
"We never missed teacher conferences," Grover said. "We were involved in the community. People have preconceived notions about it, and it's just not fair. You can't pin it on certain actions or certain people or certain stereotypes."
To Grover, the subject of addiction is something to be openly discussed and considered, not shrouded in secrecy and shame. That's a message he expresses on a blog with hundreds of readers, and it's why he'll be ready to talk about the subject at a booth at Basehor-Linwood High School this week.
He'll be there in conjunction with the BLHS theater department's spring play, "Under the Influence." The drama concentrates on characters whose lives have been affected by drugs or alcohol.
Before and after the production, representatives from organizations that provide drug and alcohol treatment will be available for members of the community who may be affected by addiction, as well.
At one of those booths will be Grover, a former Basehor-Linwood school board member, and his wife, the parents of a 2006 BLHS graduate who was trapped in drug addiction for about five years, beginning in late high school. Their son, who was an honor-roll student and participated in sports and forensics in high school, has now been clean since last summer, Grover said.
"I think we need to open a dialogue where people can actually talk about this instead of whispering about it," Grover said.
BLHS teacher Rebecca Knowles, the director of the play, said the performance could help spark conversations about the difficult topic of drug and alcohol addiction.
"It's a subject that isn't approached a lot, especially through high school theater or in a high school arena," Knowles said. "This is going to be such a non-threatening way to talk about this topic."
Students in the theater department helped select the play for performance, she said. They said they wanted to take a break from the funny, lighthearted productions they often perform and take on something more dramatic and serious.
"They wanted to do something that was impactful, that could make a difference," Knowles said.
One of the performers, BLHS senior Sky Morrell, said she had looked forward to taking part in the play, even though she knew its lengthy monologues would require a hefty amount of memorization.
"I thought it would be — I don't want to say 'fun.' That would be a bad word for this," Morrell said. "It's more meaningful."
The play tells the stories of 14 different characters whose lives have been affected by drugs and alcohol, and it is performed largely in the form of monologues.
Knowles said the play largely concentrated on how one person's drug or alcohol usage can have huge effects on others' lives.
"It's a lot of different scenarios," Knowles said. "No two scenarios are the same."
The same statement is true when it comes to real-life families struck by addiction, Grover said. Drug addicts do not come only from bad families, only from big cities, or from any specific circumstance, he said. He said he had to overcome his previous ideas about addiction — that only people of low character become addicts, or that a family that includes an addict must be a failure — and he wants to help overcome those notions to produce more open conversation about the issue.
"There's a lot more of it out there than we know," Grover said. "The sooner that we can remove the stigma of the beliefs I had when my son started this, the sooner we'll be able to help people."
Along with Grover and his family, other groups that will provide representatives before and after the performances will include Al-Anon and Alateen; the Partnership at Drugfree.org; the Regional Prevention Center of Johnson, Leavenworth and Miami Counties; the Valley Hope Association; and First Call Alcohol/Drug Prevention & Recovery of Kansas City, Mo.
Performances will be at 7 p.m. on Thursday, Friday and Saturday at the high school. Tickets will be $1 for students or senior citizens and $3 for adults. Knowles said the theater department did not recommend the show for young children because of its subject matter.
The informational booths will be open by 6 p.m. on each performance day, Knowles said.
BLHS senior Emily Lynch, another performer in the play, said she hoped the show could help demonstrate that people and families struggling with addiction do not need to keep it a secret.
"There are these issues running around, and if you have them, there is help," Lynch said. "Don't try to keep them hush-hush. Yeah, maybe you don't want to express them to the public, but there's someone you can talk to to help you out."