Tonganoxie softball swept by
BLHS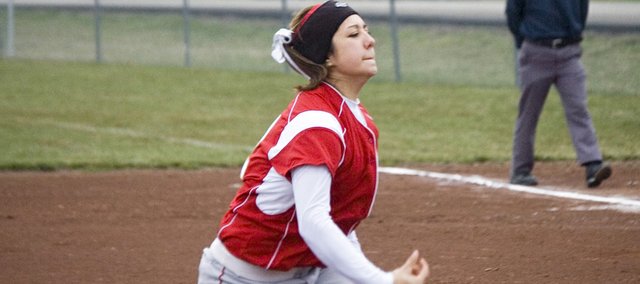 The Tonganoxie High softball team had a rough night Thursday against visiting Basehor-Linwood.
The Bobcats swept THS at Leavenworth County Fairgrounds with victories of 3-1 and 14-4.
Errors and untimely walks led to a five-inning, 10-run loss to end the evening for the Chieftains (2-2) following a narrow defeat to the defending Class 4A champions in Game 1.
The Tonganoxie lineup had just one hit in a 3-1 loss in the opener, and that lone hit came in the bottom of the fourth inning, when Kaitlyn Wolken hammered a two-out solo home run over the center field fence.
Wolken, who trotted around the base paths for her homer, was the only base runner in the game for THS, which didn't even manage a walk in its first loss of the season.
In the bottom of the seventh, both Haley Smith and Wolken struck the ball well, but their line drives went right at BLHS infielders and the game ended when Amanda Holroyd grounded out to third base.
There were a couple of defensive highlights for the Chieftains, though, and they both came from center fielder Kailan Kuzmic.
In the top of the fifth, Kuzmic made a diving catch to her left to rob an extra-base hit and the spectacular grab turned into a double play because a BLHS base runner didn't tag at second base.
Just one inning later, Kuzmic dove head-first to stop a would-be base hit from falling to the ground.
THS is off until a 4:30 p.m. Thursday road twinbill at Mill Valley, in Shawnee.