Chieftains finish 6th at
BFMBC

with 1-2 showing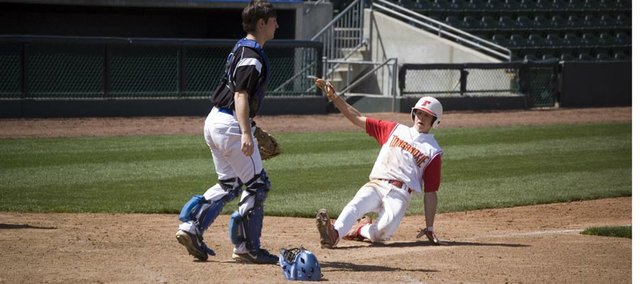 Photo Gallery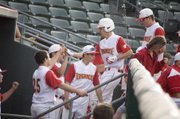 Tonganoxie baseball at BFMBC
The Tonganoxie High baseball team played three straight days this past week at CommunityAmerica Ballpark, home of the Kansas City T-Bones, for the annual Butch Foster Memorial Baseball Classic. The Chieftains finished sixth at the tournament with a 1-2 record.
BFMBC RESULTS
Team Standings
Basehor-Linwood (3-0)

Holton (2-1)

Spring Hill (2-1)

Bonner Springs (1-2)

St. James Academy (2-1)

Tonganoxie (1-2)

Paola (1-2)

Perry-Lecompton (0-3)
Heading into the annual Butch Foster Memorial Baseball Classic at CommunityAmerica Ballpark, Tonganoxie High baseball coach Mitch Loomis liked the look of the tournament bracket.
Loomis thought the Chieftains would match up well with first-round opponent Holton and hoped to see his team advance to a Saturday night final against St. James Academy.
The first-year coach turned out to be right about facing HHS and SJA, but the three-day tournament didn't turn out exactly as planned.
Tonganoxie got bumped to the consolation bracket after a one-run loss to Holton and ended up facing SJA in the fifth-place game, which the Thunder won, 10-0, with a no-hitter Saturday, giving THS a 1-2 record for the weekend (the Chieftains defeated Perry-Lecompton in a consolation semifinal).
Loomis had looked forward to Tonganoxie playing St. James (12-5) but Thunder pitchers Matt Eckelman and Steven Gillespie combined to throw five no-hit innings. Although he would have preferred a more competitive game, Loomis wasn't troubled by the result.
"It was a game we knew we were gonna play and I was excited because it's a good barometer for where we're at as a team," the coach said. "It's good for the kids to see what the best in 4A looks like, and they're (SJA) definitely gonna be right there when it's all said and done."
Loomis noted Eckelman, who threw the first four innings for SJA, had proven to be a strong pitcher and he wasn't upset with how the Chieftains (6-12) swung their bats against him. He said they tried to attack him early in the count but just couldn't execute.
THS senior Dylan Puhr said he and his teammates simply had trouble finding pitches to hit against Eckelman, who struck out six of the 13 batters he faced.
"He's a good pitcher, he brought it pretty good," Puhr said.
Although Tonganoxie lost in five innings and couldn't manage a single base hit against St. James, the first-round 10-9 loss to Holton, Loomis said, was even more aggravating, because the Chieftains led 6-0 through three and 1/2 innings before the Wildcats mounted a comeback and won the game with a sacrifice fly in the bottom of the seventh.
"That was probably the single most frustrating game of the year. For a team that's lost 12 games, that says a lot," Loomis said. "The thing that was disappointing there was our inability for anyone to just step up and take the reins."
The loss was difficult, Puhr added, because THS only had one lousy inning — the bottom of the fourth, when HHS scored five times and Tonganoxie committed three errors — and the Chieftains had taken control early with a three-run first.
"It was extremely frustrating, especially since we came in the first inning and just hammered them down," Puhr said. "We thought we had it in the bag and too many kids were writing them off already, and that's not what you need to do. You've got to play seven innings."
A nice and easy 8-1 victory over Perry-Lecompton on Friday — with seven strong innings of pitching from Jeremy Carlisle, a home run from Ethan Lorance and a 2-for-3 performance from Corey Klinkenberg — might have been the highlight of the tournament for the Chieftains, but Loomis said the losses could serve as a lesson.
"I think we learned a lot about the mentality of the game and how that really affects us," the coach said. "From a skill standpoint, we're doing a pretty good job."
Added Puhr: "We're not disappointed in the way we're playing."
Loomis said the team was affected this past week, when it played on four consecutive days and went 1-3, by having players out of position. Senior catcher Jeremy Wagner was suspended for a violation of team rules. With him unavailable to catch, utility infielder Dylan Fosdick, who had caught just two innings this season before the last four games, had to move behind the plate. That led to Tonganoxie's usual right fielder, Shane Levy, moving to third base.
"It puts us out of position and really handcuffs what we're doing," Loomis said, "but it's just one of those things you have to battle through."
The coach said Wagner's suspension would last two weeks and he will be available to play beginning Monday. He will not be in the lineup for Tonganoxie's regular-season finale, a 4 p.m. Thursday doubleheader at Bonner Springs.
Loomis said, ideally, he would like to see his team finish on a high note with a sweep.
"It'd be great to go in there and give ourselves an opportunity to feel good going into regionals," the coach said.
Basehor-Linwood won the 2011 BFMBC, defeating Holton, 8-3, in the final.
Tonganoxie's Lorance and Carlisle were named to the all-tournament team.