Field athletes help Tonganoxie girls take 6th at De Soto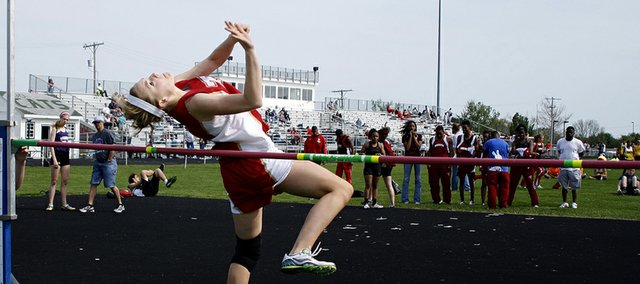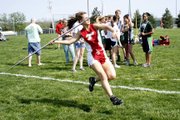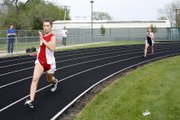 Even though a few of its top athletes were battling through injuries and ailments Friday at the De Soto Invitational, the Tonganoxie High girls track team finished sixth at a competitive meet.
So many of the Chieftains' key runners had nagging injuries that THS coach Chris Weller couldn't help but joke about how important field event athletes were for Tonganoxie at De Soto.
"My track and field team is becoming a field and field team," Weller quipped.
The good news for the coach was that Cristina Rubio, Hannah Kemp and Hunter Cook — all bothered by injuries — were able to give something for THS.
Rubio has been bothered by an injury in her hip and thigh area that gives her back pain, Weller said. Still, she ran for the 4x100 relay team, which finished fourth, and in the 400-meter dash, taking fifth place, before struggling to walk off the track after finishing. Her coach had to pull her from the 4x400 relay.
Kemp has a knot on her foot that is limiting her overall effectiveness. But she still finished fifth in the 100-meter hurdles and took seventh place in javelin. Weller said she would have been able to place higher if she had been healthy and noted she didn't compete in the 300-meter hurdles because of her injury.
Cook, meanwhile, has been dealing with some swelling due to a leg injury. She ran with the 4x800 team, which finished fifth.
"Nobody's quit on me," Weller said.
Although one of Tonganoxie's throwers, Jo Kissinger, was held out of the De Soto meet with a back injury, the rest of the team's field athletes racked up points for THS.
Senior Domino Grizzle won the shot put, took second in discus and finished sixth in javelin.
Haley Griffin and Jenny Whitledge took the top two spots in high jump, with Griffin taking first place over her teammate, who has been the Chieftains' top high jumper the past two seasons.
"Griffin looked really smooth," Weller said. "She's getting better and better every day."
THS had four other top-three finishers at De Soto. Dannie Oelschlaeger had a third-place mark in the pole vault, Whitledge finished second in the long jump by just ¾ of an inch and Holley Thompson had the third-best discus throw.
Although Tonganoxie finished sixth at De Soto, Weller thought his team's finish was not reflective of its performance, because a different scoring system was used. Usually, first place in an event gives a team 10 points, second is worth eight, third is six, fourth is four, fifth is three, sixth is two and seventh is the last scoring place, worth just one point. At De Soto, with 12 schools competing and the idea that each school could have three athletes in an event, 36 points went to first place, 35 were given for second, 34 for third, all the way down to one point for a 36th-place finish.
"Teams that are full — three per event — win," the coach said. "I don't have enough kids to do that."
There are two track meets this Friday — at Shawnee Mission North and Piper — and Tonganoxie will send all but one of its members to the Piper Invitational. Grizzle, meanwhile, will throw at the SMN Relays.
Considering the team's recent string of injuries, Weller said he would be quick to pull ailing athletes from competition at Piper with the more important Kaw Valley League meet coming up on May 11.
De Soto Invitational
Friday at De Soto
Team points: 1. Baldwin, 1,079.5; 2. St. James Academy, 1,031; 3. Eudora, 860; 4. Lansing, 839; 5. De Soto, 817.5; 6. Tonganoxie, 653; 7. Piper, 387; 8. Atchison, 325; 9. Kansas City-Washington, 253.5; 10. Maranatha Academy, 207; 11. Bishop Ward, 191; 12. Turner, 82.5.
THS results
400-meter dash — 5. Cristina Rubio, 1:05.16; 11. Jessica Rubio, 1:09.26.
100-meter hurdles — 5. Hannah Kemp, 17.31.
300-meter hurdles — 4. Jenny Whitledge, 50.07.
4x100 relay — 4. Cristina Rubio, Hannah Kemp, Jenny Whitledge, Jordan Weber, 54.46.
4x400 relay — 8. Kara Banks, Hunter Cook, Abby Thomas, Haley Griffin, 5:04.81
4x800 relay — 5. Hunter Cook, Kara Banks, Abby Thomas, Sagan Scates, 11:51.38.
High jump — 1. Haley Griffin, 5-2; 2. Jenny Whitledge, 5-2; 10. Megan Berry, 4-6.
Pole vault — 3. Dannie Oelschlaeger, 7-6; 6. Jessica Rubio, 7-0.
Long jump — 2. Jenny Whitledge, 16-5.75; 5. Jordan Weber, 15-10.75.
Triple jump — 7. Jordan Weber, 31-3.25; 13. Haley S parks, 27-7.
Shot put — 1. Domino Grizzle, 41-1.5; 6. Makayla Sample, 31-11; 10. Rachel Washington, 30-5.5.
Discus — 2. Domino Grizzle, 120-9; 3. Holley Thompson, 99-9.
Javelin — 6. Domino Grizzle, 99-4; 7. Hannah Kemp, 97-3.5.