THS

boys track not worried about 5th-place finish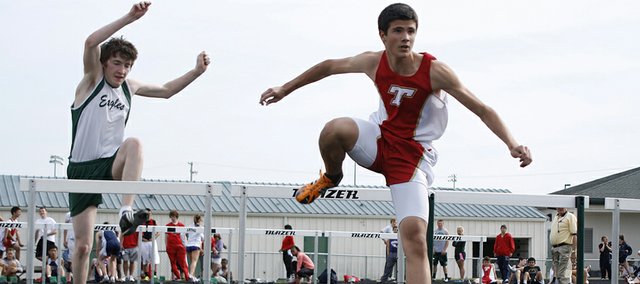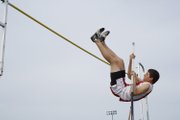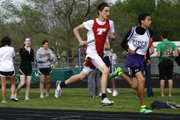 Even though the Tonganoxie High boys track team didn't finish in the top three of the team standings Friday at the De Soto Invitational, that doesn't mean it was a bad outing for the Chieftains.
THS ended up third or better at each of its first four meets this season before taking fifth at De Soto, but Tonganoxie coach Phil Williams, who saw his team finish behind Lansing, DHS, St. James Academy and Baldwin, said he was happy with how the Chieftains fared.
"This definitely was the toughest meet of the year, at least as far as the regular season goes," Williams said. "There were dozens of state medalists and qualifiers from last year there, plus some nationally ranked athletes. I was very pleased with the way our team competed."
THS was without one its most reliable field athletes, senior jumper Dylan Scates, at De Soto (Williams said Scates was held out for precautionary reasons and he doesn't have a serious injury) and still managed to finish in the top five in six individual events.
Jake Willis added another first-place finish to his résumé in the pole vault, Dylan Jacobs finished first in the high jump, Adrian Whittington took second in both the high jump and long jump and was fourth in triple jump, Lucas Ahart finished fourth in the javelin and Dallas Jacobs was fifth in the shot put.
Williams said it was very windy on Friday, impacting results, but Tonganoxie's athletes dealt with the conditions and excelled.
"The high winds affected the times and distances, but our kids did a good job," the coach said. "Almost everyone is taking a lot of pride in competing at a high level."
Matt Briggs, Williams noted, was one of the athletes who stood out on the track for Tonganoxie. The wind didn't slow him down at De Soto. Briggs ran a personal record in the 3,200-meter race and finished sixth.
Neither the 4x100 nor 4x400 relay teams competed for THS Friday, the coach said, because he wanted to allow some runners to get healed up.
A different scoring system was used at the De Soto Invitational. Usually, first place in an event gives a team 10 points, second is worth eight, third is six, fourth is four, fifth is three, sixth is two and seventh is the last scoring place, worth just one point. At De Soto, with 12 schools competing and the idea that each school could have three athletes in an event, 36 points went to first place, 35 were given for second, 34 for third, all the way down to one point for a 36th-place finish.
Williams said he wasn't a fan of the format, noting point values aren't altered at various football or basketball games.
The Chieftains will be represented at two track meets on Friday. While most of the team will head to the Piper Invitational, in Kansas City, Kan., THS will send five athletes to the Shawnee Mission North Relays. Ahart, Dylan Jacobs, Scates, Whittington and Willis will compete at SMN.
De Soto Invitational
Friday at De Soto
Team standings: 1. Lansing, 1,120; 2. De Soto, 1,040; 3. St. James Academy, 984.5; 4. Baldwin, 797.5; 5. Tonganoxie, 770; 6. Eudora, 726; 7. Maranatha Academy, 529; 8. Piper, 489.5; 9. Turner, 426; 10. Atchison, 354.5; 11. Kansas City-Washington, 296.5; 12. Bishop Ward, 170.5.
THS results
400-meter dash — 19. Noe Puebla, 1:05.66.
800 — 9. Evan Stilgenbauer, 2:13.31; 14. Marcus Titterington, 2:15.31; 25. Jeff Neal, 2:27.85.
1,600 — 26. Keith Slater, 6:22.
3,200 — 6. Matt Briggs, 10:57.91; 20. Brady Field, 12:28.27.
300-meter hurdles — 10. Seth Ahart, 48.3; 18. Austin Searcy, 51.04; 21. Cody Koch, 52.46.
4x800 relay — 7. Marcus Titterington, Dalton Harrington, Evan Stilgenbauer, Matt Briggs, 9:25.8.
High jump — 1. Dylan Jacobs, 6-0; 2. Adrian Whittington, 6-0; 12. Seth Ahart, 5-4.
Pole vault — 1. Jake Willis, 13-6; 8. Cody Martin, 11-0; 9. Ian McClellan, 11-0.
Long jump — 2. Adrian Whittington, 20-2; 9. Tyler Basso, 19-4.25.
Triple jump — 4. Adrian Whittington, 40-11.5; 10. Tyler Basso, 38-6.25.
Shot put — 5. Dallas Jacobs, 44-4; 7. Bryson Hewins, 41-0; 9. Tyler Stockman, 40-3.
Discus — 6. Dallas Jacobs, 131-10; 7. Bryson Hewins, 119-11.5; 18. Clayton Neas, 94-3.
Javelin — 4. Lucas Ahart, 150-4; 6. Dallas Jacobs, 146-2.5; 20. Dan Hopkins, 118-4.