Tonganoxie softball gets offense back on track
Chieftains bash
PRHS

, score 33 runs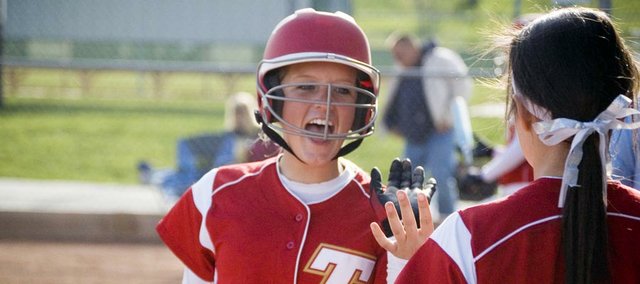 Photo Gallery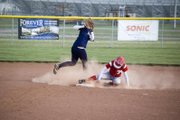 Chieftains softball pounds PRHS
Tonganoxie High's softball team didn't have much trouble with visiting Pleasant Ridge Monday at Leavenworth County Fairgrounds, winning 18-4 and 15-4.
With an offensively inept night still fresh in their memories Monday, Tonganoxie High's softball players decided to leave that disappointment in the past and focus on the present.
The resulting offensive explosion would indicate that was a pretty good idea.
The Chieftains bashed visiting Pleasant Ridge at Leavenworth County Fairgrounds, winning 18-4 and 15-4 three days after scoring one measly run and being swept at Spring Hill.
On Friday, THS suffered its first shutout loss of the season, 3-0, and crossed home plate once in a 2-1 loss at SHHS. On Monday, the Chieftains scored 33 times in a pair of five-inning games.
Junior Kailan Kuzmic said the team had to approach the Pleasant Ridge games as if Friday never happened.
"We were frustrated, definitely, but it was something that we had to get over," Kuzmic said.
Her teammate Amanda Holroyd agreed.
"I think we just forgot about it and went out and played," she said.
Boy, did they ever. The Chieftains (8-8) didn't get off to a great start against PRHS, which scored four runs in the top of the first inning in Game 1, but before long, Tonganoxie couldn't be stopped.
The first bunch of runs came in the bottom of the second for THS. The Chieftains were down 4-1 before taking control with a six-run frame that featured an RBI-single from Caly Ingle-Maxwell and a two-run double from Kaitlyn Wolken. Two more runs scored on an error and Wolken scored from third on a strikeout when the Rams' catcher dropped a third strike.
That was nothing compared to the fourth inning, though. After padding its lead to 8-4 in the third, Tonganoxie sent 14 to the plate, had eight hits and scored 10 runs in the fourth to put a stranglehold on the victory.
After Wolken was hit by a pitch and Holroyd singled, Kuzmic drove in the first run of the mega-inning with a double.
Marrissa Martin was the next to produce, scoring two more runs with a single up the middle.
After PRHS managed to get an out, Ingle-Maxwell walked and Maggie Gripka reached on a fielder's choice. What followed was a two-out, seven-run rally.
Morgan Oroke doubled to plate two runs. Haley Smith knocked in Oroke with a double down the left-field line. Wolken had a bloop single that moved Tonganoxie's advantage to 15-4 before the senior stole second base, advanced to third on an errant throw and scored on a passed ball.
Following a walk by Holroyd, Kuzmic drove her in with a double to left and later scored on another double, which was hit by Martin.
Kuzmic, who scored twice and drove in two runs in the fourth, said being a part of that kind of inning felt great.
"It's the fact that we're all working as a team. Obviously, not one person can score all 10 runs," she said. "We all have our teammates backing us up."
Coming off two tough, low-scoring losses, THS coach Lee Matzeder said his team desperately needed an offensive awakening. How important was it for the Chieftains to re-gain some swagger in the batter's box?
"Vital. Huge. We had to do that," Matzeder said, "just for our own self confidence, but also our record for regionals."
The 33-run evening, the coach added, should put THS back on track.
"It was huge for the girls, because (at Spring Hill) they were just flat, down," the coach said. "Their demeanor was down and out. Tonight, after we scored a few runs, you could see they were up and kind of having some fun in the dugout."
It would be difficult for them not to enjoy the night, given some of the players' stat lines in the sweep. Kuzmic was perfect at the plate, going 8-for-8 with six RBI and five runs scored. Woken went 6-for-7 with a home run, scored eight times and drove in five runs. Smith had three RBI on a 4-for-8 night. Holroyd homered, finished 3-for-7 and drove in three. Oroke also went 3-for-7. Martin went 3-for-5 with three RBI. And Ingle-Maxwell knocked in four runs while going 2-for-4.
Tiffany Jacobs started Game 1 and pitched all five innings for the first victory and Oroke followed Jacobs in Game 2 with a start and got a win of her own before being relieved by Jacobs.
With the regular season winding down, Holroyd said the lopsided wins will help the team's confidence.
"I think we know we're good, we just don't put it all together sometimes," she said.
Tonganoxie is scheduled to play its final four games of the regular season this week, with a 4:30 p.m. Thursday road doubleheader at Bonner Springs and a 4:30 p.m. Monday home twinbill with Baldwin.
Matzeder said THS needs to finish strong for better seeding in the regional playoffs.
"There's no reason we can't go 4-0," he said, "but we've got to take one game at a time, one pitch at a time, one swing at a time, don't overlook anybody."