Tonganoxie soccer beats
BLHS

, 2-0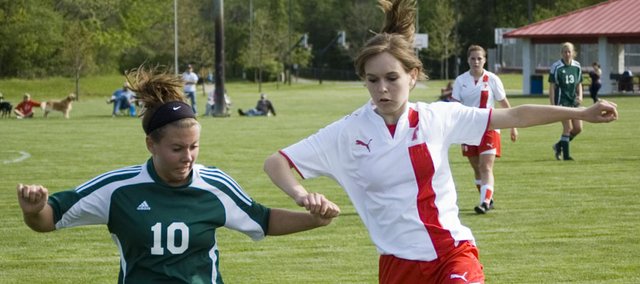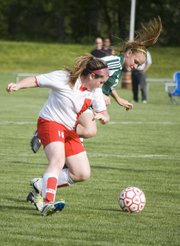 Displaying the kind of passing its coach wanted to see, Tonganoxie High's girls soccer team beat Basehor-Linwood, 2-0, Wednesday at Chieftain Park.
THS coach Justin Seever said he'd been working with his players on making the extra pass and it showed against the Bobcats. Freshman Alissa Donnelly put the Chieftains (3-8) ahead early with a first-half goal and fellow frosh Emily Soetaert increased the lead to 2-0 with just under three seconds remaining in the first half.
It was not easy to score with such little time left, Seever said, but it worked out for THS because senior Ashley Kotowske made a head's up play on Basehor's end as the visitors were trying to clear the ball. The senior forward won the ball and found Soetaert, who showed composure, controlled the ball on the right side of the box and put it away for a demoralizing score.
"They're thinking they're down 1-0, they're just trying to get to halftime," Seever said. "That really, I think, deflated them coming out and gave us a nice boost, a nice little cushion before the half."
The coach was glad to see the Chieftains looking for open teammates in the victory, he said, because he has been asking them to make extra passes.
"Sometimes we were a little too unselfish, but that's something we've been preaching day in, day out," Seever said. "One person being selfish and trying to take people on is just going to cost us."
Selfishness wasn't what led to a scoreless second half for THS. The Chieftains had some good looks, but Donnelly fired one attempt at Basehor's goalkeeper and Aly Bartholomew and Sarah Williams had shots that just missed wide left.
"We had our chances," Seever said. "They adjusted really well at halftime and we got out of our game plan a little bit."
The lack of second-half goals didn't trouble the coach, though.
"I'm not really worried about scoring more goals. I'm glad we kept the shutout, which was huge," Seever said.
Senior Alex Bartels played in goal against BLHS and led her team to the shutout with smart, aggressive play while manning the net.
One of the biggest positives from the victory, Seever said, was watching players come off the bench and move the ball the way he wanted them to.
"You saw a 20-minute stretch almost where we had five or six of our starters out. We didn't really miss a beat," the coach said. "We were still looking pretty good."
At 5 p.m. Thursday, Tonganoxie will return to its usual home field, on the THS west campus, for a Senior Night match against Ottawa.
At 10 a.m. Saturday, the Chieftains play at Blue Valley Southwest.