City council looks to strengthen animal control ordinance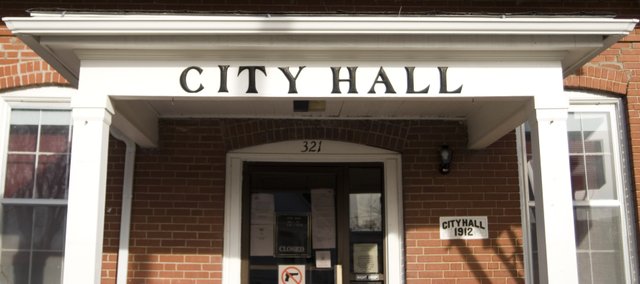 During a discussion of a proposed update of the city's animal control ordinance, Tonganoxie City Council members signaled a willingness for stricter rules and stiffer fines than those in a draft ordinance presented two weeks earlier.
The council discussed the proposed ordinance at its April 25 meeting, which drew Leavenworth County Humane Society President Crystal Blackdeer and one resident concerned about dogs at large.
City staff first presented the council with an update of the city's animal control ordinance April 11. It is the first thorough update of the ordinance since the 1980s.
Because of the longstanding nature of the regulations and the sensitivity of the topic, the council agreed to discuss the proposed changes once before taking action at its May 9 meeting.
Among the changes city staff proposed were:
• An increase in the annual pet license fee from $10 to $15 with a $5 for spay or neutered animals.
• An increase in the city impoundment fee from $10 to $20.
• Increases for such first-time offenses at pets running at large to $25 and fines for additional citations in a one-year period of $500 for a fifth violation and $1,000 for six or more.
• Establishing fines starting at $100 for a first offense and escalating to $1,000 for a fourth offense for such violations as neglect and abuse of animals.
• A decrease in the number of dogs or cats at a residence from eight to four (a total of four dogs and four cats would be allowed). Those who now have more than that limit would be allowed to keep their pets if they were currently licensed.
• A reduction in the days an animal will be kept in city impoundment from five to three.
In an address to the council, Blackdeer said animal control ordinances established community standards for the acceptable treatment of pets. With that goal, she suggested a number of changes meant to single out irresponsible pet owners while not interfering with those who take good care of their pets. For example, she questioned the value of restricting the number of dogs in a household.
"Some owners can only manage one pet," she said. "Some can manage a dozen without infringing on the rights of other residents to enjoy their properties."
Blackdeer also questioned the city's ban of pit bulls and Rottweilers, which she said could increase incidents by making people focus on breeds rather than behavior. More effective would be such things as limitations on tethering, encouragement of humane treatment of dogs and education, she said.
As for pet licenses, the city was missing a revenue opportunity, Blackdeer said. The city licenses 300 dogs when it could be assumed there were about 2,500 pet dogs in a town Tonganoxie's size.
The city could encourage licensing by sending out information with water bills, making them available online and making registration possible at local veterinary clinics, Blackdeer said. But she said the real motivation would be to add a benefit to licensing.
"Many cities provide a free-ride home for registered pets, particularly on a first offense," she said. "This would require the Tonganoxie Police department to have access to registered information 24/7 so that they could return animals to owners instead of calling animal control to impound them."
Blackdeer also said the proposed reduced impoundment period did not allow enough time for pets to be reclaimed or adopted.
Council members, too, supported the current five-day impoundment period and with the need to provide pet owners a benefit from licensing pets. However, they said tight budgets made it the wrong time to add the responsibility to the police department.
There also appeared to be little support to end the ban on pit bulls and Rottweilers or to change the proposed limit of four dogs per household.
Councilman Bill Peak said he would support a grandfather clause for those exceeding the proposed limit but wasn't in favor of a long grace period for residents to license current pets.
"If you're going to sit in your house and think a dog doesn't have to be tagged, I'm incredulous," he said. "I don't see bending over backwards for somebody who has eight dogs and hasn't tagged them."
At Peak's suggestion it was also agreed to double the first fine for those abusing or mistreating animals.
"If anybody is low enough to abuse an animal, the fine should be $500," Peak said.
Picking up on a comment of Blackdeer, council members noted the proposed ordinance had no bans on lengthy tethering. At the suggestion of Brent Toellner of Kansas City Dog Advocates, it was agreed it would be a violation to leave a dog tethered while the pet owner wasn't home. That was easier to enforce than any specific length of time, he said.
Staff will make the suggested changes and present the ordinance to the council Monday for final action.