New activities to be offered in Kansas Sampler Fest's 2nd year in Leavenworth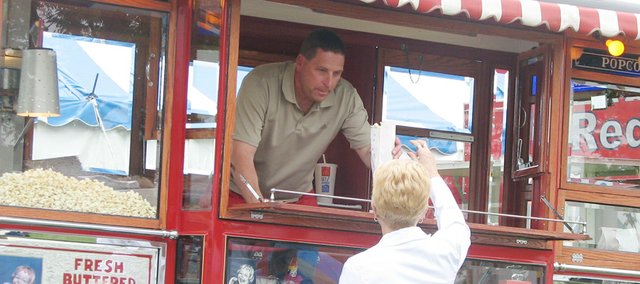 2011 Kansas Sampler Festival
Who: Food vendors, exhibitors, entertainers and beer and wine makers from across the state.
What: The Kansas Sampler Festival, which is in Leavenworth County for the second consecutive year.
When: 10 a.m.-5 p.m. Saturday and 10 a.m.-4 p.m. Sunday.
Where: Ray Miler Park on the east side of Kansas Highway 7 in Leavenworth.
Why: The event promotes what Kansas has to offer in commerce, tourism, entertainment, food and drink by bringing people from across the state together to one location.
How much: $5 daily for adults, $3 for children 7-14, free for children 6 or younger; weekend passes $8 for adults, $4 for children.
Visitors to this weekend's Kansas Sampler Festival in Leavenworth have the opportunity to see exhibits and try foods and beverages from across the state.
They might even get to meet John Brown.
This year's festival, which will take place at Ray Miller Park in Leavenworth, will have a scavenger hunt of sorts in honor of the Kansas sesquicentennial, called Sesquiquest.
Visitors ask various vendors whether they're a person from history, such as John Brown. The person who finds each historical figure receives a gift basket from the sampler festival.
The festival, which runs from 10 a.m.-5 p.m. Saturday and 10 a.m.-4 p.m. Sunday, is in its second year in Leavenworth.
The park, at 4201 S. Fourth St. in Leavenworth, is starting to take the shape of a festival. Earlier this week, tents were being put up throughout the park.
"It's starting to look bright and pretty with the bright-colored tents popping up," said Keyta Kelly, director for the festival in Leavenworth.
In its first year, the festival had tents showcasing representatives from cities and counties of various regions in the state, as well as food offerings from across Kansas. There also was music, dance and comedic entertainment and programs involving people in period dress.
And for wine and beer connoisseurs, there again will be a wine and beer tasting tent.
All those elements are returning this year, but Keyta Kelly, director for the Leavenworth festival, said a children's stage with children's entertainment, as well as old-fashioned games, have been added this year.
There also will be a tent where face painting celebrating the sesquicentennial will be offered.
Visitors to the 2010 Sampler Festival in Leavenworth will notice a change in layout. Kelly said tents have been situated to better avoid areas that became soggy and muddy this past year because of rainfall. Ray Miller Park covers 11.5 acres, about half of which is used for the festival.
"It should be nice and dry," Kelly said. "No mud this year."
With Mother's Day being Sunday, the first 500 mothers at the festival each will receive a $2 coupon for a food or drink item or an item at the Carroll Mansion Herb Market area at the festival. The annual event normally takes place at the Leavenworth mansion, but has been moved to the festival in an effort to boost attendance for both the market and the festival.
"We think there's no better plan than to bring your mom here for Mother's Day," Kelly said.
She said she hoped people from other areas of the state would plan weekend trips for their mothers to the festival.
About 8,500 people visited the festival in 2010, making it the most-attended Kansas Sampler Festival since the annual event started in 1991 near Inman.
People wanting to check out the festival without having to make a substantial road trip might want to go this weekend to Leavenworth — in 2012 and 2013, the rotating festival will take place in the southwest Kansas community of Liberal.
Daily admission will cost $5 for adults and $3 for children 7-14, and children 6 or younger will get in free. Weekend passes will be $8 for adults and $4 for children.
Shuttles will run from parking lots at K-Mart and the Central Bag Company, which both are south of the park on Kansas Highway 7. Handicapped parking is available at Danny Zeck Ford, which is just south of the park.
For more information about the festival, go to: www2.ljworld.com/marketplace/all/kansas-sampler/
More like this story