TES

third-graders get up-close look at farm life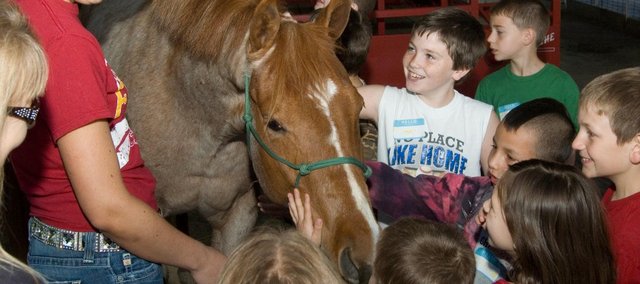 The farm came to town Friday for Tonganoxie Elementary School third-graders.
Students headed to the Leavenworth County Fairgrounds for a tour of different farm animals.
There were horses, pigs, chickens, goats and cows for the students to see up close, as well as a hayride and a lesson in farm safety.
Groups of students rotated from station to station learning about the various animals from Tonganoxie FFA members.
TES third-grader Emily Rose said she especially liked seeing and petting all the animals. And she learned a few things in the process.
"Well, I learned that there's four stomachs in a cow and a horse has one," she said.
Tonganoxie High School senior Carson Simmons, who was chairperson for the Day at the Farm, said it was her intent for the day to be fun, but for the students to learn something and be engaged in the process.
"I tried to treat it like a field trip," Simmons said.
A tractor pulled groups of students around the fairgrounds for the hayride, an activity FFA adviser Randy Kraft said has been part of the itinerary the last few years.
Now in his 10th year at THS, Kraft said the Day at the Farm has been an annual event since he started teaching in Tonganoxie and was done for some years before he arrived.
"I think our kids look forward to it as much as the third-graders get excited about it," Kraft said.
The event actually took a hiatus this past year because of anticipated inclement weather, but there was no rain in sight for this year's installment.
"I was glad to see weather like this," Kraft said. "It was awesome."