THS

soccer unable to hold off Ottawa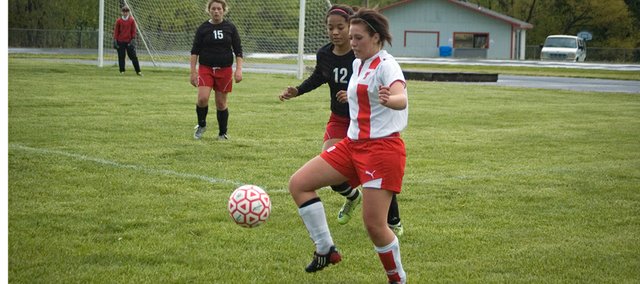 Tonganoxie High's girls soccer team enjoyed a one-goal lead for more than 20 minutes Thursday against Ottawa before suffering a 4-1 home loss on Senior Night.
The Chieftains jumped out to an early lead in the 22nd minute when senior Ashley Kotowske maneuvered through the OHS defense and booted the ball of the Ottawa goalkeeper's fingertips.
Heavy rain slowed things down somewhat in the latter portion of the first half and THS, which led 1-0 at halftime, maintained its lead until the 43rd minute, when the Cyclones scored from the right side on a cross.
Neither team was able to break the 1-1 stalemate, however, for the next 32 minutes on the wet and sometimes slippery field.
During that span, Alissa Donnelly had a shot that went right at the goalkeeper, Kotowske placed a cross in front of the net that Tonganoxie (3-9) couldn't control and an offside call negated what looked to be a Chieftains score, when a shot by Molly Welsh was rebounded by Kotowske and the senior put the ball in the back of the net.
Senior THS goalkeeper Alex Bartels also stepped up. On one OHS attack in the 72nd minute, the goalie stymied a hard push by the Cyclones, who had numbers in the box.
Finally, in the 75th minute, Ottawa scored on a shot from about 25 yards out. Bartels got her hands on the wet ball as it careened toward her, but was unable to fully control it above her head and it bounced in to put the Cyclones ahead, 2-1, with just more than five minutes left on the clock.
OHS quickly extended its lead to 3-1 in the 76th minute, when Bartels came out to make an aggressive play but was unable to stop a charging Cyclones forward, whose misfired shot was eventually put back into an empty net.
Ottawa scored its fourth goal of the second half in the 80th minute on a strong sliding shot by one of its forwards.
Up next for Tonganoxie is a 10 a.m. Saturday match at Blue Valley Southwest.