Tonganoxie City Council May 9 agenda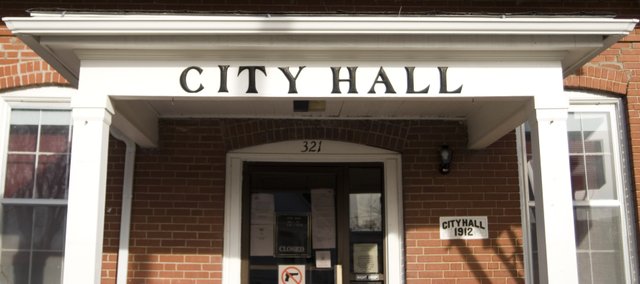 The Tongnanoxie City Council is expected to take final action an update of the city's animal control ordinance at its meeting Monday.
Another agenda item of note is a follow up discussion on a possible lease or purchase of a building in the Urban Hess Business Park for use as a fire station and police headquarters.
An interesting item in new business is the request for $2,500 for engineering services to research extending utilities and infrastructure to the County Road 1 industrial park.
The complete agenda:
Open Meeting – 7:00 p.m.
Consent Agenda
a) Approval of Minutes –
Regular Meeting dated April 25, 2011
b) Consider Approval of Bills - Approve Pay Ordinance A-1657
c) Consider appropriation to Evans Real Estate for Property and Liability Insurance renewal April 2011 – April 2012 in the amount of $56,496.00.
d) Consider approval of appropriation to American Equipment Company in the amount of $2,784.11 for repair on spreader.
e) Consider approval of appropriation for to the City of Basehor in the amount of $2,466.00 for Inspection/Code Enforcement services in Feb, Mar & Apr
f) Consider approval of appropriation to CAS Commercial Aquatic Services for chemicals to be used at the water park in the amount of $6,106.61
g) Consider approval of appropriation to datamax for early termination of the copier lease in the amount of $2,830.33, this amount is to be reimbursed by IKON
h) Consider approval of appropriation to Haynes Equipment in the amount of $9,900.00 for Chlorination System, Booster Pump and Starter for the water plant.
i) Consider approval of appropriation to Leavenworth County Clerk in the amount of $12,505.23 for lease payment on Emergency Communications System.
Presentations and Recognition – Leavenworth County Deputy Sheriff Jeffrey Adams, School Resource Officer, Dare Instructor and facilitator of Making it REAL.
Open Agenda
"Members of the public are welcome to use this time to comment about any matter relating to City business. The comments that are discussed under Open Agenda may or may not be acted upon by the Council during this meeting. Please wait to be recognized by the Mayor, then state your name and address and all comments are to be directed to the chair."
Old Business
a Discuss Chapter 2 of the Tonganoxie City Code – Animal Control and Regulation
b) Consider Ordinance 1317 adopting the changes to Chapter 2 – Animal Control and Regulation, of the Tonganoxie City Code.
c) Consider appropriating an amount NTE $2,500 for engineering services to research infrastructure capabilities and improvements to formulate a proposal for the sale of water to Public Wholesale Water District #6.
d) Discussion concerning acquiring a facility to house a new Police Facility and a Fire Department Annex
e) Discuss Chapter 8 Health and Welfare (Nuisance) and 14 (Traffic) and consider adopting Ordinance amending the Tonganoxie City Code (table item).
New Business
a) Janet Falk, Tonganoxie Tidal Waves
b) Proposal for Engineering Services for Utilities Extensions and Site Preparation Work for the Tonganoxie Industrial Park.
c) City Superintendent, Kent Heskett
1) KDHE Mandated Notice and Publication
2) 2011 Street Maintenance Projects
3) Consider approval of Asphalt Rejuvenator Project
4) Consider approval of promotion of Lloyd Wisdom to Utilities Superintendent
d) Consider authorizing the Mayor to sign the fifth amendment to the loan agreement with KDHE to reduce the total amount of the loan and the annual payments due from the City
e) City Administrator Agenda, City Administrator Report




1) Unison Proposal – Cell Site Lease Conversion Program
2) June 11th Fireworks Show Update
3) Request for FY 2012 Budget Work Session
f) City Attorney Agenda




g) Mayor Agenda
1) 2011 Appointments
h) Council President Agenda
i) City Council Agen
Adjourn
Information & Communications (No Action Required)

a) Airport/Business Park Selection Site Update –Public Workshop scheduled for Wednesday, May 11, 2011, 5:30 pm to 7:00 pm at the Lansing Community Center.
b) Kansas Supreme Court Blue Ribbon Commission (BRC) to examine the structure and operations of the entire State court system and to make recommendations to the Supreme Court on how the Courts can better and more efficiently serve the citizens of Kansas
c) KDOT Press Release announcing the K-92/Centennial Bridge Repair Project started May 2, 2011
d) Home Builders Association – Residential Building Permit Statistics – March 2011
e) Leavenworth County Development Corp – 2010 Annual Report
f) March 2011 City of Tonganoxie Budget Report