Chieftains baseball has week to prepare for postseason
Coach wants to spend practice time working with hitters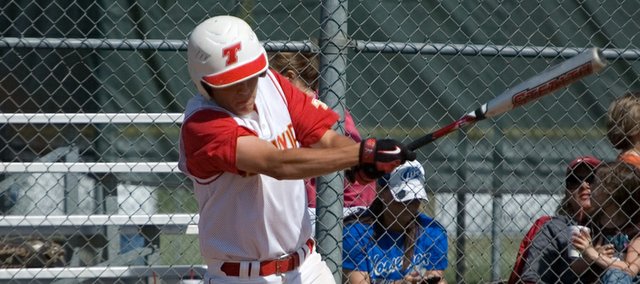 As much as the Tonganoxie High baseball team would love to enter the playoffs on a roll, that might be easier said than done this year.
Upon finishing their regular season Friday with an 8-4 victory against Bonner Springs in the second game of a doubleheader, the Chieftains did so with the knowledge they will have some time on their hands before postseason play begins.
If THS (7-13) has its first-round regional playoff game on Monday, as expected, the team's players will have gone 10 days without playing a game the next time they suit up and take the diamond.
Instead of worrying about the lull in action, though, Tonganoxie coach Mitch Loomis thinks a solid week of practice could be just what the team needs entering its regional tournament.
As a coach, Loomis said he can't help but look at the time off as a chance to do some fine tuning.
"It will be a good opportunity," he said. "I think it will be a challenge for us a little bit to make sure we're staying focused, because it is a lot of time off."
Still, the first-year coach is excited that the Chieftains could enter a first-round game feeling like they have spent productive time on everything that needed to be covered.
Loomis said Tonganoxie will go over specific game situations, both offensively and defensively, this week, but offense will be the biggest focus. Specifically, the coach said he is looking forward to working on hitting with a few players, making some tweaks and boosting their confidence.
"We've got to get more production out of the bottom part of our lineup," Loomis said. "That's gonna make or break whether or not we're playing more than one playoff game."
The past few weeks, the sixth through ninth spots in the THS lineup have been occupied by Tyler Freeman, Dylan Fosdick, Corey Klinkenberg and Austin Harkrader and each has produced something in that time, be it a run, hit or RBI. What Loomis wants to see out of the group is more consistent production.
Tonganoxie senior center fielder and leadoff hitter Jeremy Carlisle said when the guys at the bottom of the lineup step up, the Chieftains are difficult to beat.
"I think our best wins come when our bottom three batters get hits," Carlisle said. "When they get on base and just find a way to move 90 feet up, then that just brings up the top (of the lineup) and we're just rolling into the top, which is always great."
For example, in a 3-2 loss Friday to Bonner Springs, THS scored one of its only two runs in the seventh, when Fosdick, Klinkenberg and Harkrader each reached base.
Senior Ethan Lorance, who bats third, said he has confidence in the bottom half of the lineup and agreed getting production out of those players makes Tonganoxie a better team.
"We've got to get the bats going," Lorance said. "That's the biggest thing."
The top of the Chieftains' lineup has been productive this season with Lorance, Carlisle, Ben Williams, Dylan Puhr and Shane Levy all batting above .300. And the offense should get a boost in the postseason with the return of Jeremy Wagner, who hit .357 in 14 games before being suspended for two weeks for a violation of team rules.
Carlisle said it will be great to have Wagner back in the lineup and his ability to "crush" the ball will throw some kinks into their opponent's game plan.
"It'll just make our lineup that much tougher," Carlisle said.
Regional playoff brackets will be released today. Check in at tonganoxiemirror.com to see the Chieftains' first-round opponent.