Chieftains look for flaws in 5-1 soccer victory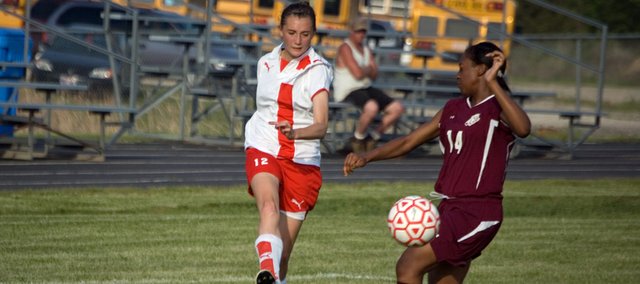 It's easy to tell the postseason isn't too far off when a coach starts critiquing a one-sided victory.
Such was the case Monday following a 5-1 win against visiting Kansas City-Washington for the Tonganoxie High girls soccer team.
THS coach Justin Seever wasn't necessarily disappointed. He just wants to see the team firing on all cylinders.
"I'm happy to an extent but obviously looking for better things," he said.
The coach had no complaints with Tonganoxie's five goals a week before the playoffs begin. Freshman Emily Soetaert made sure the home team wouldn't trail with an early goal and a pair of scores by sophomore Alyssa Miller led to a 3-1 halftime advantage.
Seever said he told both Miller and Sarah Williams to work off one another when they were up top as forwards and challenged them to put the ball away when they had a chance to fire in the box.
Miller heeded that advice.
"She went out there and took advantage of her minutes," Seever said. "The last couple of games, actually, Alyssa's been playing really well."
The coach said it was good to see a young substitute like Miller jockeying for a starting position in the future.
"She came on, got a couple of good goals," Seever said. "I was impressed with her."
After both teams went scoreless for more than 20 minutes to open the second half, THS (4-10) took a 4-1 lead on a goal by senior Alex Bartels in the 62nd minute and senior Ashley Kotowske netted the final goal in the 74th minute.
Bartels said Tonganoxie's offense has progressed to a point where it is now better organized and has more structure than it did earlier in the season.
"I feel like we're making progress and we're making better attacks," the senior said.
That doesn't mean the Chieftains are without their flaws, though. Seever said they had a difficult time adjusting to Washington's defense, which sat back. He said they need to play with a quicker pace.
"All the extra space and time, I think, kind of threw us a little bit off our game, but we're looking for the right stuff," the coach said. "We've just got to get a little more attacking mind, look to be a little bit more aggressive with our runs instead of settling for watching the play build."
As far as the THS defense goes, Seever said he continues to be impressed by freshman Aly Bartholomew, noting she has been playing "lights out" all season long.
"She's kind of been our rock in the back. Even when (opponents are) looking dangerous, she comes through," he said.
Bartels said that Tonganoxie is becoming more complete with better play on both sides of the field.
"We've got a pretty strong defense but I feel like our offense is coming along better. We're taking more shots, we're having more opportunities," she said.