Chieftains' signing day goes better than Senior Night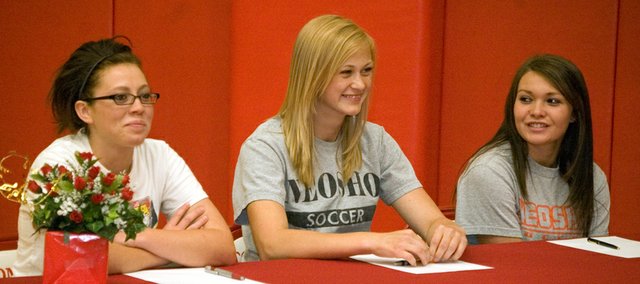 A day removed from a soaked Senior Night, Friday provided some redemption for three Tonganoxie High girls soccer players.
Less than 24 hours after getting drenched with rain during a halftime ceremony for the team's seniors, Ashley Kotowske, Carlea Richert and Grae Wilbanks were dry and happy in the THS gymnasium for a college signing ceremony.
It seemed fitting for the three senior teammates that they could do some celebrating after getting rained on and suffering a disappointing 4-1 loss to Ottawa Thursday.
Richert, who signed with Independence Community College, said she had lobbied to have Senior Night on May 4 against Basehor-Linwood, a match which featured nothing but sunshine and a THS victory. But she couldn't help but laugh about the rainy festivities.
"It was kind of funny, I think, because it was such a sad thing," Richert said. "Senior Night's supposed to be kind of happy, but again sad at the same time, so I think it was kind of funny it started raining."
Both Kotowske and Wilbanks signed to play at Neosho County Community College and thought the Senior Night ordeal would provide them with memories at the very least.
Though it was rainy and kind of miserable, Wilbanks said she didn't mind the uniqueness of it.
"It wasn't too fun to play in, but I'll always remember that," the defender said of Senior Night. "In a way I kind of liked it, because it was different."
Kotowske, on the other hand, thought about the future.
"It was just nice to remember I have a lot of more soccer to play," the forward said.
The signing ceremony had originally been planned for Kotowske and Wilbanks, because they were both heading to NCCC, but when they asked Richert to join a couple of days beforehand, she excitedly accepted.
Richert said she hadn't given a lot of thought to continuing her soccer career past high school until THS coach Justin Seever asked her about it.
"I didn't know if I was good enough to play college soccer," she said.
Seever was a teammate of ICC coach Ian Thomson when they both played soccer at Neosho. That relationship led to Richert meeting Seever's former teammate as well as the players he coaches at Independence and she said the small-town feel of the Pirates' program helped her decide to pursue a junior college soccer career.
Kotowske had garnered interest from Neosho coach Damon Solomon as a junior and she visited the campus this past fall and committed early this year. Once she made the choice, she started pushing for Wilbanks to join her.
Wilbanks said she didn't need too much convincing.
"We've been really good friends for a long time," she said. "I thought it would be a good opportunity to look to play."
Playing at the next level with a Tonganoxie teammate, Kotowske added, should make their transition easier, especially with a 2010 THS graduate already on the NCCC roster.
"I feel a lot more comfortable," Kotowske said. "Also, I have Lauren Williams, who we played with last year. And I feel a lot better having friends already, so it won't be completely new."
Wilbanks, too, is looking forward to having Kotowske's familiar face on her junior college team.
"I know if I need anything, she'll be there," Wilbanks said.
After sharing the signing ceremony with Kotowske and Richert, Wilbanks said it will be another important day from her senior year that she will remember fondly because of her teammates.
"Our whole team was here to support us. Everybody's real supportive of each other," Wilbanks said. "I got to sign with two of my really good friends and teammates."
And no one got rained on.