Close losses becoming 'frustrating' trend for Tonganoxie softball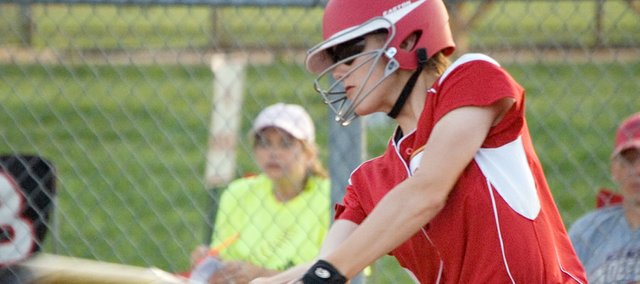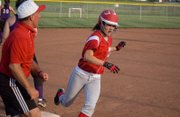 One-run games are becoming a nuisance for Tonganoxie High's softball team.
Monday's home doubleheader, when the Chieftains were swept, losing by a combined two runs, against Baldwin had plenty to do with that development.
When the Bulldogs followed a 2-1 win with a 7-6 victory, Tonganoxie's record in one-run games this season dropped to 1-5.
As senior Kaitlyn Wolken said, it is getting old.
"It's frustrating because we lost by one run," she said. "We're right there."
THS coach Lee Matzeder felt the same way. He can't stop thinking about the team's 8-10 record and how much better it would be had those close losses gone the other way.
"We're just having trouble getting over the hump," the coach said. "It's frustrating."
What made the Game 1 loss to BHS (12-6) so tough to comprehend was the lack of offense. Chieftains senior pitcher Tiffany Jacobs threw a complete game and only gave up five hits, one walk and two runs while striking out four batters.
Matzeder said that kind of pitching night should lead to a win.
THS, Wolken said, has to hit the ball better.
"We all know we have the potential to win. Our bats just didn't come around when we needed to," Wolken said. "As a team we just didn't hit well."
The only run in the first loss came in the fourth inning, when Marrissa Martin drove home Wolken with a single.
Runs came easier at first in the second game of the twinbill. THS scored in each of the first three innings before the offense tapered off.
Amanda Holroyd blasted her fifth home run of the season in the bottom of the first to give the Chieftains a spark. Kailan Kuzmic went 2-for-4 in Game 2 and drove in a run. Maggie Gripka and Caly Ingle-Maxwell both drove in a run apiece and Jacobs went 2-for-3 at the plate.
Tonganoxie led 6-5 after three innings but couldn't score in the final four frames. One run apiece for BHS in the fifth and sixth innings was the difference in the game.
By the time the doubleheader ended, Matzeder couldn't figure out why his team wasn't more fired up about playing in two very close games.
"Maybe we're putting undue pressure on ourselves. I don't know," he said. "Maybe I'm just putting pressure on me, but for some reason the girls just seemed a little flat today. I don't know why. They just weren't excited."
The coach said it was difficult to see them lose, pack up their gear and head home for the night relatively unfazed by the losses.
"We just seem nonchalant about it," Matzeder said.
The second-year Tonganoxie coach said he is planning a heart-to-heart talk with the players about the upcoming regional tournament, scheduled to begin Monday.
"You've got to be ready to go," he said, "and be pumped up and be fired up on every pitch, every swing of the bat, every batted ball. Everything."
Monday was supposed to mark the end of the Chieftains' regular season, but a rainout this past Thursday at Bonner Springs means they have one more chance (at 4:30 p.m. Wednesday at BSHS) to get on track before the postseason starts.
Wolken said having one final tune-up would be nice after the losses to Baldwin.
"We want to play better at Bonner so we can end on a better note going into regionals," she said. "Maybe it's supposed to work this way."