Grizzle excited to throw for Benedictine College track team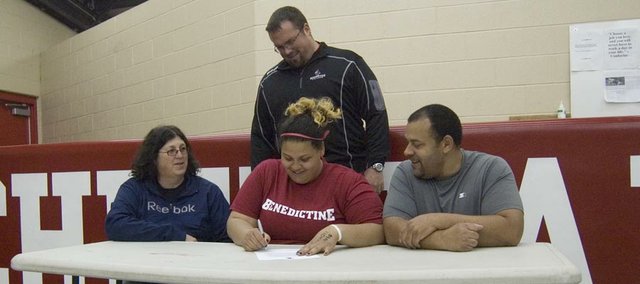 April 18 was a big day for Domino Grizzle.
Already celebrating her 18th birthday and competing at home for the final time in her high school career, the date's importance grew when the Tonganoxie High senior thrower learned it would mark the day she signed with a college track team as well.
Grizzle was at the javelin area at the Tonganoxie Invitational that afternoon when Benedictine College track coach Darin Schmitz, in town to watch her compete after getting an oral commitment from the Chieftains' top thrower, asked her if she wanted to make her choice official with a signing.
The THS senior clearly had a lot of things going on that day, but Grizzle obliged and signed with BC in the fieldhouse south of Beatty Field after she got done with her events.
"I was just looking forward to it," she said. "It was cool. I just really wanted to get it over with because it was on my mind."
Grizzle had visited the Atchison campus a few weeks before her big day and right after her visit, she knew she wanted to become a Raven.
"I liked it up there. It's just gonna be awesome," Grizzle said, noting she liked the people she met, including professors.
Having watched two of her older sisters recently go through the college recruiting process, she said Roxi and Roni, who both throw at Nebraska, told her she should just find the program where she felt most comfortable.
"They just wanted me to find a place where I'll have fun and do good," she related.
For her, that made BC an easy choice. Even though Grizzle had once thought about the possibility of joining her older sisters at Nebraska, she said she wasn't losing any sleep over that scenario not playing out.
"I kind of wanted to go off on my own and do my own thing," she said.
Grizzle is looking forward to the challenge of joining a relatively inexperienced track team at Benedictine next year, which will be Schmitz's first season at the helm.
"Right now they don't have a well-rounded track team," she said. "It's just getting started, because the people who ran it before were just volunteers."
With Schmitz on board and looking to turn around the program, Grizzle said she wants to contribute to the team's success.
"I'm just hoping to bring my best and make the track team known," she said.
In the midst of a successful senior campaign, Grizzle is happy to know her throwing days will continue at BC. She said she was watching professional throwers compete in April at the Kansas Relays in Lawrence when she sent a text to her future coach that read: "I wish I could throw like these guys."
Schmitz, a 1999 graduate of Kansas University who twice received all-Big 12 honors as a thrower, quickly responded: "Just wait."
"He's a really good coach," Grizzle said, "and he's gonna be able to provide me with a lot."