Kings of the course:
THS

golf wins

KVL

crown
Chieftains occupy 3 of top 4 spots on leaderboard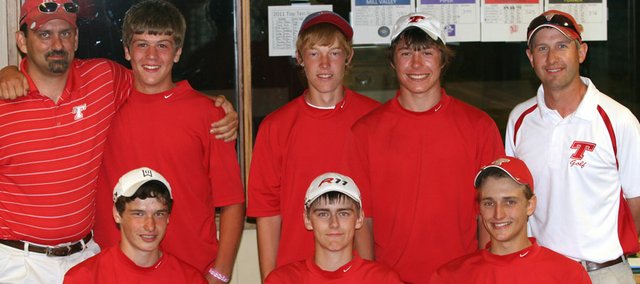 WINNING THE KVL
Tonganoxie High posted three of the top four scores Monday at the Kaw Valley League Tournament.
Colby Yates, 77

Tanner Hale, 81

Drew Sandburg, 81
Before Tonganoxie High golfers teed off Monday afternoon at the Kaw Valley League Tournament in Bonner Springs, coach Jared Jackson had a little reminder for them.
His message: This is where the fun begins.
As it turned out, he was right and the Chieftains were about the only golfers enjoying themselves at Sunflower Hills Golf Course on a gusty day that sent many shots and most scores soaring out of control.
THS, on the other hand, put together a team score of 323 to win the program's first KVL championship by a whopping 21 strokes.
Piper finished as a distant runner-up to Tonganoxie mainly due to great efforts from the Chieftains' top three golfers, who occupied three of the top four spots on the leaderboard.
Junior Colby Yates won his second individual league crown with a 77, while junior Tanner Hale took second place with an 81 and Drew Sandburg placed fourth, also with an 81.
What's more, Aaron Williams was the fourth Chieftain to finish in the top 10 with a ninth-place score of 84 and Kody Campbell was 11th with his final tally of 87.
THS coach Jared Jackson said the Chieftains had extra incentive to win the KVL championship after coming up just short at the league tournament each of the past two seasons.
"You want to bring home a league title and I think it was very important for the kids," Jackson said.
The fact that Sunflower Hills is the team's unofficial home course, Yates said, gave THS an advantage. So when the wind gusted around 20 miles per hour, it didn't bother the Chieftains, who have practiced there on worse days.
"We have played it in windier conditions, so it didn't seem that bad to us because we know how to play it," he said.
Jackson agreed that Tonganoxie's golfers know their way around the course and their knowledge of each hole helped them, but he was proud of how well each individual performed.
"Tanner played real well, at a level we thought at the beginning of the season he could get to," the coach said of Hale's second-place finish, noting 81 was "a very good score" on Monday.
Hale said he entered the tournament hoping to shoot in the high 70s or low 80s.
"I was kind of surprised that 81 was second," he admitted. "I really didn't have an individual goal like first or second or anything like that."
Yates, on the other hand, came in determined. After winning a KVL title as a freshman, Yates didn't place at a weather-shortened league tournament in 2010, so he had plenty of motivation for ascending once more to the top.
"I think the big deal was coming off last year's finish I didn't even place," Yates said. "I wanted to win."
Heading into next week's regional tournament, the junior also wanted some momentum, which is what all of Tonganoxie's golfers now seem to have.
Said Hale: "I think we have a real good shot of going to state if everybody plays like they did today."
THS will play in a Class 4A regional beginning at 11 a.m. Monday at Dub's Dread Golf Club in Kansas City, Kan.
Jackson said the competition would be stiffer at the regional, with non-league teams such as De Soto and St. James competing for a state berth. Because the Chieftains aren't as accustomed to the ins and outs of that course, the coach added, they will practice there this week with the intent of earning a trip to state.
"Hopefully this isn't a peak," Jackson said of the league crown, "and we continue to improve this week in practice."
Kaw Valley League Tournament
Monday at Sunflower Hills Golf Course, Bonner Springs
Team scores: 1. Tonganoxie, 323; 2. Piper 344; 3. Bonner Springs, 368; 4. Turner, 372; 5. Basehor-Linwood, 372; 6. Mill Valley, 390; 7. Lansing, 409; 8. Bishop Ward, 451.
THS results: 1. Colby Yates, 77; 2. Tanner Hale, 81; 4. Drew Sandburg, 81; 9. Aaron Williams, 84; 11. Kody Campbell, 87; 12. Tyler Hall, 109.