No shoes, new shirts, community service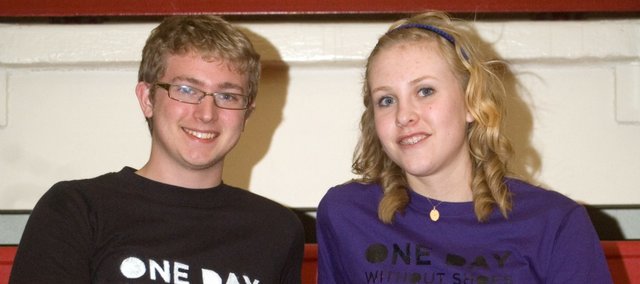 The sound of shoes squeaking and pattering through Tonganoxie High School hallways didn't have quite the volume Friday as it would on a normal school day when students made their way from class to class.
Some students wore only socks on their feet Friday, thanks to the efforts of junior Aaron McIntyre and sophomore Jody Baragary.
The two had discussed organizing Tonganoxie's own "A Day Without Shoes" to mirror the TOMS "One Day Without Shoes" event each April that is an effort to bring awareness about people around the world who are without shoes.
McIntyre said he learned of TOMS shoes from Baragary.
"She was telling me how TOMS gives a pair of shoes for every pair you purchased," McIntyre said. "So I thought that was pretty cool. After she told me that, I decided I needed a pair of TOMS."
They discussed bringing awareness to THS, but getting everything organized in time for April 5 and a long list of activities happening that week hindered localized awareness.
Baragary and McIntyre, though, continued their push for a "Day Without Shoes" at THS. Principal Jamie Carlisle suggested they organize the event for a later date, and that date was this past Friday.
"We were pretty persistent in asking," Baragary said about discussions with Carlisle. "We wanted to get the point across that it's not comfortable at all. We wanted that experience."
A compromise was made: Students were allowed to wear shoes, but were required to wear socks.
The friends also sold shirts that promoted the day without shoes. McIntyre said he made a shirt himself and then received assistance from a neighbor who makes screen printings as a hobby. McIntyre and Baragary had nearly 60 shirts made, and they were sold for $5 each. They raised more than $350 through their efforts.
"We were kind of shocked," Baragary said about the response.
Baragary and McIntyre estimated that more than 100 students participated to raise awareness about less fortunate youths without shoes. The effort was recognized during a school assembly, as all the students participating joined the two organizers on stage at the Tonganoxie Performing Arts Center.
Carlisle said he was impressed with the initiative the two students took with the project.
"What two great kids," Carlisle said. "And two very passionate kids with a huge heart for others."
Carlisle said he favored the wearing of socks to students going barefoot because it was a hygiene issue.
McIntyre and Baragary also had a drawing for students who participated, with the winner receiving a $50 gift card toward TOMS shoes.
After raising the money, McIntyre said he discovered in talking with a TOMS representative that the company was unable to accept monetary donations because it is a for-profit company. However, he was given information about other organizations that provide help to youths without shoes to which the money could be donated.
The friends are planning to localize the day again next year and said they had interest from fellow students who didn't sign up for a shirt to purchase them after the fact.
"We might go another round," McIntyre said of taking more shirt orders.
Anyone interested in shirts can contact McIntyre at ammwildhorse@gmail.com or by calling the school at (913) 845-2654 to leave a request for McIntyre or Baragary.