THS

soccer wraps up busy week with road 'W'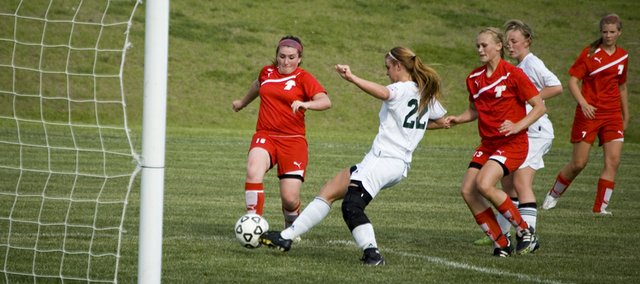 Basehor — Tonganoxie High's girls soccer team finished a hectic stretch of the schedule and its regular season Tuesday at Basehor-Linwood with a road victory.
Playing their fifth match in a seven-day stretch, which also began with a triumph over the Bobcats, the Chieftains maintained enough stamina to pull off a 2-1 win.
THS (5-10) came out as the aggressor and its movement and passing led to a number of scoring chances in the first half.
Senior Ashley Kotowske put Tonganoxie on the scoreboard first with a goal from the right side in the 12th minute.
The next few minutes of action featured two solidly struck shots on goal from Molly Welsh, both of which were saved.
Meanwhile, the Bobcats weren't getting any shot opportunities thanks to the THS back line of defense, led by Grae Wilbanks, Shyanne Gergick, Aly Bartholomew and Chris Tiner.
The BLHS defense held off the Chieftains for a while, but suffered another THS goal in the 39th minute. The ball was up for grabs in the box with just under two minutes to play in the first half when senior Carson Simmons took a spill in traffic. As Basehor's goalkeeper came out in an attempt to cover up the loose ball, Alyssa Miller quickly booted it into the net with her left foot to put Tonganoxie up, 2-0, heading into halftime.
Finally, in the second half, the THS defense started to look like a unit that had played five times in a week. As they slowed down, the Bobcats' offense picked up.
Ellen Farris broke Basehor's scoreless drought in the 47th minute with a perfectly placed shot from roughly 30 yards out that sailed over the head of Tonganoxie senior goalkeeper Alex Bartels, who had sneaked up the field some.
Basehor had a pair of good-looking chances with just more than 20 minutes left in the match but Alyssa Harwick couldn't find the right touch on either opportunity.
The Bobcats looked like they might get a last-minute score to tie things up when Bartels came far out in front of the net and BLHS controlled the ball, but Gergick hustled back down the field to stymie the home team.
The victory gave Tonganoxie a 3-2 record in its five-match week.