Tonganoxie, McLouth high school graduation ceremonies are Saturday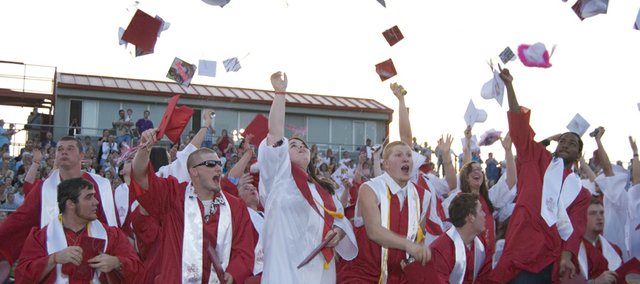 The Class of 2011 soon will be making its way across the stage at Beatty Field to receive diplomas — weather permitting.
Rain or shine, the graduates will receive their diplomas, but if there's inclement weather, commencement exercises will take place indoors in the THS gymnasium, which was the case in 2010.
Graduation is set for 7 p.m. Saturday.
After the seniors file in to take their seats, Ashley Forbis, class president, will give the welcome address. The senior ensemble will perform a song, as will the Chieftain Singers.
There also will be recognition of National Honor Society and students who have maintained 4.0 grade-point averages.
Following those recognitions, the salutatorian and valedictorian will be recognized and the valedictorian will give an address.
Finally, there will be the presentation of the class and the handing out of diplomas.
THS assistant principal Brent Smith said 128 seniors are expected to graduate Saturday.
"It's down from last year, but it will probably be the smallest class we have in quite some time," Smith said. "Other classes are around 160-170."
Other activities this week: Senior Awards Night, 7 p.m. Thursday at the Tonganoxie Performing Arts Center on the THS campus, and baccalaureate, which begins at 2:30 p.m. Saturday at TPAC.
Seniors will celebrate graduation with a trip to a center in Kansas City, Mo., that has go-carts and other entertainment, Smith said. Students will leave the school at 11 p.m. Saturday and will be finished around 4 a.m., Smith said. Project Grad, which is designed to offer students a safe environment for celebrating graduation, is again sponsoring the activity.
McLouth to stage graduation indoors
McLouth High School graduations traditionally have taken place at Stan Braksick Sports Complex in recent years, but graduation will take place at 10 a.m. Saturday at the Gold Gymnasium in McLouth High School.
The 2010 graduation was moved indoors because of inclement weather.
MHS secretary Debbie Kesinger said officials decided to keep the ceremony inside.
"You just can't ever count on the weather," Kesinger.
McLouth has 40 seniors who are expected to graduate Saturday as the class of 2011.
Graduation will begin with the processional of graduates as the MHS band plays "Graduation Suite" by Edward Elgar.
Chanler Tharpe, senior class president, will give the welcome. Fellow classmates Jeri Holwick, Misti Jenkins and Derek Wright will then share memories of their class.
Co-valedictorians Corinne Hoffhines and Logan Terry will speak and then Tharpe will present a senior video.
Graduation will then proceed to recognition of honors students and various scholarship recipients.
Superintendent Jean Rush will give the presentation of the class for graduation before board of education members Edward Courtney and Mike Tullis present diplomas.
The band will then play the school's alma mater and again "Graduation Suite" for the recessional.
Baccalaureate will take place at 7 p.m. today at First Baptist Church in McLouth.
Saturday evening, seniors will take a bus to the Topeka Fun Center. Graduates plan to leave McLouth at 9 p.m. and likely return about 3:30 a.m. A stop for breakfast at International House of Pancakes also is planned, MHS staff member Annamaria Rainey said.
Class colors are royal blue and lime green, the class flower is a white rose and the class song is "The World's Greatest" by R. Kelly.
Also, the class motto is "Work like you don't need the money. Love like you've never been hurt. And, dance like nobody's watching."