THS

Student Council president shares credit for year's success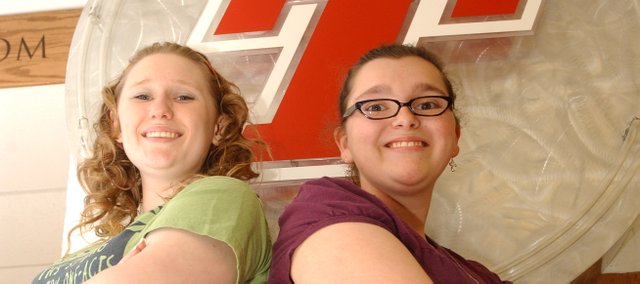 Miranda Bontrager will enjoy her graduation Saturday despite having no hand in its organization.
As this year's Tonganoxie High School Student Council president, that wasn't always the case. From last fall's homecoming to key fundraising events, she has played a key role in many of the school's more memorable moments the past nine months.
It was an experience Bontrager says taught her much about leadership. Perhaps that's why she credits the work of the student council's committees for the success of homecoming and fellow students, faculty and school administrators for the student council's "Pennies for Patients," which with more than $900 raised beat the mark of the previous year, and "Stick It" fundraising campaigns.
"I feel like we accomplished so much because everybody came together, and we had so much leadership come out of each class, and it's just great how well we work together," Bontrager said. "We've all become so close because we worked so much together. There's no way we won't stay in touch.
"It was great for my self-confidence to help build the leadership skills of others while building mine."
Bontrager, who has gone to Tonganoxie schools since kindergarten, will leave Kansas next fall to study nursing at Texas Woman's University in Denton, Texas, with the ultimate goal of becoming a nurse practitioner.
"I heard they have a really great nursing program," she said. "If it's outstanding, I know I can achieve great things there."
As she looks ahead, Bontrager said her classroom and extra-curricular activities prepared her to succeed while enriching her personally. During her four years at THS, Miranda, a National Honor Society member, participated in such activities as band, forensics, theater and the Science Olympiad.
Band under the direction of Charles Van Middlesworth was a great experience, she said.
"Band, I would say, helped me grow as a person, and it helped me in my other classes, too," she said. "We've been able to meet new people and become more talented."
Bontrager praises the school district for providing the opportunity for all to find something interesting and challenging.
"I love this school district," she said. "It's great to see so many programs to fit so many interests.
"I made sure last year I took anatomy and physiology. That drew me into science and nursing."