Chieftains demolish Sumner in 1st round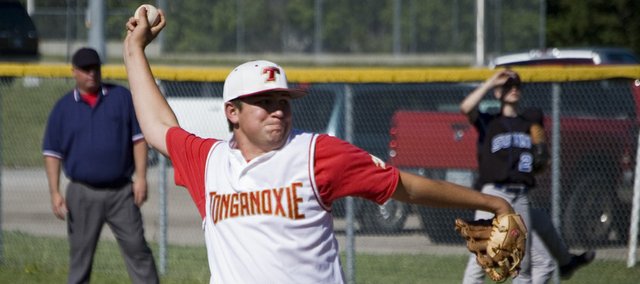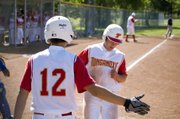 Kansas City, Kan. — Game plans rarely go exactly as planned, but when they do it makes for a blissfully easy day at the ballpark.
Tonganoxie High's baseball team got exactly what it wanted out of a first-round regional playoff game with Sumner Academy Monday at Heathwood Park and had almost no trouble whatsoever advancing to the next round with a 16-1, five-inning victory.
Although THS (8-13) had to play on the road as a No. 7 seed, Chieftains coach Mitch Loomis thought his team would match up well with No. 2 seed Sumner, which doesn't have a lot of quality opponents on its schedule.
Loomis knew Tonganoxie's offense could put the ball in play and score runs, which was the first part of the game plan. The second part involved using just one pitcher, so THS would have plenty of arms available for the next day of the playoffs.
The coach got the best of both worlds. The Chieftains pounded 13 hits and starting pitcher AJ Gilbert, the team's No. 4 pitcher, gave up just one run in five innings.
"I liked our draw and we got an opportunity to get AJ out there. So that was the one thing that went really, really well for us," Loomis said after watching the senior right-hander scatter five hits, strike out six and give up zero walks.
"AJ was just fantastic," Loomis said. "He threw a lot of strikes. We knew if we were gonna get beat it was because our pitcher didn't throw strikes. AJ was more than good tonight, so it went pretty well."
Gilbert said he took the mound knowing that he had to throw a complete game, because Loomis wanted to save pitchers Jeremy Carlisle, Ethan Lorance and Dylan Puhr.
"The biggest thing was just to make sure I did it all by myself today, so we'd have the three best pitchers for tomorrow," Gilbert said. "I knew I just had to go in there and take care of business. They swung the bats well and it worked out pretty good."
Even though Tonganoxie didn't completely derail Sumner until an eight-run fifth inning, Gilbert had plenty of run support throughout the first-round win. THS was up 8-0 before SA scored its lone run. That kind of production, the pitcher said, alleviated any pressure he might have been feeling.
"When they're swinging the bats like that, it takes a lot of pressure off you and helps with your confidence a lot, makes it easier to throw," Gilbert said.
Four of Tonganoxie's top six batters — Carlisle, Puhr, Shane Levy and Jeremy Wagner — had multi-hit games on the high-scoring day. Loomis said he wanted the guys to be aggressive with their cuts. Their success at the plate supplemented Gilbert's pitching, Puhr added, and the result was a lopsided win.
"Everybody hitting the ball well was just the icing on top of the cake," Puhr said after scoring three runs and driving in three more.
THS put Sumner away with an eight-run fifth. Levy led off with a double to center and scored on a double Wagner hit over the center fielder's head. An RBI-single by Dylan Fosdick sent Wagner home.
The rest of Tonganoxie's rally came with two outs. Austin Harkrader drew a walk, Carlisle singled to left and Puhr reached on an error before Lorance drove in two runs with a single to left field. Ben Williams followed that with a two-run single of his own. After Levy drew a walk, two runs scored on a Wagner single after Sumner's right fielder committed an error.
Tyler Freeman drove in a run in the top of the third with a base hit to right field that put his team up 6-0 and the Chieftains' lead grew to eight in the fourth, when Austin Harkrader, who led off the inning with a single to left, was driven in by Puhr and Carlisle scored on a groundout by Lorance.
Both Puhr and Carlisle scored on sacrifice fly balls in the first inning (Lorance and Levy drove them in) before THS put three more runs on the board in the second, when Puhr plated two with a single down the third-base line. Puhr later scored from third when Lorance stole second base.
Loomis said the outpouring of runs was exactly what he had hoped to see.
"We got a lot of guys some cuts and guys were seeing the ball well," the coach said.
Things went exactly as Tonganoxie had planned — almost.
Said Gilbert: "They scored one run and that wasn't in our plan, but other than that it couldn't have been much better."
The win advanced THS to a regional semifinal, which is scheduled to begin at 4:30 p.m. Tuesday at Ozawkie Field, in Ozawkie. The Chieftains will face either Jeff West or Basehor-Linwood.
Tonganoxie 16, Sumner Academy 1
THS 2 3 1 2 8 — 16
SA 0 0 0 1 0 — 1
Tonganoxie highlights: Jeremy Carlisle 2-for-2, 3 R; Shane Levy 2-for-2, 2 R, RBI; Dylan Puhr 2-for-3, 3 R, 3 RBI; Jeremy Wagner 2-for-3, 2 RBI; Ethan Lorance 1-for-3, 4 RBI; AJ Gilbert 5 IP, 6 K's, 0 BB.