Light-hearted speech in character of risk-taking
THS

Class of 2011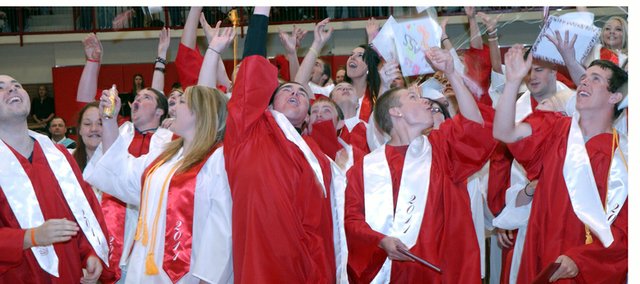 Lacie Falk received an important phone call during Saturday's Tonganoxie High School graduation.
Donald Trump called Falk during her valedictorian speech.
Well, actually, it was her father.
Falk had her father call her cell phone while she was at the graduation podium Saturday at the THS gymnasium.
It was part of a speech she kept light-hearted at the commencement, which was moved from Beatty Field to the gymnasium for the second-straight year because of inclement weather.
Falk donned a tiara at one point during her speech, thanking everyone for attending her graduation. She also thanked classmates Megan Woods and Elliott Brest for the $20 they allegedly gave her for mentioning them during her speech.
She then presented "Lacie's Untested Tips for Success:" Set high goals for yourself, protect your dreams and "don't worry about the world ending today. It's already tomorrow in New Zealand. Unless, of course, you live in New Zealand. Then start worrying."
When she spoke about setting high goals for oneself, she mentioned impossible goals, such as Donald Trump attending one's graduation. Falk then received a call from "Donald Trump" at that point during her speech. She had her father call her cell phone at that point in the speech.
About protecting one's dreams, she said no one has the right to take a person's dreams away by saying things such as "You'll never make it into that college," "There's no way you're going to be valedictorian" or "Quit walking around the house dressed up like Lady Gaga. It's creepy."
After Falk's unconventional speech, THS principal Jamie Carlisle took to the podium.
"And that's what we have encouraged," Carlisle said jokingly. "Right on, Lacie. That rocked. You rock."
Carlisle said students needed to take risks — good risks — like Falk's speech, which wasn't a run-of-the-mill commencement speech.
Shortly after Falk sat down following her speech, she rushed out of the gymnasium. It turned out she had a bloody nose. She said after the ceremony that she gets bloody noses from time to time with no rhyme or reason, calling herself a "medical enigma."
As for her speech, Falk said she did research online for inspiration for her speech and found some humorous speeches on YouTube. She decided to go the light-hearted route for her own speech.
After the seniors filed into the gymnasium to begin the commencement exercises, class president Ashley Forbis gave the welcome address.
She encouraged fellow seniors to "take too many pictures, laugh too much and love like you've never been hurt because every 60 seconds you spend upset is a minute of happiness you'll never get back."
She ended her address with Carlisle's daily mantra that he tells THS students: "Have a great day as we continue our aim for excellence."
The Chieftain Singers performed "Lean on Me," while the senior ensemble performed "Maybe Someday."
National Honor Society members, as well as students who maintained 4.0 grade-point averages, were recognized at graduation.
"I remember doing that once," Carlisle said about maintaining a 4.0 grade-point average. "For a day."
Before Falk's speech, salutatorian Madison Hunter was recognized.
The ceremony concluded with the presentation of the class, and of course, the awarding of diplomas.