THS

softball explodes for 17 runs in 'W'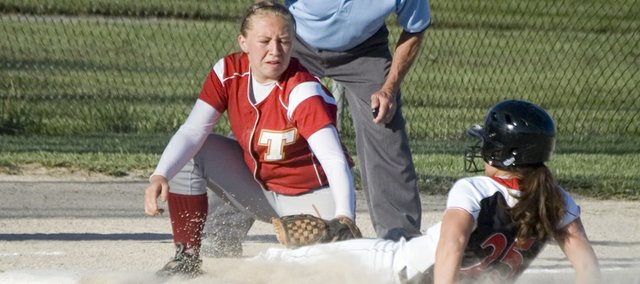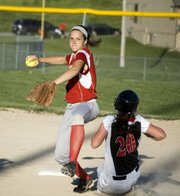 Kansas City, Kan. — A season full of ups and downs finally came in rather handy Monday for the Tonganoxie High softball team.
When the Chieftains found themselves trailing by three runs in a first-round regional playoff game at Field of Dreams, the scenario was nothing new.
Undaunted, No. 5 seed THS scored 16 times in the final four innings and knocked off No. 4 Jeff West, 17-8.
It might have appeared as though Tonganoxie (10-10) was in some trouble after JWHS scored four runs in the bottom of the third and took a 4-1 lead, but Chieftains coach Lee Matzeder said this year has provided his team with every scenario imaginable, from high-scoring extra innings to pitching duels.
"We've been down before, we've been up before," Matzeder said. "I told the girls before the game there's nothing we haven't seen this year."
Jeff West's three-run advantage, THS senior Tiffany Jacobs said, didn't mean much that early in the game.
"Our team has won on never giving up," Jacobs said. "Once one person hits, I knew we were gonna rallly, rally, rally."
Although her team didn't really get rolling until a pair of back-to-back six-run innings in the fifth and sixth, Jacobs was the first to answer JWHS, leading off the fourth with a solo home run to center field.
The next three THS batters were retired, and Jeff West still led by two, but Matzeder said his softball players were resilient.
"They didn't get down. That was the thing," the coach said.
A six-run fifth by the Chieftains put JWHS down for good, though. With one out, Makayla Leslie, Kailan Kuzmic and Haley Smith each singled to load the bases. Kaitlyn Wolken then drove in a run with a single to left and an error by the JWHS left fielder allowed the tying run to score as well.
Tonganoxie continued to punish the left fielder, staring directly into the early evening sun, with back-to-back fly balls by Jacobs and Morgan Oroke in her direction. The left fielder dropped both of them, allowing the Chieftains to score three more runs and take a 7-4 lead.
Amanda Holroyd, who went 4-for-5 in the playoff win, drove in the sixth run of the inning with a base hit.
Although Jeff West put up two runs in the bottom of the fifth, Tonganoxie came right back with another six-run outburst in the top of the sixth. Leslie led off with an infield single and Kuzmic reached on an error before Smith drove in courtesy runner Shelby McDaniel with a single.
With runners on second and third, Wolken, who went 4-for-5 on the night, drove in two more runs with a double to center field and THS took an 11-6 lead.
Later, Oroke and Holroyd had consecutive RBI-singles to help the Chieftains increase their lead to seven and Oroke eventually scored on a passed ball, giving her team a 14-6 advantage.
As if that wasn't enough, Tonganoxie added three more runs in the top of the seventh. Wolken scored on an error, Jacobs crossed the plate on a passed ball and Holroyd drove in Oroke with a single to left.
After losing back-to-back one-run games one week earlier against Baldwin, Matzeder said the mood in the THS dugout has changed. The players are more enthusiastic, he said, and staying positive until the last pitch.
"It all matters until the 21st out," the coach said.
That final out was tough to come by for Jacobs, who threw all seven innings for a complete-game victory. After retiring the first two batters in the bottom of the seventh, Jacobs walked three straight and hit a batter to give JWHS its eighth run. She said it felt like that inning wasn't going to end, which was frustrating, but she was glad her team still won comfortably.
However, Jacobs said, the Chieftains can't afford to get cocky after scoring so many runs.
"Just because we got 17 today doesn't mean tomorrow's gonna be like that," the pitcher said. "It's gonna get tougher as we go on, so we still gotta come in here strong and hit the ball."
On the other hand, Matzeder said, scoring that many runs in the first round could give the team confidence.
"I'd rather have that than be like a 2-1 pitcher's duel," the coach said. "Because now these guys are thinking: 'We scored 17 runs. If we get a little down tomorrow, why can't we do it again?' It's in the back of their heads."
The first-round victory advanced Tonganoxie to a regional semifinal with No. 1 seed Atchison. That game is scheduled to begin at 3 p.m. Tuesday at Field of Dreams.
Tonganoxie 17, Jeff West 8
THS 1 0 0 1 6 6 3 — 17
JWHS 0 0 4 0 2 1 1 — 8
Tonganoxie highlights: Amanda Holroyd 4-for-5, 3 RBI; Kaitlyn Wolken 4-for-5, 3 R, 3 RBI; Kailan Kuzmic 3-for-5, 3 R; Haley Smith 3-for-3, 2 R, RBI; Makayla Leslie 2-for-4, 2 R; Tiffany Jacobs 1-for-4, HR, 4 R.