Tonganoxie golfers headed back to state
Chieftains take 2nd at regional tournament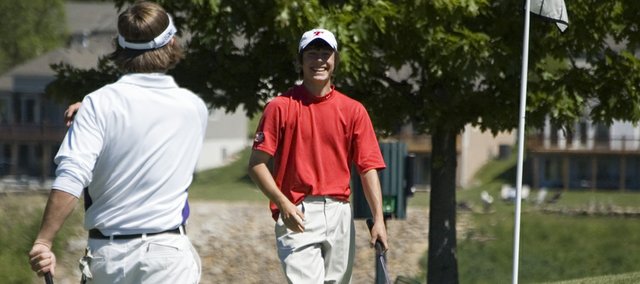 After taking the Tonganoxie High golf program to new heights in 2010, the Chieftains can finally breathe easy once again.
THS is headed back to state.
With a second-place finish in a Class 4A regional tournament Monday at Dub's Dread Golf Club, Tonganoxie sent its entire team to the state tournament for the second year in a row.
The feat was a first last season and coach Jared Jackson said repeating that accomplishment in 2011 somewhat weighed upon the golfers.
"There was a little more pressure this year, because they felt like they should go (to state) and had the team to do it," Jackson said.
Now, after combining to shoot 332 and finishing second to regional champ Piper, which posted a 320, the Chieftains feel like a little weight has been lifted off their shoulders. They thought all year they could get back to state, Jackson said, and now it's accomplished.
THS junior Colby Yates finished third at the regional after shooting 79. Tanner Hale took eighth place with 84 and Aaron Williams, who also finished at 84, finished 10th at the regional. Freshman Drew Sandburg was one of many golfers to post an 85, Kody Campbell had 90 strokes and Tyler Hall shot 101.
All six Tonganoxie golfers are happy to be state-bound, Jackson said, but some of them were disappointed, because they thought they could have put together some lower scores.
Although Yates took third, his coach said it was an "off day," which included a six on the par-three eighth hole. Additionally, Sandburg was the early leader after nine holes (he shot 37 on the front nine), before having some struggles on the back and catching some bad breaks, Jackson said. Williams had some late problems, too, Jackson noted, after playing well on the first 15 holes. Plus, Hale shot a 39 on the back nine — a six-stroke improvement over his front-nine score.
"Each of those kid's overall scores they were pretty happy with," Jackson said, "but they reallly still felt like they could have played better."
With the state tournament coming up on Monday, that feeling of underachievement at the regional could be good for Tonganoxie. The Chieftains finished fourth at state last year at Hesston and now they have a little extra motivation as they prepare to head to this year's state site, Prairie Dunes Country Club, in Hutchinson.
With one giant event left on the calendar, Jackson finally felt comfortable saying aloud something he kept more to himself for most of the year, because he didn't want the golfers slacking off after hearing his opinion.
"I think we've got a darn good team," Jackson said. "We've got a team that can challenge for a state title."
The coach said he is confident the THS golfers will give it their best shot.
"I think the kids know that if we have four (quality) scores we can compete against any team out there," Jackson said.
As far as the competition goes, the coach said Topeka-Hayden, which took second last year at state, will be tough to beat, as will Piper and Wellington, which has the returning state champion, Miles Miller, on its roster.
Of Tonganoxie's six golfers, only Yates has played Prairie Dunes, but some of the team members and coaches went there this spring to watch the Big 12 Tournament. Jackson said it is one of the top 20 courses in the nation and, by far, the best in Kansas.
"It is a course that's extremely difficult," he said, noting it will be a challenge for high school golfers.
The Chieftains will get to practice on the course the day before the state tournament.
Class 4A Golf Regional
Monday at Dub's Dread Golf Club, Kansas City, Kan.
Team scores: 1. Piper, 320; 2. Tonganoxie, 332; 3. St. James Academy, 344; 4. De Soto, 352; 5. Paola, 365; 6. Louisburg, 366; 7. Spring Hill, 375; 8. Bonner Springs, 382; 9. Bishop Ward, 386; 10. Basehor-Linwood, 392.
THS results: 3. Colby Yates, 79; 8. Tanner Hale, 84; 10. Aaron Williams, 84; tie-11. Drew Sandburg, 85; Kody Campbell, 90; Tyler Hall, 101.