Tonganoxie jumpers set records, win titles at
KVL

Meet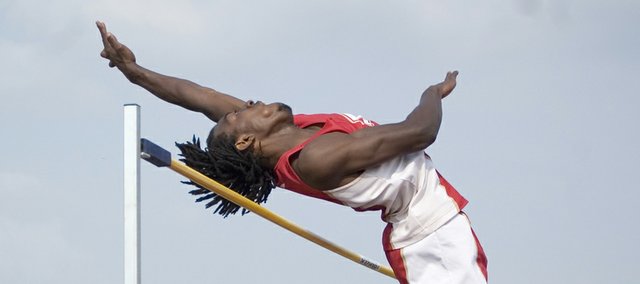 Photo Gallery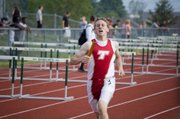 Tonganoxie at KVL track
Tonganoxie High competed against the Kaw Valley League's other schools at the league meet, which began May 11 and ended May 13 after a weather delay.
Basehor — Opposing Kaw Valley League track teams learned something about a particular rival this past week at the league championships: If there is a bar to jump over or a sand pit to leap into, Tonganoxie High's athletes will be there — and there is a good chance they will do it better than anyone else.
The Chieftains won a total of six individual KVL championships at the league meet, which began May 11 and wrapped up Friday after a weather delay, and half of those came in jump events.
Jenny Whitledge and Adrian Whittington were victorious in high jump and Dylan Scates set a school record to win the triple jump with a mark of 43 feet, 7 inches.
What's more, THS had three second-place finishes in jump events and two fourth-place finishes. Whitledge set another school record with her 17-2, second-place mark in the long jump, Haley Griffin finished behind Whitledge in high jump and Scates was KVL runner-up in the long jump.
It was enough to make Tonganoxie's jump coach, Chris Weller, glow with pride.
"Overall, it's by far the greatest group of jumpers I've had the privilege of coaching," he said.
Daily practice with Weller, Whittington said, has made the group successful.
"Our jumpers have been a lot better than I thought they would," the senior admitted after winning the high jump with a personal record of 6-2. "Jenny and Haley, they're just killing it in the girls high jump. It's just all-around good."
The jumpers do so well, Whitledge said, because Weller helps them learn from their mistakes. She said his coaching approach has helped them grow.
"I have to give a shoutout to my coach Chris Weller," Whitledge said. "He's done a great job of working with us. He films us, he critiques us and gives us positive criticism that really helps us change what we're doing wrong."
He keeps things light and loose, too. After Scates set a new THS triple jump record in his flight, the senior was telling Chieftains boys track coach Phil Williams that he still had to jump in the finals. Quickly, Weller jokingly chimed in: "I don't think he'll make it."
Williams said both Scates and Whittington have worked "extremely hard" to get to their current level.
"Those two are prime candidates for state medals, possibly in multiple events," the coach predicted.
With a Class 4A regional meet coming up on Friday, Weller said all the jumpers are performing right where they need to be.
"They are hitting it at the right time," their coach said.
Girls finish third in KVL
Led by four league championships and three second-place finishes at the KVL Meet, Tonganoxie's girls track team secured third place in the team standings.
Along with her top high jump, Whitledge took first in the 300-meter hurdles on Friday. The sophomore said she was glad to have a two-day break and didn't mind returning to Basehor two days after the meet was supposed to wrap up.
"I don't really have a problem with it, because after so many events, you're kind of tired," she said.
Senior Cristina Rubio was one of the last athletes to compete on the first day of the meet. With the wind whipping around and rain falling, the 400-meter dash was the final event to take place May 11. In what Weller, THS girls track coach, called a "pure guts" performance, Rubio raced around the track in the rain, won herself a league championship and promptly joined the mass exit of the stadium as the meet was officially postponed.
Before the weather came in, senior thrower Domino Grizzle won a KVL title of her own with a first-place finish in the shot put.
Weller was pleased with the team's third-place finish, noting he doesn't have the numbers to compete with the likes of Mill Valley, which won the league title, but THS still managed seven top-two finishes (Grizzle was runner-up in discus). Weller said it was great to see the girls compete at that level after losing some talented members from last year's squad.
"They all came to compete and did above and beyond what I expected them to do," he said.
THS boys take 5th
Although their coach was hoping the Tonganoxie boys might be able to crack the top four at the KVL Meet, the Chieftains ended up in fifth. Still, Williams wasn't disappointed in how the team performed.
"I was very proud of the way our kids competed," he said. "No one really laid an egg, and we had several equal or surpass their previous best."
Not only did league champions Scates and Whittington hit personal records, but Matt Briggs beat his previous best time in the 3,200-meter run by six seconds and finished fourth in cool, overcast and windy conditions on Friday.
Two days earlier, Briggs also helped the 4x800 relay team shave nine seconds off its best time of the year and finish third. The team of Briggs, Marcus Titterington, Evan Stilgenbauer and Dalton Harrington, Williams said, has a shot to qualify for state.
The pole vault was a very successful event for the Chieftains at the league meet, with three vaulters finishing in the top five. Senior Jake Willis had a second-place mark of 14 feet, while Cody Martin and Ian McClellan both topped off at 11-6, taking fourth and fifth place respectively.
"Our vaulters are peaking at the right time, especially Martin and McClellan," Williams said.
Tonganoxie's track teams will return to Basehor on Friday for regional events, which begin at 3 p.m. Other schools competing at the regional are: Atchison, Baldwin, Basehor-Linwood, Bishop Ward, Bonner Springs, De Soto, Eudora, Jeff West, Perry-Lecompton, Piper, St. James Academy, Santa Fe Trail, Sumner Academy and Topeka-Hayden.
Kaw Valley League Meet
May 11, 13 at Basehor-Linwood
Girls
Team scores: 1. Mill Valley, 184; 2. Lansing, 122; 3. Tonganoxie, 94; 4. Piper, 90.5; 5. Basehor-Linwood, 41.5; 6. Bonner Springs, 35; 7. Bishop Ward, 29; 8. Turner, 9.
THS results
400 — 1. Cristina Rubio, 1:03.25.
800 — 7. Abby Thomas, 2:45.76.
100-meter hurdles — 3. Hannah Kemp, 17.34.
300-meter hurdles — 1. Jenny Whitledge, 49.13; 8. Hannah Kemp, 53.82.
4x400 relay — 4. Kara Banks, Cristina Rubio, Abby Thomas, Jessica Rubio, 4:32.14.
4x800 relay — 5. Abby Thomas, Sagan Scates, Hunter Cook, Kara Banks, 11:35.75.
High jump — 1. Jenny Whitledge, 5-0; 2. Haley Griffin, 4-10.
Pole vault — 5. Dannie Oelschlaeger, 7-6; 6. Jessica Rubio, 7-0.
Long jump — 2. Jenny Whitledge, 17-2; 10. Jordan Weber, 14-4; 13. Haley Sparks, 12-9.
Triple jump — 10. Jordan Weber, 31-3.
Shot put — 1. Domino Grizzle, 35-6.5; 9. Makayla Sample, 30-0; 10. Rachel Washington, 38-7.25.
Discus — 2. Domino Grizzle, 113-3; 6. Holley Thompson, 89-7; 9. Jo Kissinger, 84-7.
Javelin — 4. Domino Grizzle, 101-4; 5. Jo Kissinger, 99-4; 6. Hannah Kemp, 99-3.
Boys
Team scores: 1. Mill Valley, 135.5; 2. Lansing, 121.5; 3. Piper, 100; 4. Basehor-Linwood, 91; 5. Tonganoxie, 91; 6. Bonner Springs, 34; 7. Turner, 29; 8. Bishop Ward, 21.
THS results
400 — 10. Noe Puebla, 1:02.41.
800 — 10. Evan Stilgenbauer, 2:13.2; 15. Marcus Titterington, 2:16.73.
1,600 — 7. Patrick Rachford, 5:00.55; 13. Jeff Neal, 5:20.45; 17. Keith Slater, 5:47.03.
3,200 — 4. Matt Briggs, 10:47.46; 16. Brady Field, 12:29.49.
300-meter hurdles — 8. Seth Ahart, 47.8; 15. Austin Searcy, 51.63.
4x100 relay — 5. Tyler Basso, Dylan Jacobs, Adrian Whittington, Dylan Scates, 47.27.
4x400 relay — 7. Evan Stilgenbauer, Marcus Titterington, Evan Lott, Dylan Jacobs, 3:53.98.
4x800 relay — 3. Marcus Titterington, Evan Stilgenbauer, Dalton Harrington, Matt Briggs, 8:44.24.
High jump — 1. Adrian Whittington, 6-2; 4. Dylan Jacobs, 5-10.
Pole vault — 2. Jake Willis, 14-0; 4. Cody Martin, 11-6; 5. Ian McClellan, 11-6.
Long jump — 2. Dylan Scates, 21-4; 6. Adrian Whittington, 19-11; 12. Tyler Basso, 17-6.25.
Triple jump — 1. Dylan Scates, 43-7; 4. Adrian Whittington, 42-4; 13. Tyler Basso, 37-7.
Shot put — 5. Dallas Jacobs, 42-2.25; 9. Tyler Stockman, 38-9.75.
Discus — 7. Dallas Jacobs, 120-5; 11. Bryson Hewins, 108-10; 14. Clayton Neas, 105-1.
Javelin — 5. Lucas Ahart, 151-5; 6. Dallas Jacobs, 143-8; 12. Dan Hopkins, 124-7.