Bobcats outlast Chieftains in baseball semifinal
BLHS

eliminates

THS

with extra-inning walk-off homer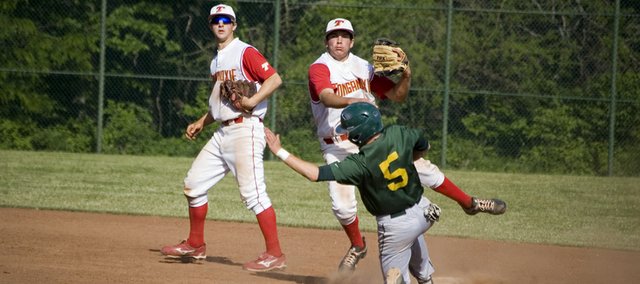 Photo Gallery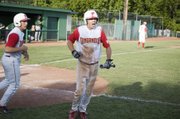 THS baseball eliminated in extras
Tonganoxie High's baseball team saw its season come to an end in extra innings in a regional semifinal against Basehor-Linwood on May 17 at Ozawkie. BLHS prevailed, 11-8, in nine innings.
Ozawkie — With a spot in a regional baseball championship game on the line, neither Tonganoxie High nor Basehor-Linwood had any desire to give in to its rival on May 17 at Ozawkie Field.
The Kaw Valley League foes battled back and forth at Jeff West's home ball park with the hope of advancing and ending their opponent's season, but someone had to lose eventually.
It took two extra innings, but the Bobcats finally got the best of the Chieftains, 11-8, with a Jared Patton walk-off home run in the bottom of the ninth.
As tough as it was to see the season end on that note, THS coach Mitch Loomis said it ranked as possibly the team's best performance of the season.
"The good thing is it's about as good as we played all year," Loomis said.
The Chieftains didn't have any success in the ninth, when they went down in order, thanks in large part to a spectacular diving snag by BLHS shortstop Nathan Quigley, who robbed Jeremy Carlisle of a blooper down the left-field line to end the Chieftains' half of the inning.
The game went to extra innings with the teams tied at 5 and Tonganoxie appeared to take control in the top of the eighth with three runs, but No. 6 seed BLHS answered with three in the bottom of the frame before Patton won the game with an opposite-field shot down the right-field line.
Tonganoxie (8-14) had the top of its lineup coming up when the eighth inning began and the No. 7 seed took advantage. Jeremy Carlisle led off with a walk, Dylan Puhr singled to right field and both runners scored on a one-out single to right by Ben Williams that gave THS a 7-5 lead.
With two outs, Jeremy Wagner put Basehor in a deeper hole with an RBI-single.
However, the Bobcats came right back to tie the game once more. Destry Bryan led off the bottom of the eighth with a walk, Nathan Quigley doubled down the third-base line and Jared Patton was intentionally walked to load the bases.
After Chieftains reliever Ethan Lorance got one out, Austin Stubbs got his team back within one run with a ground-rule double to right field that plated two runs.
Another intentional walk loaded the bases once more and when Drew Potter grounded to shortstop, THS tried to turn a double play but only got the force at second, which allowed courtesy runner Jayce Rymer to score.
The game was tied at 4 after five innings before each team added a run in the sixth frame. A bloop single from THS freshman Shane Levy scored Williams and gave the Chieftains a brief 5-4 edge before Patton tripled to right-center in the bottom of the fifth to score Tanner Garver.
The back-and-forth battle had answers from both teams and Loomis was proud to see some THS players step up in the moment.
"That was the most exciting part for us," the first-year Chieftains coach said.
Loomis noted Puhr, who made a diving stop at shortstop to get an inning-ending force at second when BLHS had a runner on third in the seventh, played the "best game of his high school career" and Williams, who leaped up and snagged a foul pop-up from the other side of the fence in the bottom of the sixth, stood out as well.
The Chieftains scored twice in the fifth to go up, 4-3. With two runners in scoring position, Tyler Freeman singled to center field, plating Williams and Levy.
Basehor tied the game at 4 when Potter hit a sacrifice fly to left field and Patton scored from third.
With two runs in the bottom of the third inning, BLHS took its first lead of the game. Patton scored on an error and Potter drove home Tyler Ogden with a single.
An RBI-single by Williams gave THS a 2-1 lead in the top of the third.
Both teams scored one run in the first. Levy plated Puhr with a single and Bryan scored on an error.
Skylar Barnes threw four and 2/3 innings as the Bobcats' starter before the lefty was relieved by Bryan. Patton finished the game on the hill after entering in the top of the sixth and getting the final out.
Carlisle, Tonganoxie's senior left-hander, started at pitcher and went four innings before Lorance came on for the fifth through eighth and Puhr pitched the ninth.
Loomis said losing in a regional semifinal led to thoughts of what could have been.
"It's a tough one for sure," he said, "just because you know at that point in the season all you're looking for is a win."
It was extremely disappointing, the coach added, because BLHS went on to beat Bishop Ward and advance to state. Loomis thought THS had just as good a shot of knocking off the Cyclones and said it could have been Tonganoxie going to the state tournament this weekend.
The season-ending loss also marked the end to a number of prep careers, including those of Lorance, Puhr and Wagner. Loomis said those three have "a special place in my heart" because they were freshmen when he first came to the program as an assistant. He said they comprised a special group.
"There's gonna be a lot of success in the future for a lot of those guys," Loomis said.
.
Basehor-Linwood 11, Tonganoxie 8 (9 innings)
THS 1 0 1 0 2 1 0 3 0 — 8
BLHS 1 0 2 0 1 1 0 3 3 — 11
Tonganoxie highlights: Dylan Puhr 3-for-5, 3 R; Ben Williams 3-for-4, 3 R, 3 RBI; Shane Levy 3-for-5, 2 RBI, R.
Basehor-Linwood highlights: Destry Bryan 2-for-4, 3 R; Nathan Quigley 2-for-5, 2 R; Jared Patton 3-for-5, 3 R, 4 RBI; Tyler Ogden 2-for-5, Derw Potter 2-for-4, 2 RBI.