Longtime educators retiring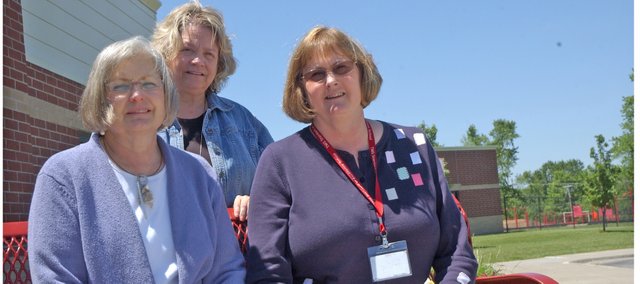 Retirement Reception
A teacher retirement reception for Tonganoxie USD 464 teachers will be 4:30-6:30 p.m. today at the Tonganoxie Middle School commons area.
Four teachers — Karen Stephenson, Cheta Mark, Donna Hefner and Lyn Smith — will be honored at the reception. Look for a profile of TES teacher Karen Stephenson in a future edition of The Mirror.
Cheta Mark said the variety kept her job fresh during her 37-year teaching career.
"You never know quite what to expect each day," she said. "I don't think we ever had two days exactly the same."
With the end of the school year, Tonganoxie Middle School will lose nearly 100 years of teaching experience with the retirement of three fifth-grade teachers. Joining Mark in retiring are Donna Heffner and Lyn Smith.
Heffner first taught in the district from 1971 to 1983. She then left for the Perry-Lecompton district and later went to Lawrence as a library media specialist. She retired from Lawrence in 2003 before returning to Tonganoxie and the classroom.
"I found I did miss it, so I came back," she said. "This is my 40th year. That seems like a good year to retire."
Mark has spent her entire career in Tonganoxie schools. She has taught in two buildings, the downtown elementary and the middle school — three if the Quonset hut behind the elementary school is counted.
"She (Heffner) and I broke in the Quonset hut," she said. "We taught the first classes in there in 2004."
With 21 years of experience, Smith is the newcomer of the trio. But she's seen a good deal of Tonganoxie history from a teacher's perspective — enough that she linked the most memorable day in her career with a historic community event.
"I think it was the tornado and how we got right back into school and how we kept it together," she said of the funnel that damaged the elementary school 11 years ago this month. "I think we missed one day."
Looking back, all three women said they are happy with their decisions to make careers in education.
"I don't think all that time I wanted to be anything but a teacher," Mark said. "It has its challenges but is also very rewarding."
But Mark and Heffner said they weren't certain they would choose teaching if they were in college now.
"I would probably do it again," Heffner said. "But women have a lot more options today than I had 40 years ago.'
Smith said she faced the same limited career options of secretary, nurse or teacher as a young woman but added her circumstances were different than her two colleagues. She had a liberal arts degree and had no intention of teaching until her children were in Tonganoxie schools.
The retiring teachers agree that teaching and children have changed since they started teaching decades ago. Because of our mobile society and today's many media sources, children are more experienced and worldly, they said.
Teaching has changed from strictly teaching out of a manual, and being judged by how well you did so, to being judged by how you can adapt teaching materials and techniques to student needs, Heffner and Mack said. The challenge is to develop students' critical thinking skills as the youngsters deal with a wealth of material, the three teachers said.
"It used to be you might find one source in an encyclopedia," Heffner said. "Now, kids are overwhelmed by information. How do you find out what is good information?"
Heffner, Mark and Smith are retiring in an era of education cuts, which has seen teachers become something of a political punching bag. Nonetheless, Mark said district teachers get the respect of Tonganoxie parents and the community.
"What I hear people saying nationally about teachers in general, I don't hear people saying about us in Tonganoxie," she said.