Co-valedictorian speech: Logan Terry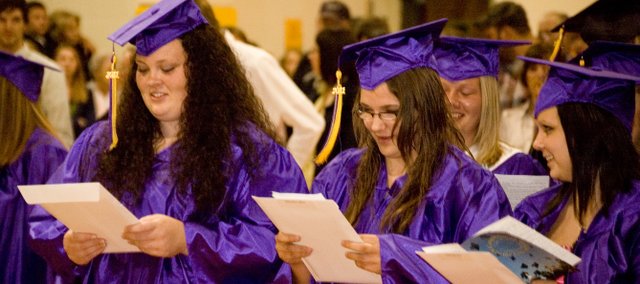 Editor's Note: Here is the transcript of Logan Terry's speech from Saturday's McLouth High School graduation. Terry was co-valedictorian for the Class of 2011, along with Corinne Hoffhines.
When I picture myself giving this speech, it is different every time. There is so much I want to say but I'm not sure how, so I want to start off by saying thank you. Thank you to my teachers, my classmates, my community, my family and friends.

In Brad Paisley's song "Letter to Me" he sings: "you got so much up ahead, you'll make new friends, you should see your kids and wife, and I'd end by saying have no fear, these are nowhere near the best years of your life." I know that each and every one of us have some of that fear. Fear of the unknown and goodbyes, but graduation isn't about letting go. The diplomas we will be receiving today symbolize the end of a phase in our life and show what we can accomplish. But I don't like using the word "end" because it sounds like High School is all there really is to life. Sen. Orrin Hatch said "there is a good reason they call these ceremonies commencement exercises. Graduation is not the end; it's the beginning". This may be the end of our lives as we now know them, but we are now entering the part of our lives where we find out who we're going to be. So take these experiences, memories, and friendships and cherish them, because what we've learned from each other will mold us into the kind of person we will become.
I don't know how many times I've heard this, but many say life is a journey, and this was just one of our stops along the way. I look back on my life and it's been McLouth all the way and I'm like wow, this school has been my everything. It's hard to believe that there's more out there when you've only lived in one place your whole life, but the best is yet to come. Some of us will venture away from home and go to college while some of us are tired of school and will head straight into work. But no matter what direction we take we will continue to grow, and although we may move away, we will always have a piece of McLouth in our hearts. We are a family, as much as we may not want to admit it. Some quality of each of you can be seen in me. I have faith that we will all go far in life, so chase your dreams and set high expectations for yourself, nothing is impossible. Congratulations Class of 2011 and good luck!